Anna & Elsa Set an New Kind of Princess Record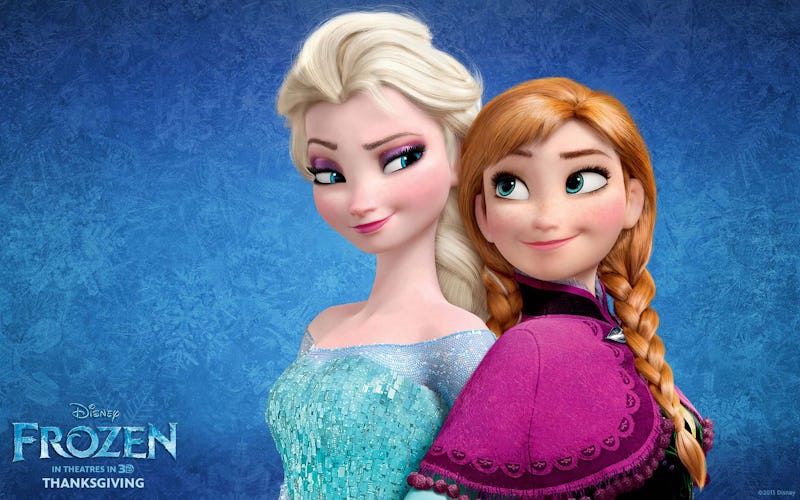 Disney's latest animated movie has been basically winning the box office ever since it was released, and now Frozen is ready to take over another chart. The soundtrack to Frozen is now number one the Billboard 200, which means Anna and Elsa have set a princess record. They even beat Beyoncé.
Frozen is only the fourth animated movie to have its soundtrack reach number one, in the entire 58-year history of Billboard's chart. The other three were 2006's Jack Johnson-filled Curious George soundtrack, and Disney's own Pocahontas and The Lion King. Notice anything missing from that list? Princesses. I don't know what people were doing when The Little Mermaid and Beauty and the Beast came out, but none of those classics ever made it to the top.
It worked out for the best though, because Anna and Elsa are the princesses that most deserve to break records. It might not be perfect, but Frozen has made some great improvements on the usual princess formula, most notably by putting Anna and Elsa's own relationship ahead of any romance and giving the two characters more complexity than seen in most of the past princesses.
Besides, were any of the other princesses voiced by Wicked's Idina Menzel? "Part of Your World" is great and everything, but come on — this is the woman behind Defying Gravity. Listen to the movie version of "Let It Go" and try not to be impressed. Kristen Bell and the rest of the cast more than pull their weight on the soundtrack too, with the heartbreaking "Do You Want to Build a Snowman?" and comedic "In Summer" likely responsible for a good chunk of the 165,000 copies sold this week.
If you're still considering buying the album, just listen to "Let It Go" below, I think you'll make your decision within the first minute.
Image: Disney