Porsha's Boyfriend Duke Williams Met The 'RHOA'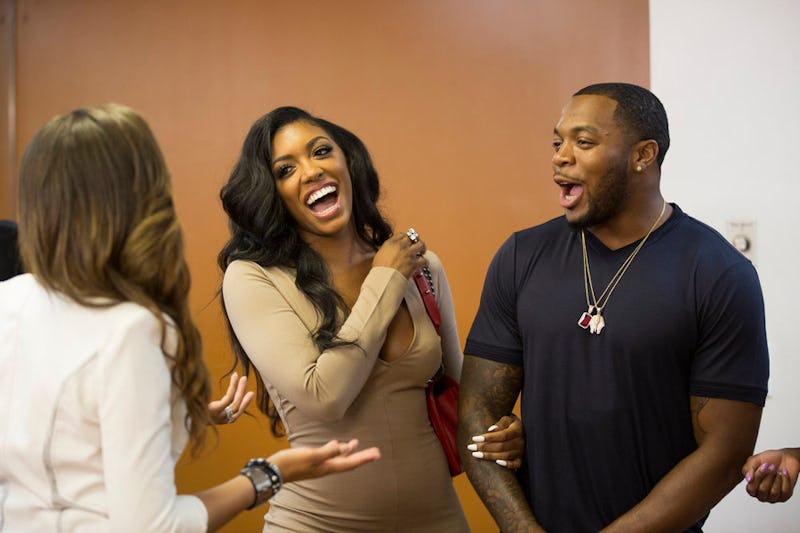 Porsha Williams' new boyfriend is a cutie, that's for sure, but he is also a very young football player working in a different city, which usually doesn't mean serious relationship. But it doesn't matter to Porsha, who was happy to make him her "trophy man" for a going away celebration that probably should have been about her upcoming lingerie collection instead. But who is Duke Williams, Porsha's new BF? And will their months-long relationship make it long enough that her plans to potentially buy a house together don't seem so crazy?
Turns out Williams is a lot of things. First of all, he really is a football player, who's in his third season of playing for the Buffalo Bills. So even though Porsha has joked about being Duke's "sugar mama," he does have a job and a pretty solid salary to support himself. So he's probably not dating her just for the money. That's a good sign!
However, there are also some warning signs for Porsha to worry about. Her family isn't supportive of the relationship, and her sister is currently pregnant, which may be fueling her desire to rush into a new serious relationship. And Duke's reaction to the going away party was less than positive. He seemed to be more overwhelmed than charmed by her party.
And I've got a spoiler alert, RHOA fans: online rumors from OKMagazine suggest that Porsha and Duke already broke up back in September 2015, and Porsha confirmed they are no longer together in an interview with Dish Nation. Other rumors, about Williams allegedly having sex with prostitutes, have never been confirmed, and according to Porsha, was not a part of the reason that they broke up, which was the long distance relationship.
But even though Porsha keeps saying that she doesn't mind having a relationship with a young hot guy, it seems from the party that she's looking for something much more serious. Hopefully her next boyfriend is looking for something a little more committed too.
Image: Mark Hill/Bravo