9 Best Red Lipsticks To Wear This Holiday Season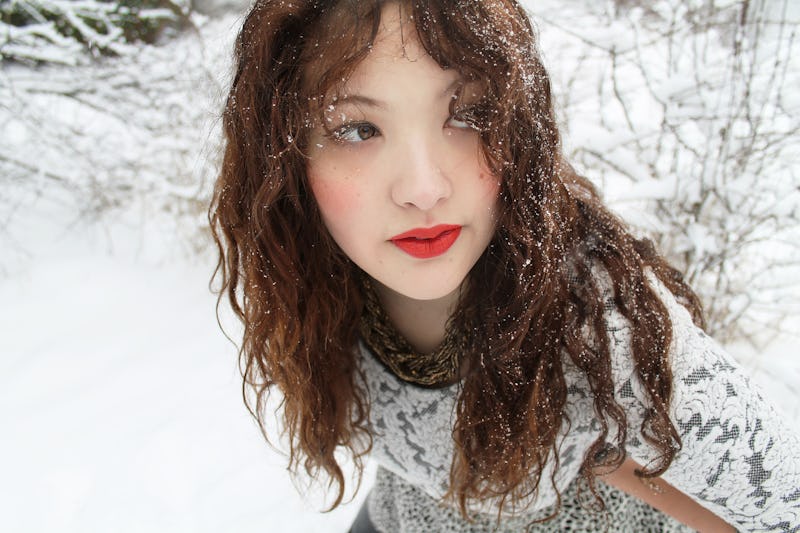 The winter season is, IMO, the best time of year. Not only does it breed great food, family traditions, festive decorations, and the gift-giving spirit, but it's also the perfect time to find red lipsticks for the holidays. I mean, thanks to its festive brightness and Santa-like hue, there really is no better shade than red. Celebrities like Taylor Swift and beauty legends like Marilyn Monroe have understood and completely mastered the powers of the pigment too, proving you just can't go wrong with a red lip.
There's something magical about the brightest, purest red that makes it the way to go during the holiday season (and, you know, always). However, based on your preference, you may appreciate a darker crimson shade or an even brighter orange-based color. No matter what your hue of preference is or whether you opt for shiny or matte, a red lip will always leave a lasting impact.
Below are nine red lip options for the holiday season, featuring a bunch of special holiday-inspired and limited edition shades as well. Seriously, what better time is there to treat yourself to limited edition lipstick than during the holidays? Let's all give thanks for these perfect red shades.
1. MAC
Lipstick in Brave Red, $17, MAC Cosmetics
Embrace your bravery and step out in a bright red with daring yellow undertones.
2. NYX
Matte Lipstick in Perfect Red, $6, NYX Cosmetics
NYX is my go-to for quality and affordability. Be sure to check out its long-wear matte lipstick in what is literally a "perfect red."
3. Kat Von D
Kat Von D Studded Kiss Lipstick in Hellbent, $21, Sephora
Add a little edge to your holiday clutch with this stud-packaged lipstick. The bold crimson red inside (supposedly a cult favorite, according to Sephora) will make for lips as powerful and bold as you are.
4. NARS
NARS Hard Wired Lipstick in Deadly Catch, $27, NARS Cosmetics
This limited edition shade — a holiday crimson — strays from the quintessential bright red. The product's futuristic sheen gives it impactful shine that will match that of the tinsel and lights around you. My advice? Snag this one while you still can.
5. Dior
Diorific Mat Holiday 2015 Limited Edition in Fabuleuse, $38, Dior
This lipstick is definitely on the pricier side, but 'tis the season to treat yourself, right? The red is pretty classic, but there is nothing ordinary about the gorgeous gold packaging. It's downright ornamental, ideal for matching the festive atmosphere of any holiday party (or for holiday spirit on the go).
6. Jeffree Star Cosmetics
Jeffree Star Velour Liquid Lipstick in Hoe Hoe Hoe, $18, Jeffree Star Cosmetics
Musician and makeup artist Jeffree Star now has a makeup line, and it rocks. This limited edition shade, which is also vegan and cruelty free, has hints of metallic red and purple throughout. Plus, the long-lasting matte lipstick has a completely unforgettable name: "Hoe Hoe Hoe." It's equal parts raunchy and festive.
7. e.l.f.
e.l.f. Essential Lipstick, $1, Elf Cosmetics
Has the holiday season left you strapped for cash? Me too. Check out e.l.f. (aka the perfect holiday-themed name for a cosmetic line) for a cheap red lipstick with amazing long-lasting shine. Who says you need to spend the big bucks to get a stunning red pout?
8. Topshop
Lips in Screen Siren, $12, Topshop
This cute packaging is not particularly festive, but the lipstick's red hue is certainly bold and true to the season. It'll be perfect for preserving a feeling of holiday cheer even after New Year's Day.
9. Smashbox
Be Legendary Lipstick in Fireball Matte, $20, Smash Box
If you opt for Smashbox's new bright red orange shade, I guarantee you'll be the most stand-out guest at your family's dinner table.
If you ask me, red is the hue to wear year-long. But something about the magic of the holidays is perfectly emblematic of the magic in a red lip.
Images: Marie Southard Ospina (1); Courtesy Brands