Take A Look At Alexa PenaVega's Best 'DWTS' Moves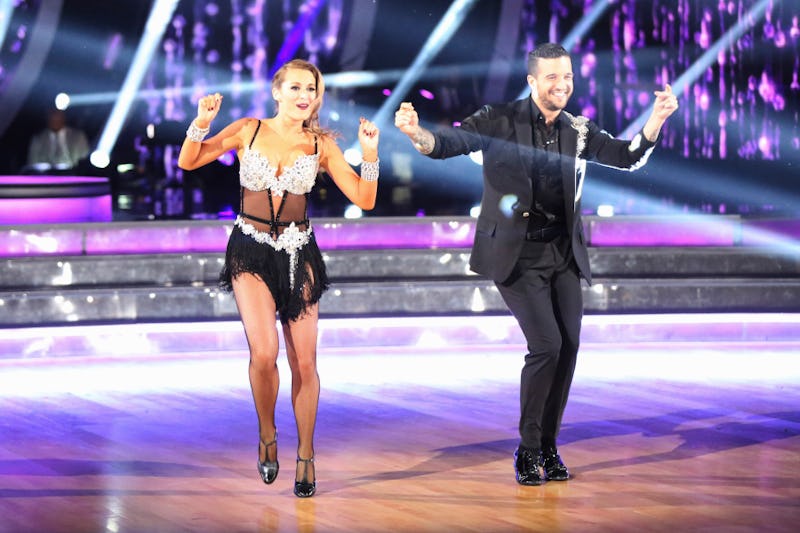 If you were to ask a Dancing With The Stars fan as to whom he or she thinks will win Season 21, I would venture to say the most common answer would be "Bindi Irwin" or "Alek Skarlatos." Now, these may not be incorrect, per se, but I think that discounting Alexa PenaVega is a huge mistake. Alexa is among the best dancers on Dancing With The Stars — she's improved consistently week over week, and her dancing partner, Mark Ballas, is the show's most inventive choreographer and one of (I can't discount Derek Hough) its best dancers. I think she's a Dancing With The Stars dark horse, and the videos of Alexa's best DWTS dances prove this.
Mark and Alexa are the perfect dancing team. Though Alexa could already dance a bit when the show started, Mark really whipped her into shape, turning her from a casual dancer into damn near a professional one. He's pushed her, week by week, through the competition, moving her out of her comfort zone in order to make her better. Alexa's husband, Carlos PenaVega, is also on this season of Dancing With The Stars, and this could really be a distraction for everyone involved. Fortunately, Mark has given Alexa a laser focus in the competition. He's also made her dance with a snake. How's that for shaking things up? To commemorate their partnership, let's take a look at Alexa's best dances on Dancing With The Stars.
Week #1 — Jive
Now, this wasn't the best dance I've ever seen on Dancing With The Stars, and it's nowhere near being Alexa's best dance, but this jive was the one that cemented her and Mark's relationship. The dance isn't bad at all (especially when compared to some of the other contestants this season), but in watching this one, you can really see how far Alexa has come. Mark was able to really get her out of her own head, and her progress since Week 1 has been amazing to watch.
Week #2 — Salsa
After her scores in Week 1 weren't so amazing, Alexa wanted to get better in Week 2. As a nod to her Colombian roots, Alexa and Mark did a slinky, sexy salsa, and Alexa really let her animal side show through — she was literally dressed as a jaguar. Here, you really see Mark and Alexa's dancing connection.
Week #3 — Jazz
I'm honestly not much a fan of this Breaking Bad theme (it was television week and I never watched Breaking Bad), but I really loved how Mark and Alexa really stuck to the theme here. Alexa obviously trusts Mark implicitly, or how else would she have gone along with such a wacky theme?
Week #5 —Tango
This dance wasn't even with Mark (this was the switch week, so Alexa was partnered with Derek Hough), and it was just the breakthrough Alexa needed to push through the next stages of competition. She and Derek absolutely blew it out of the water here, earning Alexa the first perfect score of the season. Alexa had so many men hugging her after this one — Carlos, Mark, and Derek were all so excited for her. This moment was the point in the competition where she showed she was a real contender.
Will Alexa win Dancing With The Stars? We'll just have to wait and see, but she and Mark sure have my votes.
Images: Adam Taylor/ABC