Liz Taylor May Find True Love In 'AHS: Hotel'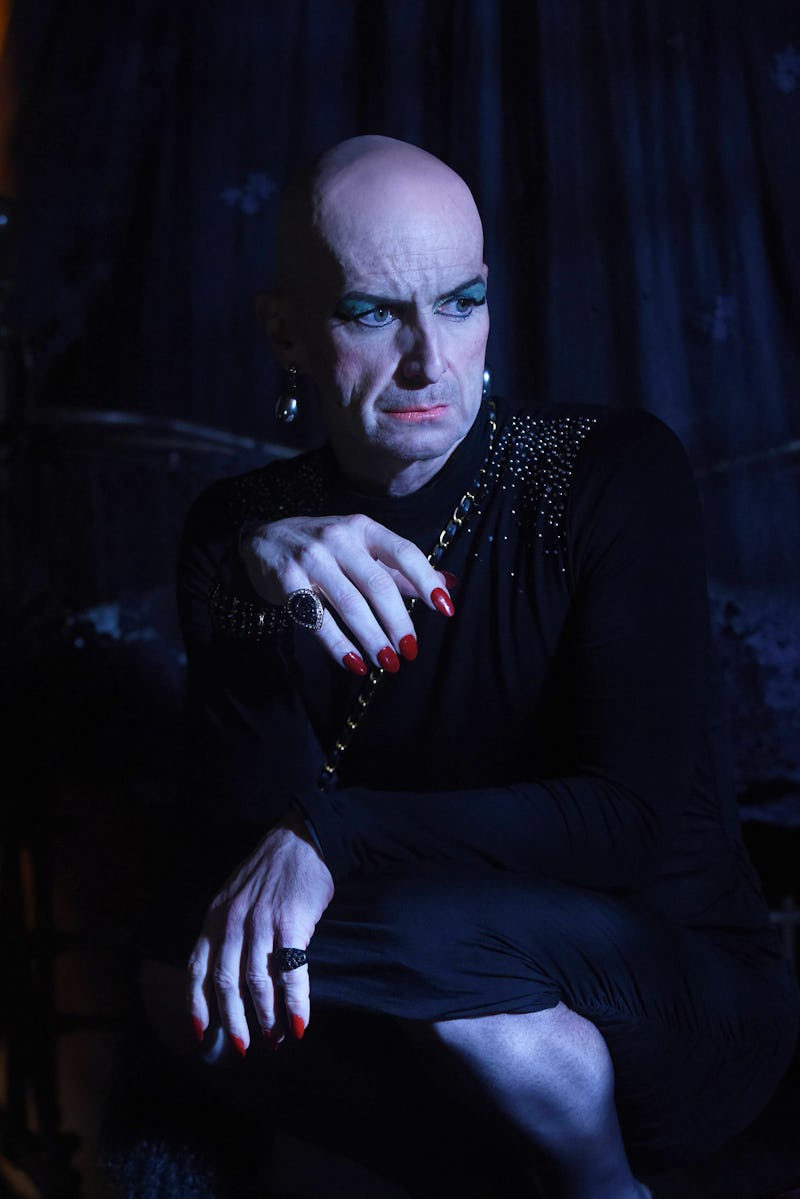 In a world full of unlikable heroes and charming killers, Liz Taylor may be the only decent person in AHS: Hotel . So it's good news for AHS fans to hear from Denis O'Hare that Liz Taylor's love interest will soon be revealed in the upcoming episode "Room 33". There is no mention as to who Liz Taylor's love interest will be, the only clues being that the romantic-partner to be is "younger than her," that it's likely a man (her saying, "I'm not gay" made her sexual identity pretty clear), and that things will get steamy.
Of all the people that deserve to be loved within the Hotel Cortez, Liz Taylor is at the top of the list. Liz Taylor is certainly one of the less murderous denizens of the Hotel Cortez and even when she is involved in a death it is through an indirect influence such as when she convinced Iris to kill that annoying hipster couple — which despite being murder may have actually benefitted humanity. The Hotel Cortez bartender appears to have a great capacity to love and empathize with her fellow tenants, dispensing advice to those with whom she is familiar as well as strangers (such as suggesting John Lowe not try to sleep with the ghost of serial killer Aileen Wuornos). Luckily, it will soon be time for her to receive the love she deserves, but who will provide it? Here are my predictions for possible love interests for Liz Taylor.
Will Drake
The new hotel owner has been attempting to turn the Hotel Cortez into a luxury, but perhaps the luxury that Will Drake really needs is a little bit of Liz Taylor in his life. Plus, the two already have a good rapport with each other.
Donovan
Liz and Donovan have one huge connection: Iris. Liz Taylor seems to be the only friend of Donovan's estranged mother, and this may lead to a confrontation between the two which may lead to something more. Sure, it's weird to be attracted to your friend's son, but that would be far from the weirdest thing to happen on AHS.
Someone New
It seems that all the major characters for this season have already been introduced, but there's still time to introduce a new presence into the hotel. There's no reason that a cute young thing can't walk into the Hotel Cortez and become instantly swept up by Liz's charm.
"Bartholemew"
The love interest will be introduced in the same episode that will reveal what lies in the mysterious Room 33, which is said to be named "Bartholemew", but there are no clues regarding whether or not Bartholemew is a person or a monster, all we know is that it needs to be fed occasionally. It may not be a coincidence that these new plot elements are introduced in the same episode — they might be the same thing!
There are plenty of options for the showrunners to pair Liz Taylor with, the important thing is just that they are pairing Liz Taylor with someone. It's usually unheard of that a television show will include a love story with a transgender character, let alone a sex scene with a character over the age of 50. The fact that AHS: Hotel is featuring both of those is a positive step forward for diversity in television.
CR: Ray Mickshaw, Frank Ockenfels/FX; Giphy (2)