Though Sick, Tamar Made It Back To 'DWTS'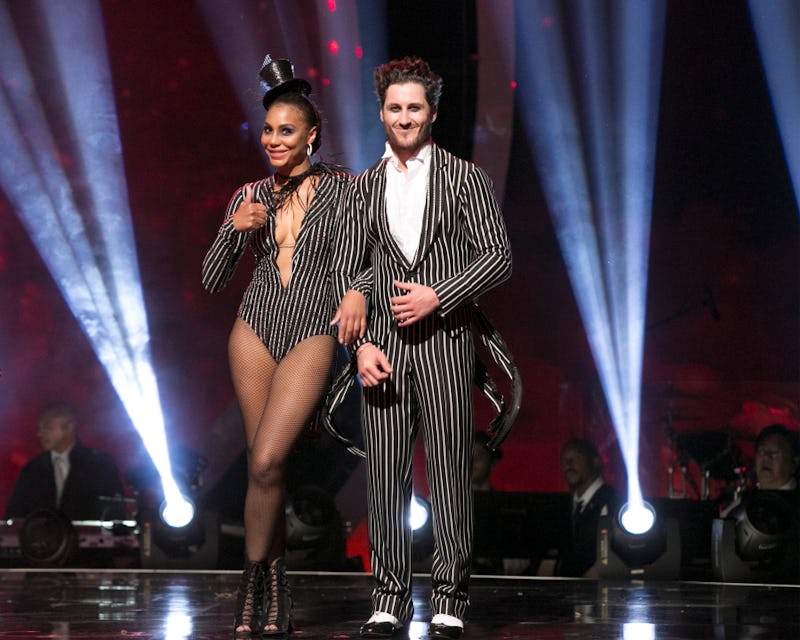 Injury and illness are always a possibility on a show like Dancing With The Stars—when stars are rehearsing for hours and hours a day, five days a week, there's always a chance of landing wrong or running yourself down to the point where you get sick. That seems to be what's happened to Tamar Braxton, one of Season 21's best contestants. At the beginning of the latest episode, Tom Bergeron got on stage and told the audience that sure, there are six couples competing on the show, but one person is missing—Tamar—and no one on the show is quite sure when she'll be back. According to TMZ, Tamar was suffering from a bout of pneumonia. The question on everyone's minds was whether or not Tamar would be able to return to Dancing With The Stars .
If you've been tuned in to Dancing With The Stars Season 21, you'll remember that reality star Kim Zolciak-Biermann was taken out of the competition after she suffered a mini stroke on a flight back to her home in Atlanta. The rules of Dancing With The Stars state that if a contestant has to miss a show for illness or injury, they must withdraw from the competition. Though unfortunate for the person who has to withdraw, I totally get these rules — it's not fair to the other contestants to give someone a pass if they're sick. It just sucks to have to put in all that work and get sidelined by something stupid.
Luckily for Tamar, she was able to return and finish out the night's performances. I frankly can't believe she could even get out of bed after a hospitalization, but damn, girl. She really went and did it. She and Val performed beautifully with Sharna and Nick, and it's lucky that Tamar did—Tom told her that had she not appeared on the show and made it back, she would have been eliminated a la Kim. While I'm happy she's still on the show, I hope Tamar gets the rest she needs.
Images: Adam Taylor/ABC