How To Show Off Your 'Hunger Games' Pride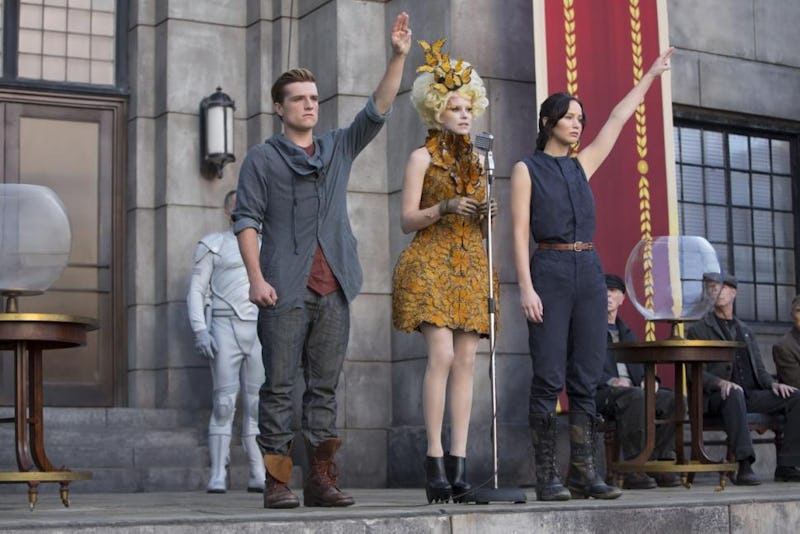 Do you have an insatiable hunger for The Hunger Games? If so, you're not alone: the demand for the books has been so high that over 26 million copies have been printed, and all three films have individually broken box office records. Tons of HG-themed paraphernalia has been created as a result of the franchise's popularity, including a ringtone of the series' signature mockingjay call. If you're looking to publicly express your excitement about Mockingjay, Part 2 flying into theaters Nov. 20, you might be wondering how to get the mockingjay ringtone for your phone. Thankfully, you can get that Hunger Games whistle ringtone regardless of whether you're Team Peeta, Team Gale, or even Team Seneca (Wes Bentley makes that beard look good).
Lionsgate has made the mockingjay ringtone available for free, so there are a bunch of places you can go to get it. A good standby is iTunes, where you can download the four-tone call straight to your library. You can also add it to your Amazon Prime Music library for free if you're a member. Basically, if you have access to the Internet, you have access to the ringtone. And if hearing the mockingjay every time someone calls still isn't enough to make you feel like you're sufficiently repping Katniss, here are some other ways you can show your Hunger Games pride.
Download The App
Yes, there's actually an official Mockingjay app— and it's free! Download for exclusive news, interactive features, and yet another excuse to be on your phone at the dinner table.
Get Your Fill of Panem Fashion
Check out Capitol Couture, a project sponsored by Samsung to promote the series. The online magazine-like feature blurs the line between reality and fiction with its fantastical looks created by real-life fashion stars like Alexander McQueen and Jean-Paul Gaultier.
Find Your District Makeup Look
Covergirl made an entire line of Hunger Games -inspired cosmetics, with products representing each district. It may be an unusual way to address the movies' dark themes, but the colors are so pretty!
Sport A Mockingjay Pin
There's no better way to show solidarity for the Girl On Fire than by wearing her signature mockingjay pin. You can score one from a variety of vendors on Amazon for under $10.
With so much Hunger Games/Mockingjay swag available, it's super easy to dive into Katniss' world. Just don't get so swept up that you forget to buy your tickets for Mockingjay, Part 2!
Want more Hunger Games? Watch Bustle's drunk recap of Mockingjay, Part 1 below:
Images: Lionsgate (5)