Morgan Is This Season's Underdog on 'The Voice'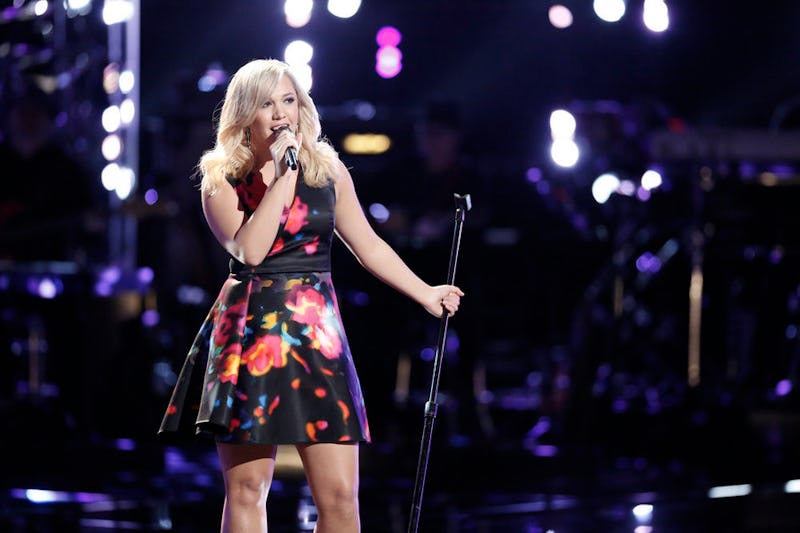 Forget the lips of an angel, Morgan Frazier has the voice of an angel. Aspiring country-rock singer Morgan Frazier performed Hinder's "The Lips of an Angel" in The Voice Live Playoffs and completely nailed it. Her vocals were totally on point and she oozed confidence — it's no wonder why coach Blake Shelton stole her back after coach Pharrell let her go in the Knockout Rounds. So could she be the next The Voice winner from Team Blake? It's a little soon to tell, but if she continues to follow in the footsteps of season 7 winner Craig Wayne Boyd, then it's definitely possible.
There are so many similarities between Frazier and Boyd's careers on this show already that it's a little spooky. First, they both joined Team Blake in the Blind Auditions only to be eliminated by him in the Battle Rounds. Thankfully, though, both were stolen by another coach (Frazier by Pharrell and Boyd by Stefani, but since the coaches are BFFs it's basically the same thing, right?). Unfortunately, both were then eliminated by their new coaches in the Knockout Rounds, BUT were re-stolen by Shelton! Quite the saga, but the same one nonetheless.
So is this crazily similar trajectory a tell-tale sign that Frazier is going to follow in Boyd's path and be the comeback kid of the season? Could be. Frazier already redeemed herself in her Live Playoff by rocking it out to "Lips of an Angel." Her performance proved that she could be the next country-rocker chick on the scene. The experienced artist has the crisp sound of Carrie Underwood and the edgy attitude of Miranda Lambert — seriously the perfect blend of the current queens of country. If Frazier can continue to build on the solid talent base she already possesses, then she has a very big chance of taking it all in the finale.
Image: Tyler Golden/NBC