Morgan Frazier Is Stolen Back on 'The Voice'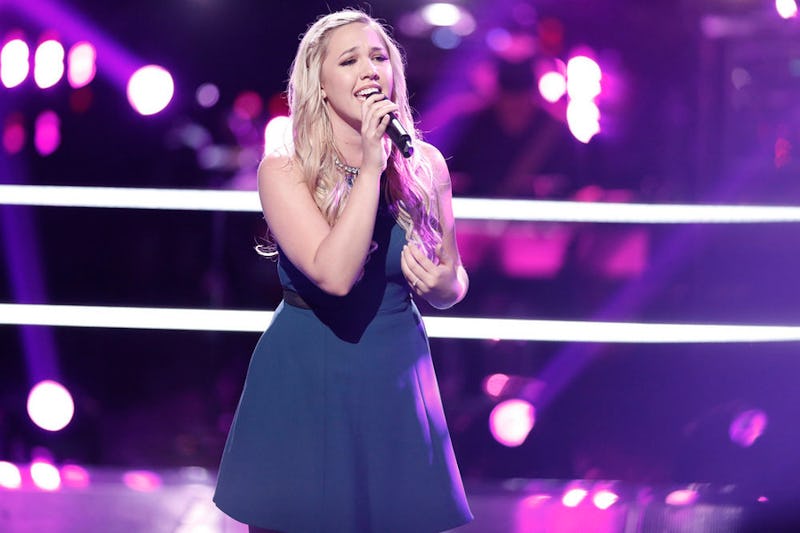 Blake Shelton's like the ex who doesn't realize what he had until it's gone. In a totally Shelton-like move, coach Blake stole back Morgan Frazier in the Knockout Rounds after she was eliminated from Team Pharrell. Frazier gave a stand-out performance to Little Big Town's "Little White Church," but it couldn't compete with Darius Scott's modern, soulful rendition of the classic "On Broadway." Though a tough choice, Pharrell ultimately made the wise decision to keep Scott on his team. This left the door wide open for any coach to steal Frazier, but it was only her former coach who came crawling back. Was this a smart choice for Shelton? Let's look at the facts.
One thing's for sure — Frazier is a talented artist. She's a strong technical singer with a versatile sound. The aspiring country artist was a good fit for Team Pharrell (Team "Other) because she doesn't fit into one box. Pharrell would've helped Frazier explore new layers of her voice and transform her into a seasoned artist ready to take on anything. But alas, Pharrell let her go and now she's back with Shelton. Don't get me wrong, Shelton will be able to do great things for Frazier — he can help her with her on-stage confidence and bring her vocal talent to the next level. But will they go on to win together? Probably not.
Shelton pulled the move he did because it's worked for him in the past. In Season 7, he eliminated Craig Wayne Boyd in the Battle Rounds, only to steal him back after Gwen Stefani let him go in the Knockout Rounds. Boyd went on to win the competition that season. But his case was different. Boyd already had tons of experience under his belt and really just needed that extra kick to get his career back on track. Frazier, on the other hand, isn't established yet and needs to do a lot of work before she's ready to start a career. It's not to say that it can't be done, but it will definitely be harder for her to win than it was for Boyd — plus, this season is packed with talent. In order for Frazier for win, she'd have to be on her A-game every week — which is tricky for any artist. So will the Frazier + Shelton be the one to beat this season? Most likely, no, but it will definitely be fun to see what they're able to do together.
Image: Tyler Golden/NBC