Celeste Betton Came Back To Win 'The Voice'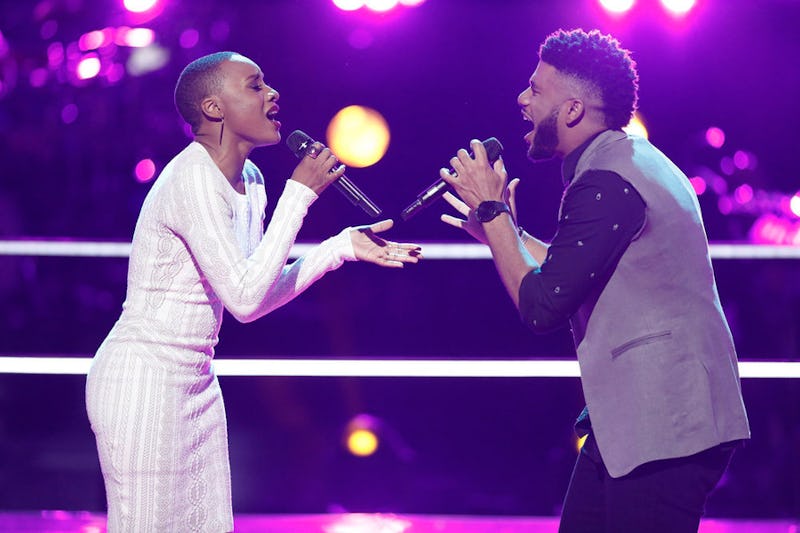 The Voice fans, rejoice — fan-favorite Celeste Betton is back for the Live Playoffs! Coach Pharrell brought Betton back as his "comeback artist" and it seems that the whole world — well, the whole audience, at least — is happy he did. Betton made the comeback of the season with a powerful rendition of Carrie Underwood's "Something In The Water." I could go on and on about how amazing she was, but I think I'll let the Twitterverse do the talking.
They've been waiting...
Wanting!
And they're SO. FREAKIN'. EXCITED.
So, clearly, Pharrell made a great choice. To be honest, though, I'm still a little confused as to why he let her go in the first place. She had great competition in early frontrunner Mark Hood in the Knockout Rounds, but she was the stronger performer. Pharrell clearly realized this, since he said that the decision had been eating at him since that night. Thankfully the past is in the past and Betton has the chance to redeem herself. The rest of the contestants better watch out, though, because this comeback artist has already proven that she's back with a vengeance and is here to win.
Could winning be a reality for Betton? Absolutely. She has a solid fan base already (as proven by the above tweets), but definitely gained many more fans after tonight's performance. Her voice is powerful, passionate and emotional, which is a nice change from the many edgy pop and alternative rock performances we've heard this season. Though it's a slight disadvantage that she missed out on a few weeks of coaching, something tells me she'll be able to catch up in no time — if she hasn't already. Whether she makes it to the end or not, though, it's safe to say we'll be seeing Betton in next week's Top 12.
Image: Tyler Golden/NBC