How To Do Thanksgiving Like The 'Gilmore Girls'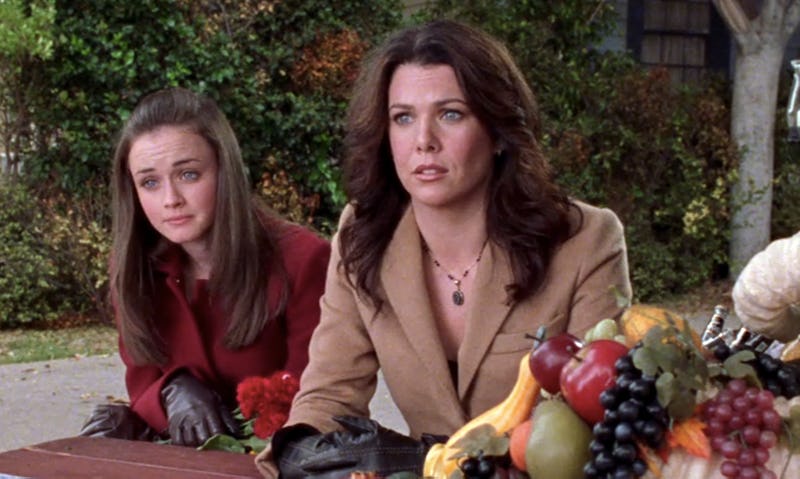 Gilmore Girls is definitely a show that can stand the test of time, and is perfect for any time of year. With seven seasons, Gilmore Girls has an episode for every occasion: Birthdays, Christmas, spring break, as well as many other events and holidays. But, the show will always be best-known for its association to fall. Everything from Lorelai and Rory's adorable chunky knit sweaters and scarves to the sepia-tone theme song scream autumn, so it's no surprise that the show's Thanksgiving episode is one of their best. In "A Deep-Fried Korean Thanksgiving," the Gilmores tackle Thanksgiving the only way they know how: Marathon eating.
In the Season 3 episode, Lorelai and Rory attempt the feat of conquering four Thanksgiving dinners — that's right, not just one or two, not an impressive three, but the championship-worthy four holiday meals. The marathon eating plans occur after the pair have been invited to dine at the Kim household, Sookie and Jackson's outdoor affair, Luke's diner, and Emily Gilmore's more reserved get-together. With so many options of dinners to replicate for a Gilmore Girls Thanksgiving you could pick one or go for the gold and attempt all four. I've even included recipes, so you don't have to have Sookie's culinary imagination to make these Gilmore meals come to life.
Mrs. Kim's Tofurky
To take a page out of Mrs. Kim's book, set up all the normal Thanksgiving fixings on a buffet table, have guests serve themselves, and make sure to hire a Christian guitar player to strum hymnals in the background (bonus points if he looks like Adam Brody). For the central part of your Thanksgiving feast, cook a delicious tofurky — and give the evil eye to anyone who attempts to avoid eating it.
Jackson's Outdoor Deep-Fry
If you'd like to replicate Jackson and Sookie's outdoor Thanksgiving, plan ahead and make sure you've got everything needed to deep-fry your turkey. If you want to fully embrace the Gilmore way of this meal, be sure to have plenty of drinks available (kept cold in ice buckets), flannel blankets to stay warm, and encouraging cheers for the cook.
Luke's Thanksgiving
For anyone wishing to avoid cooking at least one of these Thanksgiving meals, you're in luck! To celebrate the holiday in honor of Luke's meal, head to the closest diner (if there are any in the area that are open) and order a plate that includes turkey, stuffing, yams, and a dinner roll. Yum!
The Gilmores' Dinner Party
Enlist some friends or family and hold a dinner party that requires fancy dress, a piano player to set the mood, and some awkward small talk (bonus points if the conversation is partially in another language). To properly honor Richard Gilmore, only cut one slice off the classicly-cooked turkey in a ceremonial gesture and leave the rest of the carving up to someone more experienced. Of course, it wouldn't be a proper Gilmore Thanksgiving if there weren't a little bit of drama, so drop some big news and see how your guests react. Happy feasting!
Images: Warner Bros. Television; sinfultragedy/Tumblr (4)