This 'Pushing Daisies' Pie Is Perfect For Holidays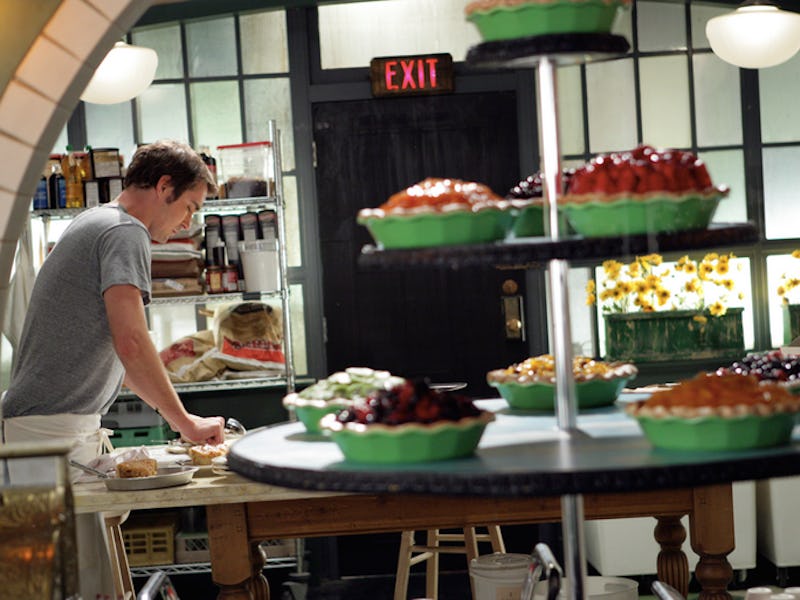 Thanksgiving is a magical time of year full of autumn leaves, quality friends and family time, and food, lots and lots of food. Personally, I think the food should be as magical as the crisp air and crunchy leaves under my feet. One show knew how to put the magic into food, and that show was Pushing Daisies . Thanks to his powers that revives anything that was dead with a single touch, Ned made the most mouthwatering pies out of formerly rotten fruit. Even if you don't have the pie-making skills or magic touch of Ned the Pie Maker, you can still impress your friends and family with a Pushing Daisies inspired pie recipe this Thanksgiving. (Please only use fresh or frozen fruit though, unless you too can bring dead fruit back to life.)
Alas, ABC never released an official Pushing Daisies cookbook, but the show offered its share of scrumptious sounding pie names over its all too short two seasons. As a fan of both cheese and pie, I have a special place in my heart for the Pear & Gruyere Pie (the one that Chuck added mood enhancing drugs to in order to make her mourning, cheese-loving aunts happy once more). You won't need to drug your family in order to make them fall madly in love with your Pear & Gruyere Pie though.
The flavor of the sweet pears combined with the sharpness of Gruyere cheese create a sophisticated harmony no pie lover will be able to resist. Never made a pie before? Resist the urge to buy a frozen pear pie and melt cheese on top. The extra work is so worth it and the whole pie-making process is much easier than you think — and this is not the Great British Baking Show so no one is going to judge you if your pie doesn't look perfect. Make Ned proud and get in touch with your inner pie maker this Thanksgiving.
Many intrepid Pushing Daisies fans have come up with their own take on Chuck's Pear & Gruyere Pie. Some of these recipes are complicated enough to make a novice pie maker weep, but this recipe adapted from the thekitchn.com (seriously, check them out and prepare to want to eat all the things) is a winner. The steps are easy to follow, there are no crazy ingredients you will have to travel to six different grocery stores to find, and the end result will be deliciousness.
Shopping List:
All purpose flour
Granulated sugar
Salt
Gruyere cheese (1 block)
8 Bosc pears (or whatever type of pear is available in your area)
Unsalted butter
Brown sugar
Cornstarch
Ground nutmeg
Ground ginger
Cinnamon
Vanilla extract
1 lemon
Pie Crust Directions
What You'll Need
2 1/2 cups all-purpose flour
1 teaspoon salt
1 tablespoon sugar
3 ounces of grated Gruyère
20 tablespoon unsalted butter, cut into 1 in. pieces
6-7 tablespoons ice water
Grab a large mixing bowl and whisk together the first four ingredients until well combined. Grab your food processor and mix the flour mixture with the butter until the flour/butter combo starts to clump up into little mini boulders (no bigger than Skittles candy). Dump the mixture back into the mixing bowl and add ice water one tablespoon at a time. Be sure to mix the water in with a fork before adding the next tablespoon. Once the dough begins to clump together give it a squeeze. If it turns into a lump, congratulations, you've made pie dough! If not continue adding ice water until it does.
Now, take your dough and form two discs. (One should be a little bigger than the other.) Wrap your discs in plastic wrap and pop in the fridge overnight, or stick them in the freezer for at least an hour if you waited until the last minute. When you remove your discs from the fridge/freezer, roll one out to roughly 14 inches (this is your bottom) and the other out to 12 inches (this is your top). Press the bottom crust into your pie dish and crimp those edges for maximum cuteness.
The Filling
What You'll Need
Half a cup of brown sugar
4 tablespoons of cornstarch
One fourth a teaspoon of salt
One fourth teaspoon of ground nutmeg
One fourth teaspoon of ground ginger
Three fourths teaspoon of cinnamon
Half a teaspoon of vanilla
2 tablespoons of lemon juice
5 cups of pears cored, peeled, and thinly sliced
3 tablespoons of unsalted butter cut into small chunks
Don't be daunted by the long list. This part is simple. Mix the first six ingredients in a large bowl. In a smaller bowl toss your pears in the lemon juice to prevent browning. Stir your pears in with the dry mixture and then add vanilla, giving everything one final stir. Dump the mix into your pie dish and dot the pear mix with the remaining butter. Now it's time to get creative.
You have several different ways to go with the top crust. You can do a lattice design by cutting the rolled out dough into strips or you can cover the top and use cookie cutters to cut out leaf designs for festive Thanksgiving decorations. You can even add cinnamon sugar. There is no wrong way to decorate your Thanksgiving pie.
The Baking
Place your pie on a cookie sheet to prevent spilling in the oven. Bake in 425 degree oven for 15 minutes and then lower your temperature to 350 degrees. Bake for 40-50 minutes, or until crust is brown. Let your pie cool and then give your friends and family a Pushing Daisies inspired treat they won't soon forget.
Images: Warner Bros. Television; Giphy (3), pushingdailydaisies/Tumblr (2)