'Pushing Daisies' Had The Best Pie Recipes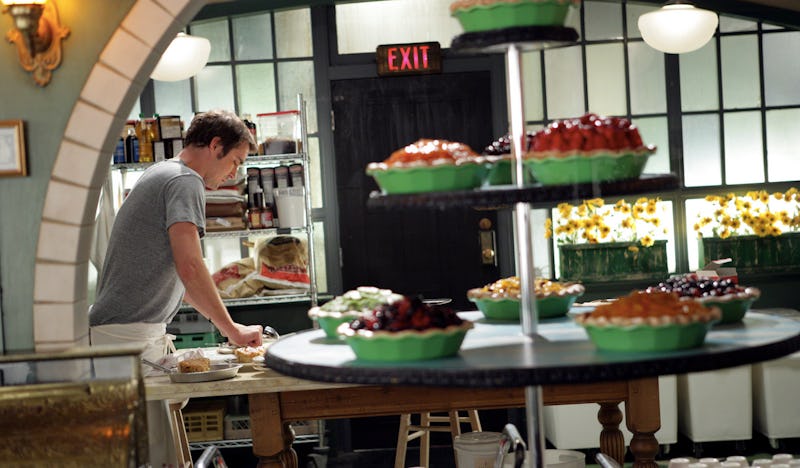 Pushing Daisies was the show that had everything, unrequited love, murder, crime, colorful sets, vintage fashion, and — of course — pie. The world created by Pushing Daisies was such a beautiful, quirky place viewers could still enjoy the storybook tales that were often woven with a morbid crime element as Ned, the adorable Pie-Maker, would use his gift of touch to resurrect the dead and solve murders with his rag tag gang: including a dead dog and dead girl he had roused and could no longer touch, a grouchy P.I., and Kristin Chenoweth. And what better setting for murder, intrigue and delight than the Pie-Maker's shop, The Pie Hole?
As the show featured manic pixie dead girls, aunts with eye patches, and identical half-brothers, somehow The Pie Hole's pastries (often baked with love and resurrected fruit) were able to exude the same amount of wonderful peculiarity as the show's eccentric cast of characters. With a bit of Charlotte "Chuck" Charles' charm, the Pie-Maker's sweetness, and a dash of Olive Snook's sass, The Pie Hole served up drool-worthy pies that I wished were real — almost as much as I wished the sensitive man baking them was my boyfriend.
Here are some of the most delightfully odd pies peddled on Pushing Daisies, ranked in order of eccentricity. See if you can get through this list without getting extremely hungry...
6. Brownie Sundae Pie
Brownies. In. A. Pie. The menu states, "White Chocolate Mousse, and Chocolate, Covered with Hot Fudge and Almonds." YAAS.
5. Three Plum Pie
Because five plums are two plums too many.
4. Kahlua Cream Cheese Pie
According to the menu, "Try the special taste of Kahlua mocha throughout our velvety cream cheese pie in a chocolate cookie crust."
3. Three-and-a-Half Berry Pie
Ned: Yesterday's Four Berry Pie was actually three-and-a-half because I ran out of cranberries. I didn't tell you that.
Chuck: Actually, you did. You asked if orange counted as a berry. And I said it didn't, but no one had to know but us.
Ned: I like that you said "us."
Chuck: Well we are an "us" aren't we?
Aww!
2. Pear & Gruyere Pie
When Chuck can't visit her aunts, because you know, they think she's dead, she finds a way to send these cheese-heads love by sending a pear and gruyere pie.
1. Cup-Pies!
Perhaps Chuck's most adorable creation, the Cup-Pie takes all of the cuteness of a cupcake and combines it with the tastiness of pie and home-grown honey from her rooftop apiary. Of course, getting Ned to add the individual treats to the menu took some convincing.
Ned: It's The Pie Hole, not The Cupcake Hole.
Chuck: But it's not a cupcake, it's a cup-pie! A single-serve pie with honey, my honey baked into the crust. And since it's still a pie, it could be served in The Pie Hole, by definition.
Ned: I'm a purist: I like that we only serve traditional pies in The Pie Hole, not these hybrids.
Chuck: Y'know, you could do with a little loosening up.
OK, now who knows an eccentric pie shop nearby? I've got a serious hankering hitting me right about now.
Images: Warner Bros. Television (3); Giphy (5)