'Come Simi' Isn't Your Typical Family Reunion Film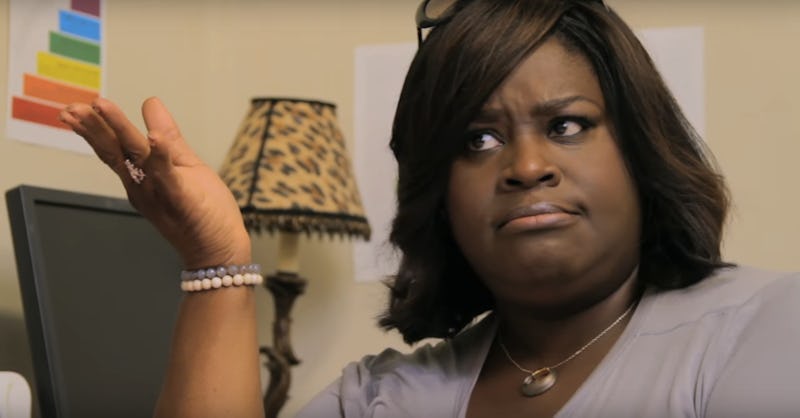 Clocking in at just under an hour and a half, Jenica Bergere's new film Come Simi zips along, chronicling a fateful and humorous road trip before the protagonist, Jenica, gives birth. Bergere plays a loosely autobiographical character taking care of a senile mother (Karen Landry) without assistance from her detached, porn-actress sister Dee Dee (Tawny Kitaen) and all while trying to reunite with estranged Aunt Maxine (Fionnula Flanagan). The journey is narrated by the car's navigation system, "Go Pilot," voiced by Saturday Night Live! alum Molly Shannon. In other words, it's not your typical film, especially because of its female-led cast and crew.
"I'd like to put my #WomenInFilm stamp on it," Bergere tells Bustle, enunciating "hashtag." Still, she emphasizes the "big crew of men" that helped make the film happen, saying, "I'm a closet women-in-film supporter, but I didn't want to wave that banner because I wasn't running out to make a movie about a maxi pad. I was running out to make a movie about the cycle of life."
Come Simi, now on iTunes and On Demand, marks Bergere's directorial debut, a feat she accomplished with minimal financing, two cameras, no artificial lighting, and all while nine months pregnant. In making the film, her hope was that, in presenting a movie about a universal human experience, "how our body gives up on us, how our mind gives up on us," audiences of all backgrounds would find the humor in the darkest moments and a means of processing their own familial difficulties.
The nature of families means that each cast member, as well as audiences across the country where the film has screened, can find a piece to relate to within the movie, Bergere says. It's not endemic to individuals struggling through a family member's Alzheimer's or dementia, or endemic to women — it can be any ailment, any familial discord. And Come Simi is funny; Bergere approached the movie with the philosophy that there's humor in every truthful moment, and the movie excels at finding that darkly comic, resonant moment. Even if you've never tried to load your senile mother into a car after scooping her out of an assisted-living facility, Bergere illuminates the path to that laugh.
Come Simi is a modest release constructed on the tightest of budgets. With just $10,000 of funding, Bergere set out to create the film, all while pregnant. Producer James Portolese encouraged Bergere to pursue the film despite this, telling her "the money shot is giving birth."
Come Simi culminates in actual footage of Bergere's delivery. (Spoiler alert: It's a girl!) She convinced her OB/GYN to allow her to remain in the Labor and Delivery room for 15 minutes following her delivery in order to film the final moments of the movie. "Tawny Kitaen was stuck in traffic!" Bergere remembers with a laugh. "She's texting me while I'm giving birth, 'Please wait!' ... Labor doesn't work like that." She had written the scene as a tender moment between the sisters, but forced to improvise, the rest of the cast filled in while Kitaen was still in transit.
That improvisational aesthetic seeps into the whole film, and with reason — armed with a scriptment, a hybrid script-playbook that lays out how the narrative will proceed, much of the dialogue was created spur-of-the-moment. Each cast member was also versed in the "bible," the family history constructed for the film. While Bergere is quick to praise each woman in her cast (and Joshua Funk, who plays her husband), she singles out Kitaen in particular as a surprisingly skilled improviser. "We were instantly sisters," she says. "We were just on the same wavelength."
Then there are the scenes with Parks and Rec star Retta, like the one in the exclusive clip below. "I wanted her to hit a couple of lines, and we needed to go to one place," Bergere says of the actress, who has a supporting role. "There was an arc that we sort of started positive and we ended negative, and that would lead us into the next scene." Nothing is off-limits in the characters' verbal sparring, and their expressions say as much as their wisecracks about kegels. (Just watch Retta's eyebrows in this scene.)
With one movie down, Bergere's already looking ahead to her next project. "My intention is to make another movie in a similar vein, with a little more money." But barring that, "I'm just going to make another one for $10,000." Looks like it's worked so far.
Images: The Orchard (2)