Female-Centric Stories Could Rule The Oscars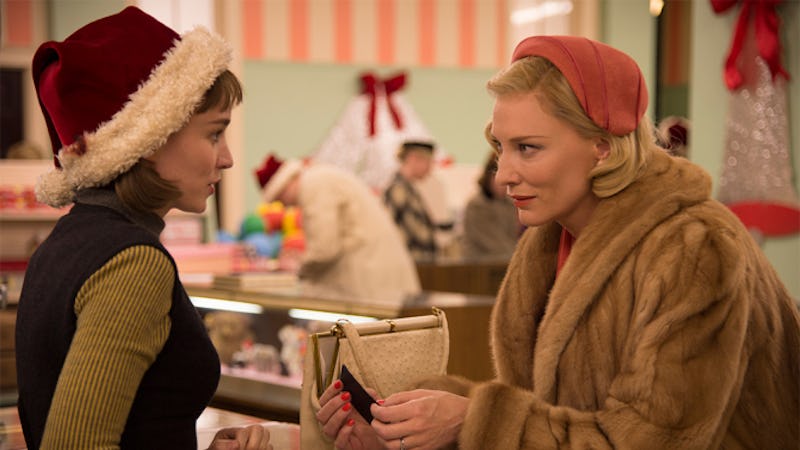 Let's face it. The Academy Awards can be a bit of a sausage fest. Heck, the entirety of awards season seems devoted to praising films and television made by and starring men. Even the stories told on screen focus heavily on male points of view. But with Hollywood slowly getting better when it comes to female representation, might we see a change in this year's batch of Oscar nominations? Could some — or, possibly, even a majority — of this year's crop of Best Picture nominees be female-led films?
It'd certainly be a change. Last year, the entire slate of Best Picture Oscar nominees were male-centric stories. American Sniper was a Clint Eastwood-directed biopic of Navy SEAL sniper Chris Kyle. Michael Keaton went a bit meta in Birdman. The Imitation Game told the story of Alan Turing who cracked the enigma code during WWII. Wes Anderson's stylized The Grand Budapest Hotel examined the friendship between a lobby boy and a concierge. The Theory of Everything explored the life of astrophysicist Stephen Hawking. The energetic Whiplash brought viewers into the fraught relationship between a talented drummer and his abusive teacher. Selma took us back to the 1965 march of Martin Luther King, Jr. Boyhood was about well... you can guess.
Yes, all of these films were good, and many featured women in fabulous supporting roles, especially Felicity Jones as Jane Hawking in Theory and Carmen Ejogo as Coretta Scott King in Selma. But the trend of the Oscars highlighting only male-centric nominees year after year cannot continue. Thankfully, 2015 featured (and continues to feature) plenty of films about, starring, and written and directed by women that have earned raves and are expected to blow up awards season. Let's take a look at some of the female-centric films that might be Best Picture nominees come January, or at least earn their stars a nomination or two, and celebrate the fact that this year's Oscar Season has the potential to be the most feminist one in years.
Room
Novelist Emma Donoghue adapted her bestselling novel of the same name for the screen. The film premiered earlier this year at the Telluride Film Festival, earning rave reviews for star Brie Larson. Since then, Larson's portrayal of a kidnap victim raising her son in the confines of a single room has made her a frontrunner for Best Actress, with the film likely to make it into the Best Picture category as well.
Carol
There was nothing easy about being gay women in the 1950s, and yet Rooney Mara and Cate Blanchett make their performances seem so effortless. Another book adaptation, Carol is based on The Price of Salt by Patricia Highsmith and was adapted for the screen by another female scribe, Phyllis Nagy. In addition to nominations for acting and picture, screenplay will no doubt get some recognition by the Academy as well.
Inside Out
Along with 2012's Brave, Inside Out is one of very few (two out of 15!) Disney/Pixar films that has a female as its main protagonist. And even better, Inside Out isn't simply just another enjoyable Pixar film, but truly one of the studio's best. By exploring the inner feelings of 11-year-old Riley, Inside Out showed how female stories can be universal ones.
Joy
At 25, Jennifer Lawrence is already an awards season powerhouse, and Joy is predicted to land her yet another nomination. The film, written and directed by frequent J.Law collaborator David O. Russell, tells the incredible true story of Miracle Mop inventor Joy Magnano. With Russell and Lawrence's previous collaborations, Silver Linings Playbook and American Hustle, landing in the Best Picture rounds, the expectation here is a continuation of accolades for the duo's work.
Brooklyn
Saoirse Ronan became an Oscar nominee at 13 for her supporting performance in 2007's Atonement, and her career has only gone up from there. Her role in Brooklyn is already earning her rave reviews, and many are expecting a second nomination as well. The film has equally been hailed as a poignant story of Irish immigration. And should Brooklyn take Best Picture, both of its winners, Irish producers Finola Dyer and Amanda Posey, would be women.
Suffragette
Talk about a quadruple threat. Suffragette is a film produced by women, starring women, written by a woman, and directed by a woman. As a film about the fight for women's right to vote, it shouldn't be any other way.
The Danish Girl
Though this film stars Eddie Redmayne, a cisgender male, the film and the story are about the emergence of trans artist Lily Elbe, one of the first people to undergo gender reassignment surgery. Another book adaptation, The Danish Girl could also see a female screenwriter, Lucinda Coxon, earn a nomination along with the film and, no doubt, nods for its stars, Redmayne and Alicia Vikander.
While these films are the ones most likely to earn a spot at the Best Picture podium come Oscar night, there are still a slew of other great movies that featured female-centric stories that may earn nominations. There's a campaign to get the stars of Tangerine, Kitana Kiki Rodriguez and Maya Taylor, in the running for awards. Lily Tomlin is a favorite for Best Actress for her role in Grandma, which is her first leading role in 27 years. Emily Blunt has earned praise for her role in Sicario, a part that's been compared to Jessica Chastain's nominated work in Zero Dark Thirty. And don't count out Diary of a Teenage Girl, which leads the nominations at the upcoming Gotham Independent Spirit Awards. Whichever films end up earning nominations this awards season, there's a good chance that a lot of those honored will be women, for films focusing on women. What a breath of fresh air.
Images: A24, Disney, Fox Searchlight, Focus Features; 20th Century Fox; The Weinstein Company (2)