'AHS' Returns To Murder House In The Best Way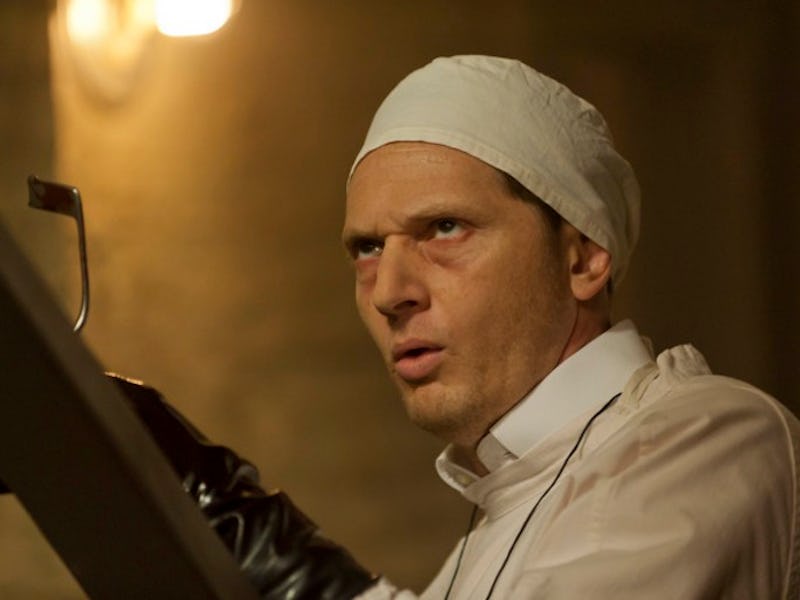 We knew it was coming and yet that didn't make AHS: Hotel 's return to Murder House any less exciting to witness. It was almost like saying hello to an old friend. (You know, if that old friend had a knack for scaring the bejesus out of you.) But the nostalgia didn't just stop there. This week's episode of American Horror Story: Hotel also saw Dr. Charles Montgomery back to his old habits. And by that I mean performing illegal abortions for young girls hoping to "make it" in Hollywood. But you'll never guess who stopped by for such a visit back in 1926 — The Countess herself in a very pregnant state. And the crazy thing was that, in spite of her rather large baby bump, she was supposedly only three weeks pregnant.
But the curious details don't just end there. First of all, back then The Countess went by the name Mrs. Johnson. (Her first name was never mentioned, but perhaps it was still Elizabeth. Let's just go with it.) Apparently, she'd heard about Dr. Montgomery's reputation from her close friend, Margaret Gibson, who went through a similar situation that needed "taking care of." Montgomery was happy to oblige, even considering how far long she looked, but after the procedure was over (which included a nod to his ether habit), his nurse discovered that the fetus (which we learn was a baby boy) was still alive. In fact, it attacked and killed her immediately afterwards.
Suffice to say, it seems as though he began taking after his mother right off the bat. I found it highly amusing, though, that Dr. Montgomery didn't seem to care about the fact that a.) his nurse was murdered and b.) that the baby was the one who did it. In fact, he seemed downright happy for the new mother when he presented The Countess (I mean, Mrs. Johnson) with her son. I guess when you've lived inside of Murder House for so long, you've pretty much seen it all.
Image: FX