Can Fans Be 'With Bob and David' On Netflix Again?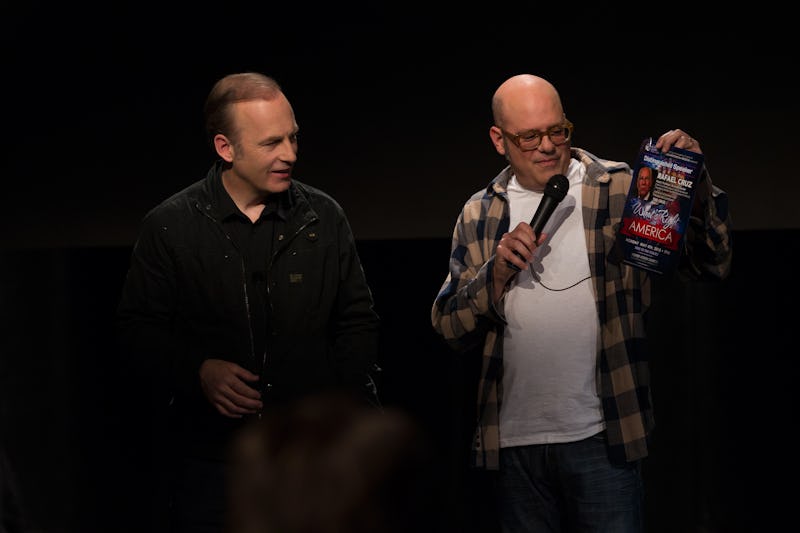 Mr. Show with Bob and David ran for four seasons on HBO between 1995 and 1998 — and then basically disappeared altogether. While it is available on DVD, HBO doesn't show the series anymore, and it's not available on any streaming sites. If you want to relive the sketches and don't want to shell out for the DVD, you're relegated to low-quality, probably illegal YouTube clips. But, as with all things '90s, Bob Odenkirk and David Cross are back. Their sequel/companion/spinoff series, With Bob and David , hits Netflix on Nov. 13. But they're only doing four, half-hour episodes, which will all be available for streaming simultaneously. After Nov. 13, are we going to have to wait another two decades for more, or will With Bob and David get another season?
"We certainly hope so," Cross told The Verge. "[We] said to each other and to Netflix [that] we want to do more. The difficulty is in our schedules. Bob is extremely busy with Better Call Saul as well as his charity work. I'm sitting here trying to create spices, that's my thing now. Granted, I probably have more flexibility on my end, but it still takes a lot of work." (Odenkirk is also busy with other comedy writing: According to The Daily Beast, the former Saturday Night Live writer submitted a monologue for Trump's SNL episode, though he added that hosting the show is "not a good use of your time if you want to be president. You're not a serious f*cking person!" It's not clear if SNL used Odenkirk's script, though.)
Cross reiterated his desire to do more in Entertainment Weekly, saying that he felt they could do more if they had more time together. "I suspect that if we weren't so severely limited by our schedules, which really determined that we could only do four of these episodes kind of properly with the time we had, if we had done eight or 10, you would have seen an episode that was, maybe made of three sketches and one was 14 minutes long," he told the magazine.
"I think we would have gravitated toward that as we were sitting there and really building up. It's the one regret of this go-round is that, kind of just as we were getting our sh*t together and figuring it out, we had to stop." It doesn't seem like their comedy wells have run dry, so there's always material for another season.
So, it's clear that Odenkirk and Cross are open to another season and have material for it, if their schedules allow. Netflix hasn't revealed either way about whether it'd be interested in more, and that likely depends on the success of the first season. At least by premiering on the streaming service, the four episodes of With Bob and David we are guaranteed will stick around. If any of the sketches deserves a re-watch until new episodes potentially arrive, you won't have to find a bootleg of a bootleg on YouTube.
Image: Saeed Adyani/Netflix