10 IRL Couples Who Entranced Us On-Screen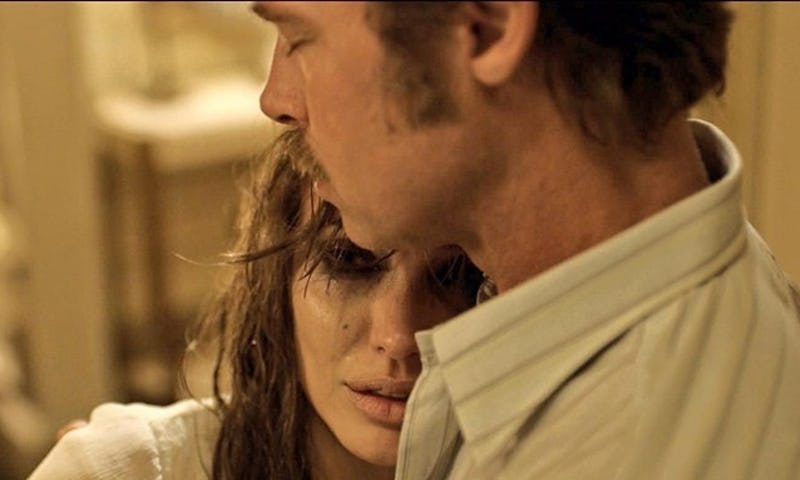 Middling reviews aside, there's an inherent draw to Angelina Jolie's new directorial effort By the Sea — that being the chance to see her play on the big screen opposite husband Brad Pitt for the first time in 10 years. It was behind the scenes of the cinematic venture in question, director Doug Liman's action comedy Mr. & Mrs. Smith, that Jolie and Pitt first met, discovered their onscreen chemistry, and fell in love. The decade to follow would grant the thus-dubbed Brangelina stature has one of Hollywood's most idolatrized celebrity couples.
It's always exciting to see real life couples mine great art from their love affairs. Heck, it's sometimes even more fun to see them draw lackluster cash grab material from 'em. While Brad and Angelina may rank as America's preferred tabloid fixation, their friends in the game of spotlighted romance are likewise due for recognition of their willingness to play into our obsession with their every waking move. As such, here are some of the most memorable celebrity couples that have taken their private lives to the big screen. Did the thunder from behind closed doors make its way to the cameras, or was something lost in the translation?
1. Stonefield
The constituents: Emma Stone and Andrew Garfield.
Got together: On the set of The Amazing Spider-Man.
And went on to make: The Amazing Spider-Man 2.
All in all: While Amazing Spider-Man 2 wasn't quite as good as The Amazing Spider-Man, Stone and Garfield's chemistry as Gwen Stacy and Peter Parker was absolutely the high point of the film.
2. Coquette
The constituents: Courteney Cox and David Arquette.
Got together: On the set of Scream.
And went on to make: Scream 2, Scream 3, and Scream 4.
All in all: Though not quite living up to the longlasting classic that was the original Scream, the duo's further ventures make for a pretty fine onscreen legacy.
3. Krax
The constituents: Kristen Bell and Dax Shepard.
Got together: At a Kings vs. Red Wings game in 2007.
And went on to make: When in Rome, Hit and Run, and the Veronica Mars movie.
All in all: Bell and Shepard's filmography has not quite done due service to their superhuman offscreen adorability. Maybe Nancy Meyers can pen them an old fashioned rom com worthy of their Twitter-proposing, sloth-loving charms.
4. GoKurt
The constituents: Goldie Hawn and Kurt Russell.
Got together: On the set of Swing Shift.
And went on to make: Overboard.
All in all: It's Overboard — what more need I say? They're golden.
5. Fratt, Or Maybe Paris
The constituents: Chris Pratt and Anna Faris.
Got together: On the set of Take Me Home Tonight.
And went on to make: What's Your Number? and Movie 43.
All in all: Maybe Marvel can work Faris into Guardians of the Galaxy Vol. 2 to give this delightful pair a big screen union that'd really show off their comic chops. Although, if the first Guardians' female characters are any indication, Faris wouldn't get enough screen time. And be some kind of green.
6. The Other Mr. & Mrs. Smith
The constituents: Will Smith and Jada Pinkett Smith.
Got together: On the set of The Fresh Prince of Bel Air, following Jada's audition for the role of Will's love interest.
And went on to make: Ali.
All in all: When the Smith family works together onscreen, we get things like Ali and After Earth. Maybe fan out, guys.
7. Cruiseman
The constituents: Tom Cruise and Nicole Kidman.
Got together: On the set of Days of Thunder.
And went on to make: Far and Away and Eyes Wide Shut.
All in all: Believe it or not, America's newly re-beloved nutter butter and his now ex-ex-wife together turned in one of the greatest movies on this list, and, perhaps, of the 1990s on the whole. Stanley Kubrick must have seen something special in the superstar couple.
8. Kazano
The constituents: Zoe Kazan and Paul Dano.
Got together: In Brooklyn, probably.
And went on to make: Meek's Cutoff and Ruby Sparks.
All in all: One is great, the other is painfully twee. I'm talking about the movies, not the couple.
9. Prenjamin
The constituents: Paula Prentiss and Richard Benjamin.
Got together: While enrolled at Northwestern University.
And went on to make: MASH, Saturday the 14th, Catch-22, the TV movie Packin' It In, the TV show He & She, and a series of instructional videos on business decorum.
All in all: This team gets bonus points for being eclectic. Two war satires, a horror parody, and a 20-minute video called Meeting Management? Who can top all that?
10. I Will Not Do Spencer Tracy And Katharine Hepburn The Indignity Of A Celebrity Portmanteau
The constituents: Spencer Tracy and Katharine Hepburn.
Got together: On the set of Woman of the Year.
And went on to make: Keeper of the Flame, Without Love, The Sea of Grass, State of the Union, Adam's Rib, Pat and Mike, Desk Set, and Guess Who's Coming to Dinner.
All in all: The proverbial melded godparent of the celebrity couple, Tracy and Hepburn made nine pretty terrific movies together throughout the final 25 years of the former's life. Any of the above pictures is a proper showcase of the chemistry, respect, and love shared by these brilliant partners in screen and life.
So, whether you're watching Brad and Angelina, Chris and Anna, Kristen and Dax, or Spencer and Tracy, there's something very special about seeing two life partners bring their real life magic to the silver screen. While sometimes the formula yields clunkers, more often than not we get a little taste of that electricity.
Images: Universal Pictures; Columbia Pictures (3); Dimension Films; Open Road Films; MGM; Relativity Media; Warner Bros.; Fox Searchlight Pictures; CBS