New Holiday Peeps Make The Best Stocking Stuffers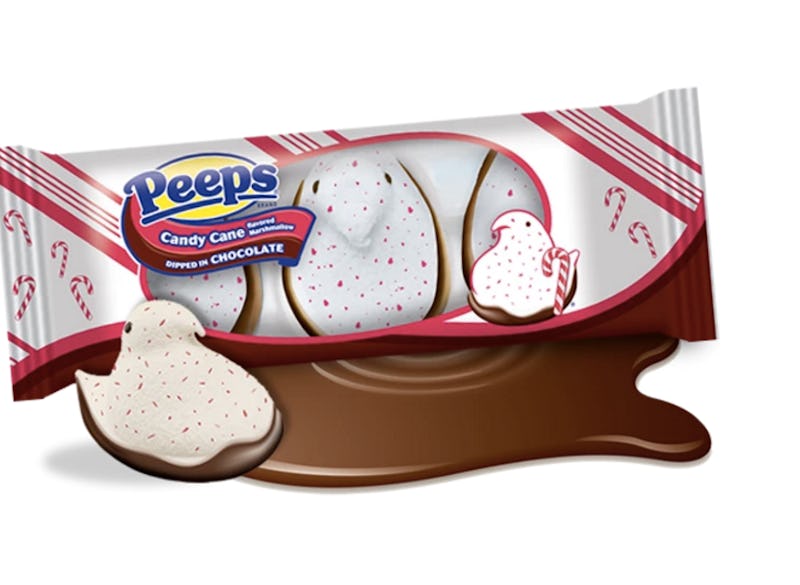 Can I make a confession? I freaking love Peeps. What can I say — they're cute, they're covered in sugar, and as this year's new holiday Peeps flavors prove, they're the ultimate way to celebrate a festive occasion. The sweet yellow chicks will always be a classic go-to, but I've seen the new holiday lineup Peeps has planned for this season, and Santa, if you're listening, I'd like to find all of these in my stocking this year.
What can possibly be sweeter than the sugar-coated pastel treasures you used to find in your Easter basket as a kid, you ask? Peeps has always had a pretty strong handle on the holidays, rolling out seasonal favorites like orange marshmallow pumpkins and sugary ghosts on Halloween, and even tapping into the pumpkin spice market earlier this fall. With the holidays finally upon us, Peeps has a new host of treats to draw us in. On the docket this year? Of course you'll find classic holiday flavors like candy cane and gingerbread, as well as Peeps shaped like Christmas trees and reindeer. But while you're browsing through stores looking to get your hands on your old-school favorites, keep an eye out for these new flavors as well. Seriously, they're too good to pass up:
1. Red Velvet
These are like the marshmallow equivalent of Starbucks' red cups — they just scream "happy holidays." Covered in red sprinkles and dipped in cream fudge, red velvet Peeps are the sweetest bites you'll find this season.
2. Sugar Cookie
These sugar cookie-flavored Peeps will save you loads of time baking — plus, there's no decorating required.
3. Sugar Plum Delight
Those visions of sugar plums will take on a distinct, chick-like shape thanks to these babies, which just so happen to also be dipped in white fudge.
4. Hot Cocoa
Just thinking out loud here, but what if you put hot cocoa-flavored Peeps marshmallows into your hot chocolate instead of regular marshmallows? Too much of a good thing? No, I didn't think so either.
So which flavor is the best? I'm inclined to say all of them — but don't take my word for it! The holidays are supposed to taste extra sweet, so go ahead and try them all. Better yet, try throwing them all into a massive Peeps cake. After all, bigger is always better.
Images: Peeps