3 Easy Ways To Upgrade Your Thanksgiving Gravy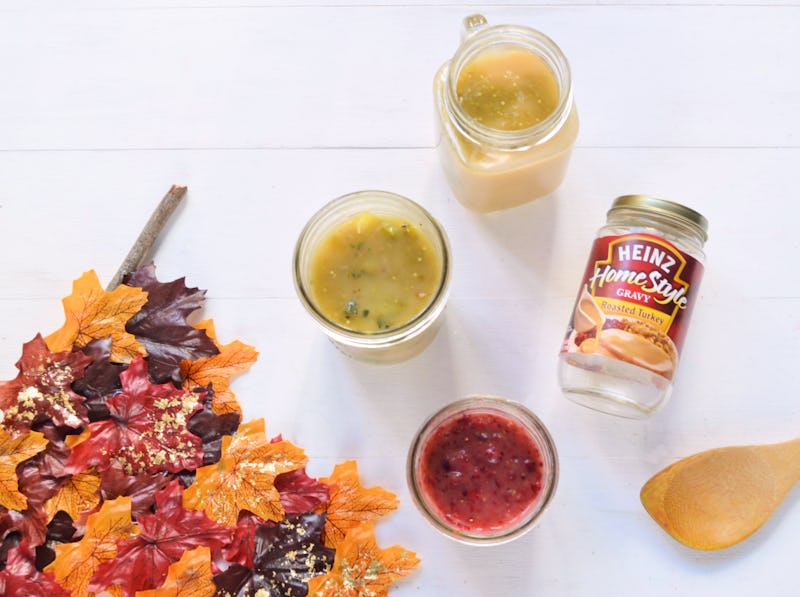 From savory gravy to cranberry sauce, Thanksgiving is the prime time for traditional meals and classic fall flavors. However, if you're anything like me, you love to keep things interesting. This can mean anything from switching up the main course (Thanksgiving burrito, anyone?) to creating a boozy biscuit recipe to figuring out how to make store-bought gravy taste good, for once. After all, adding a fun twist to dishes is the best way to chow down on delicious grub.
That's why I have come up with three (yes, three!) different ways to upgrade store-bought gravy. While plain gravy totally has a place in my heart, there's nothing wrong with trying something new. These ideas are especially useful if you're in a rush and need to bring something to that last-minute Friendsgiving.
Of course, store-bought gravy is nowhere as amazing as homemade. Sometimes, however, there just isn't enough time to whip up something special. Other times, you might feel like a lazy cook. And while store-bought gravy is really darn useful, it's not always the most mouthwatering. Some versions may be a bit bland, while others can be too thin or watery. That's where these three Thanksgiving hacks come to the rescue.
Instead of settling for "meh" store-bought gravy, try out these easy upgrade options. All it takes is a little innovation and a quick stir of a spoon. Yum!
Option #1: Cranberry Gravy
Bet you never saw this one coming. This one is ideal for fans of savory-sweet combinations. It's also a great way to use up any leftover cranberries from other recipes, too.
Ingredients:
- Gravy- Cinnamon (optional)- Cranberries
1. In a food processor or blender, chop up a handful of cranberries. The mixture does not have to be smooth or super fine. Instead, aim for a consistency similar to chunky salsa.
By chopping up the cranberries, you'll enable the flavor and juices to mingle with the gravy.
2. Add the cranberries to the gravy, and mix well.
3. Bring in a dash or two of cinnamon for full on Thanksgiving feels.
Option #2: Veggie Gravy
Cooked veggies are perfect for adding texture and flavor to your gravy. To rev up your taste buds, sauté the vegetables with a generous helping of spices and herbs.
Ingredients:
- Gravy- Sautéed vegetables (your choice!)
For this version, I used peppers, onions, and a medley of herbs. Feel free to use the vegetables you have on hand.
Add the sautéed vegetables to the gravy and mix well. Easy peasy.
Option #3: Salsa Verde Gravy
Oh, yeah. Salsa verde gravy is a real life thing. It goes without saying that this quick gravy upgrade is the best of both worlds: Thanksgiving and Mexican food. To test it out, consider whipping up a Thanksgiving burrito with the holiday's leftovers. I promise you won't be disappointed.
Ingredients:
- Gravy- Salsa verde
1. Add salsa verde to the gravy according to your taste and preferences. Mix well. and you're all done.
For more cool food ideas, check out Bustle on YouTube.
Images: Kirsten Nunez