June Squibb Is Lena Dunham's Newest Star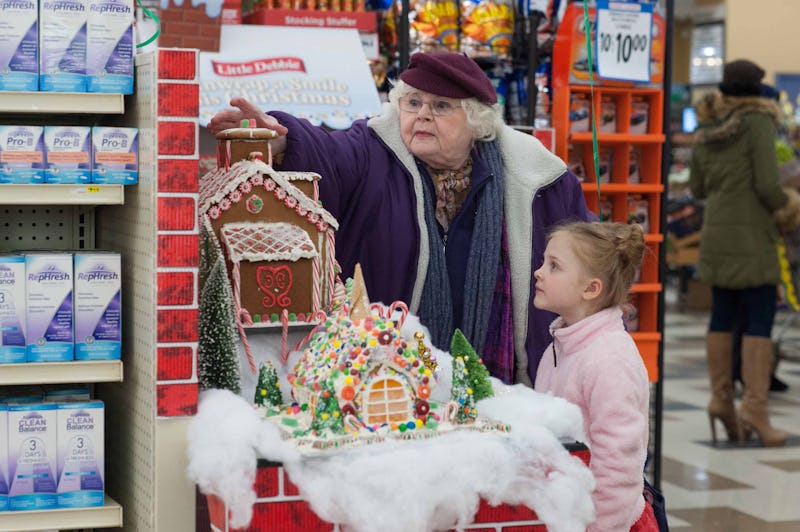 At 86 years old, June Squibb has worked with her fair share of younger stars, who have included Lena Dunham, Amanda Seyfried, and Olivia Wilde, her co-star in the new holiday comedy Love the Coopers. Although she began her on-screen work in the '90s, it's been Squibb's recent roles alongside these younger actors that have caused a true resurgence in her career. There was her acclaimed turn in 2013's Nebraska, for which she was nominated for the Best Supporting Actress Oscar, of course, but much of her recent popularity is due to her work alongside Girls' Lena Dunham; she had a brief but memorable part as Hannah Horvath's terminally ill grandmother in a 2014 episode, and she's appeared in Dunham's podcast, as well. Now, the duo are setting out to work together once more, with Squibb telling Bustle that she has a role in Dunham's upcoming ' 60s office comedy pilot for HBO.
The Squibb-Dunham collaboration has been an interesting one; Squibb recalls its beginning, when the Girls team reached out to her a few years back, asking her if she'd be willing to come onto the show. She had been a distant admirer of the series, and so taking on a role "just seemed the thing to do," she says. In the time since, the actress has appeared in Dunham's podcast Women of the Hour , playing a kind of agony aunt in its first episode, "Friendship." Dunham solicited questions about friendship through Twitter followers, and read them out to Squibb with no preparation.
While her whole Women of the Hour segment hasn't been aired yet (although early reviews are quite positive), Squibb in the midst of yet another collaboration with the Girls creator; when we spoke, she had just come off a meeting and table read with Dunham, and the pilot for her new HBO comedy Max was slated to begin shooting this week. The show will examine second-wave feminism in the '60s and its impact on office politics (Mad Men by way of Girls — Mad Max jokes not welcome). Zoe Kazan will star as the titular Max, a low-level magazine writer, and Squibb plays an elderly secretary in the office — "the oldest secretary," she says with a laugh.
Squibb brings something to Max that a younger woman could not: she lived through the period that's revisited on screen. She cut her teeth on Broadway, and says she witnessed first-hand the gender disparity in the performing arts and how it's changed over the past 50 years.
"Sometimes it was fair game... in how they treat[ed] the young women," she recalls, citing the overtly sexual interactions between men and women, even in the workplace. "I think it was just accepted." But she also notes a recent change in the dynamic. "People are talking about it now," she says, adding that she's all too aware of the gendered disparity in pay, the importance of including women behind the camera, and how it seems to her that in "any script you read, there's two women and 12 men (actual stats have women accounting for a paltry 30% of all speaking characters in 2014 films, according to The Center for the Study of Women in Television and Film).
Today, Squibb says that she tries to seek out parts that have more depth than simply "funny aunt" or "grandmother", and she tries to add meat to a cliche role whenever possible. She was even initially reluctant to sign on to Love the Coopers, in which she plays Aunt Fishy, the octogenarian and slightly senile aunt of the Cooper family. There was no role there," she explains — just stage directions and context cues. But after working with director Jessie Nelson to expand Aunt Fishy's role, the duo came up with "ideas, and then projected that into the story," she says.
Squibb says she's attracted to roles that are "almost too far out" — "just as long as it's not bland," she says. She reserves some doubts about the future of each of her upcoming projects, including Max; a lot depends, she says, on whether the show is picked up, whether Murray Miller will continue to write her role, and what Dunham's future vision for the series is. But Max is already one of the most talked-about upcoming series on HBO's slate, and given Squibb's recent track record, she's probably just being modest — it's hard to imagine a new June Squibb project that doesn't become an instant success.
Images: CBS Films (2)