'Secret In Their Eyes' Is Based On An Oscar Winner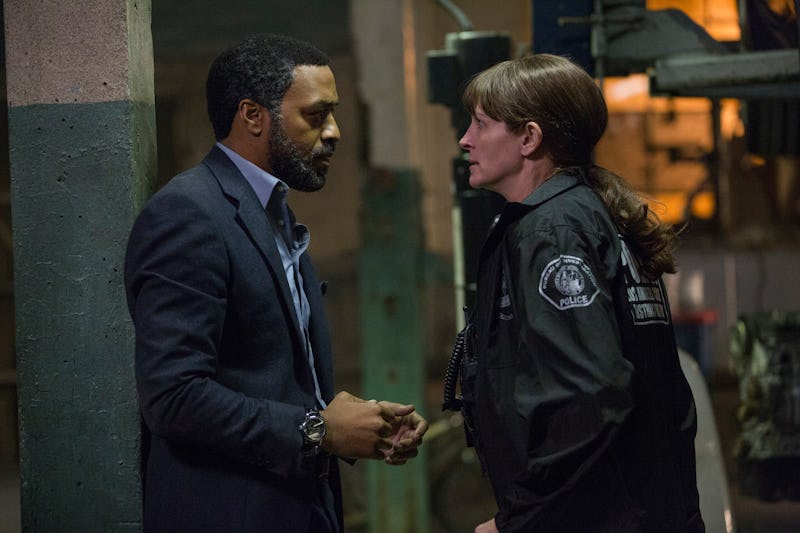 Secret In Their Eyes, the gritty new drama starring Julia Roberts, Nicole Kidman and Chiwetel Ejiofor, tells a twisted story about an unsolved murder that still haunts the main characters 13 years later. In the film, Roberts plays Jess, an FBI agent whose daughter's brutal murder was never solved. Years later, her former FBI partner, Ray (Ejiofor), comes to her with a new lead on the case, and the two, along with DA Claire (Kidman), get sucked back in to the crime. It's a brutal story that seems to scream "ripped from the headlines." It's not surprising, then, that some are asking if Secret In Their Eyes is based on a book. In fact, Secret In Their Eyes was based on a previous work, but it wasn't a book. Secret In Their Eyes is actually based on El Secreto de Sus Ojos, a Argentinian thriller that won an Oscar for Best Foreign Film in 2010. And El Secreto de Sus Ojos, it turns out, was based on a book by Eduardo Sacheri.
El Secreto de Sus Ojos adapted Sacheri's La Pregunta de Sus Ojos, which was published in 2005, and stuck closely to the source material. The faithfulness to the book was no doubt aided by the author, Sacheri, who co-wrote the screenplay for the film with director Juan José Campanella. Like the book, El Secreto de Sus Ojos takes place in the mid-1970s and late 1990s, told from the perspective of a male investigator who is haunted by an old story of the rape and murder of a woman and re-opens the case when he decides to write a book about it.
Making an American adaptation of such a recent Oscar winner might feel like another example of Hollywood commercialism, but it should be noted that El Secreto de Sus Ojos director Campanella was involved in the adaptation — he is credited as an executive producer — and is supporting the film. "When Billy wanted to adapt it, I was elated. He respected most of the emotion of the original, but found a different way of telling it," Campanella said in an interview with Vanity Fair . Secret in Their Eyes director Billy Ray admitted that he was hesitant to take on a remake of an Academy Award-winning film, but told Vanity Fair, "I did feel that there was an American version of the story that was worth re-telling."
Part of that "American version" involved changing the gender of one of the main roles. The role of Jess, as played by Roberts, was originally written as a man, but the part was changed after Ray heard that Roberts might be interested. Ray sent Roberts a draft of the script with a note suggesting a gender swap, and the two then worked together to craft the character. "What was most impressive to me was, she didn't want much tailoring at all. She didn't want the dialogue changed. She wanted to say it in the same way the character did when the character was a man, and we locked in on that idea," Ray told EW.
There was one big change in the script that Roberts advocated for: making the murder victim Jess' daughter instead of a stranger. "I remember saying, 'The victim would have to be her daughter. When [the victim] becomes not a peer, not an adult, it ups the stakes in an appropriately hideous way. Everything hinges on that pain," Roberts told EW.
It's safe to say that when Secret in Their Eyes hits theaters on Nov. 20, it won't resemble El Secreto de Sus Ojos or La Pregunta de Sus Ojos as much as one might expect.
Images: STX Entertainment