How 'Ayanda' Normalizes Being An African Woman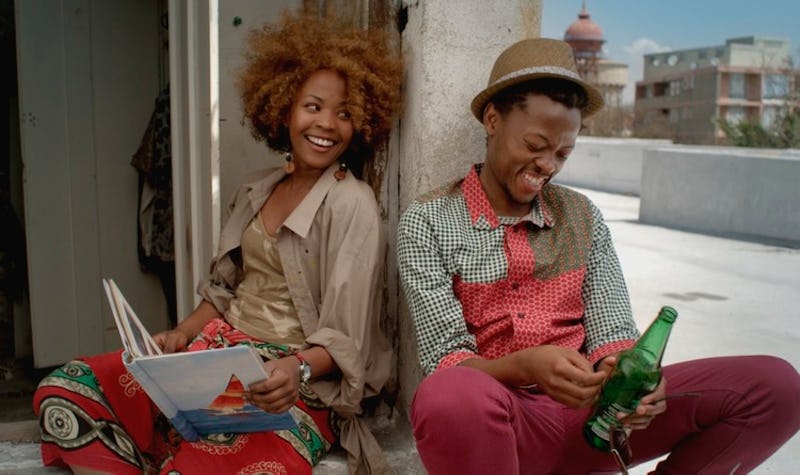 Back in May, director Kathryn Bigelow, commenting on the ACLU's complaint about Hollywood gender discrimination, told Time that she "firmly believed that every director should be judged solely by their work, and not by their work based on their gender." In response, Sarah Blecher, a South African filmmaker, penned a piece for Indiewire's Women and Hollywood blog, disagreeing with Bigelow's statement; "Women," she wrote, "should be hired precisely because of their gender." Now, during a phone conversation, Blecher, the director of this month's Ayanda , tells Bustle exactly what she meant by that controversial statement.
"I think women bring something more to the table," she says. "And we shouldn't have to be trying to apologize and be as good as men when we're actually bringing so much more."
It's easy to agree with that sentiment after seeing Blecher's crisp, vibrant film Ayanda, which was picked up for U.S. release by Ava DuVernay's Array, a distribution collective dedicated to promoting films by women and people of color. The movie, out now, follows Ayanda (South African actress Fulu Mugovhani) a 21-year-old Afro-hipster who resides in the Johannesburg suburb Yeoville, and is one of the many subjects behind a project aiming to capture snapshots of personal stories that speak to Yeoville's melting pot culture. Dealing with the loss of her father, Ayanda struggles to keep his auto garage business going, fixing up and reselling broken down vintage cars to earn a profit and keep her father's spirit alive.
"I think it's a feminist film because it just makes being a woman normal," Blecher says. "There's nowhere in the film where it's questioned, 'oh, should Ayanda, as a woman, be working in a garage?'... To her, it isn't a question. In some ways, that's the most political thing that you can do."
Blecher recognizes that her female-made, female-driven film is an anomaly, though; when asked about the Equal Employment Opportunity Commission's investigation into the lack of women directors, she says,
"I mean, things have to change. The whole world watches Hollywood films and are influenced by Hollywood films. That changing doesn't just affect America and the American film industry; that affects the whole world and what the whole world gets to perceive."
And despite their earlier disagreement, Blecher adds that when filmmakers like Bigelow — who produce huge films and are winning Oscars — ask the questions that need to be asked about gender discrimination and inequalities, Hollywood has no choice but to answer them.
"America's the place where it's the biggest struggle for women filmmakers, way bigger than Africa," Blecher says, adding that this is due in part to the African film industry being newer than America's. "If you look at the Kenyan industry and you look at the Nigerian industry, there wasn't time for a glass ceiling to be built. What women had to do is make films people wanted to watch, and they did that."
Despite Ayanda's South African setting, it is far being just an African story, though. Over the phone, Ayanda producer and actress Terry Pheto emphasized the film's universality, saying, "It's a human story more than anything and I think that's what we get to see in the film... we can all relate to loss, to love. We all have ambitions. We all have our dreams that we want to chase, but sometimes we're not brave enough and sometimes we just need someone to say you can do it."
As a black woman, I found that Ayanda resonated with me strongly. During a love scene in the film, Ayanda removes her wig to reveal her natural hair — a major statement in a world where black women's natural hairstyles frequently get politicized and dominated by Euro-centric standards of beauty. Blecher said there was a debate on set on whether or not to allow Ayanda to keep her wig on. Says the filmmaker, "All the women on set were like, 'you can't have sex with a man with a wig on, because what's going to happen in the middle of the night? You wake up and there's going to be a wig in the bed.'" The men on set, meanwhile, thought that Ayanda taking the wig off would be "unsexy." To settle the argument? Pheto took her own wig off right there, on set, and said, "Well, am I unsexy now?"
It was a powerful moment that, ultimately, was reflected in the movie, but the defiance of beauty standards was just one of many central messages the filmmakers hope viewers take away from Ayanda. "I want people to watch this film and ask themselves, what's stopping me from achieving my dream?" Pheto says, "And get rid of those skeletons, the shackles that are stopping them from becoming the greatest version of themselves."
As for Blecher, she hopes that people's opinions of her home will change after seeing the film. "I want people to see Africa in a different way than the way they thought about Africa when they walked into the cinema," she says.
That is, that there's far more to Africa than the media's images of starving children and war — there are fashionable hipsters, female mechanics, and groundbreaking female filmmakers, too.
Images: Array (2)