15 Books You Read As A Teen That You Must Re-Read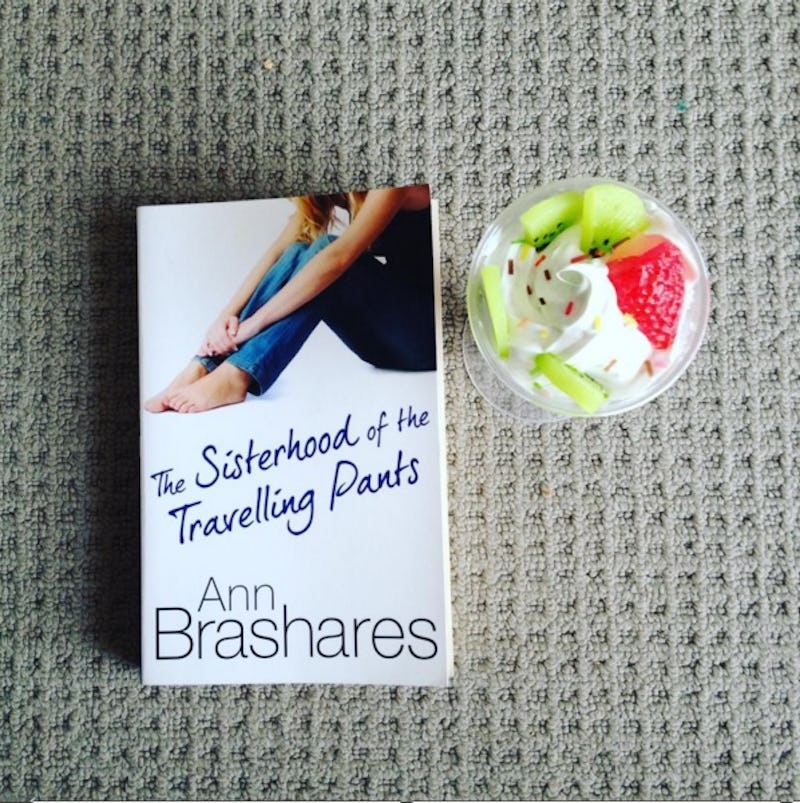 I often get memories from my teenage years mixed up with events I read in books, because honestly I read so much during that time that fiction sometimes felt real. And while I love the YA of today, there's something so nostalgic about revisiting childhood favorites. When you reread a beloved book that was meaningful to you in high school, a book that inspired you just before you left for college, or a book that got you through those awkward early teenage years, you reminisce about when you read it for the very first time.
And not only can you remember where you were and how you felt when you read it initially, you can also look at the book with fresh eyes, and it might even take on a new meaning. Who knows? You might even discover a few jokes or themes that you missed the first time around.
Another great thing about the YA books you read as a teen is that you probably have a hard copy lying around somewhere, or you can easily get one from the library — after all, it was another era back then, before e-readers burst onto the scene. So dig out those dusty copies of your favorite YA books, because some of them are definitely worth a reread.
1. The Alice Series by Phyllis Reynolds Naylor
This book series follows Alice from middle school all the way until age 60. The final Alice book, Now I'll Tell You Everything, was published in October 2013. So if you adored these books as a teenager and haven't caught up yet, why not re-read this frank and open series so you can finish up with the final book?
2. Flipped by Wendelin Van Draanen
This story is about first love, growing up, and seeing a person for their inner character. I first read it as a young teenager, and each time I've re-read it has only made me love it even more. Do yourself a favor and reread this book today.
3. A Series Of Unfortunate Events by Lemony Snicket
First of all, this is soon to be a Netflix series, so you need to reread the books to refresh your memory. Second of all, you will definitely catch a lot of jokes throughout the books that your teenage mind didn't catch the first time around, so this comically dark series is worth a reread.
4. The Chronicles Of Narnia by C.S. Lewis
The Lion, The Witch, and the Wardrobe will always remind me of Christmastime, because of the gorgeous snow scenes — and Santa's cameo appearance. This is a great series to cuddle up with on chilly winter nights, especially if you want to recapture some of the magic you felt when you were younger. Personally, I still check the back of wardrobes, just in case.
5. Ella Enchanted by Gail Carson Levine
The movie was nothing like the book. And if you haven't reread this in a while, it's time: Gail Carson Levine was the undisputed queen of fairy tale retellings when you were a teen — before the trend started back up again recently. So take a break from all the dystopian retellings of today and revisit one of the originals.
6. Johnny Tremain by Esther Forbes
You were probably assigned to read this in school, but it's an unexpected gem that's definitely worth revisiting, especially if you (like me) are currently obsessed with the Broadway show Hamilton and want something historical to read while you listen to the soundtrack for the millionth time.
7. The Tale Of Desperaux by Kate DiCamillo
This beautifully woven story was one of my favorites as a teen. It blends together the tales of a servant girl, a mouse, and a rat. When you reread it, you will be inspired to think about destiny and how your life intertwines with so many other people's stories.
8. The Percy Jackson Series by Rick Riordan
This is a book I stole off my brother's shelf when I was a teenager and couldn't put it down. The series often gets advertised as something to read if you love Harry Potter, but honestly it's great on its own. What teenager didn't have a brief period where you were completely obsessed with mythology? And knew exactly which god or goddess would be your parent?
9. Stargirl by Jerry Spinelli
Whether or not you critique Stargirl as being a bit "manic pixie dreamgirl," this was once the book about nonconformist girls. Stargirl was so interesting, and she inspired others to break free from social norms! Just like that scene in High School Musical!
10. The Outsiders by S.E. Hinton
This book about Ponyboy and the Greasers versus the Socs is a quintessential coming-of-age story, and it is definitely worth a reread if you're interested in looking back on life as a teenager from a new perspective.
11. Holes by Louis Sachar
This book was one of my absolute favorites as a young teen, and I still admire the way Sachar weaves together stories of the past and present. It's definitely worth a reread, and then you can have a viewing party and enjoy Shia LaBeouf in one of his best roles ever.
12. A Wrinkle In Time by Madeleine L'Engle
This was probably the book that introduced you to science-fiction fantasy, and for that, it's certainly worth a reread. The themes aren't just for kids, and you will glean so much from rereading — there's a reason this book has been beloved for so many years.
13. Tuck Everlasting by Natalie Babbitt
When I first read this book as a young teen, I felt so differently about the end than I do now. Without spoiling anything, for those of you who haven't read it, as a kid I totally disagreed with Winnie's choice. I would never have done that! Now, looking back, I admire her maturity. Definitely worth a reread if you want to compare your opinions on the deeper questions as a young teen versus how you feel now.
14. The Phantom Tollbooth by Norton Juster
This treasured classic is always worth a reread, especially if you need a touch of whimsy and magic in your life. And who doesn't?
15. The Sisterhood Of The Traveling Pants by Ann Brashares
This was basically the No. 1 teen girl book back in the day, perfect for passing from friend to friend and arguing who would be which character. Grab your friends, grab a copy, and start rereading, and you'll rediscover that sisterhood all over again.
Image: of.books.and.wishes/Instagram