Is Gwen Turning Korin Into Her Mini-Me?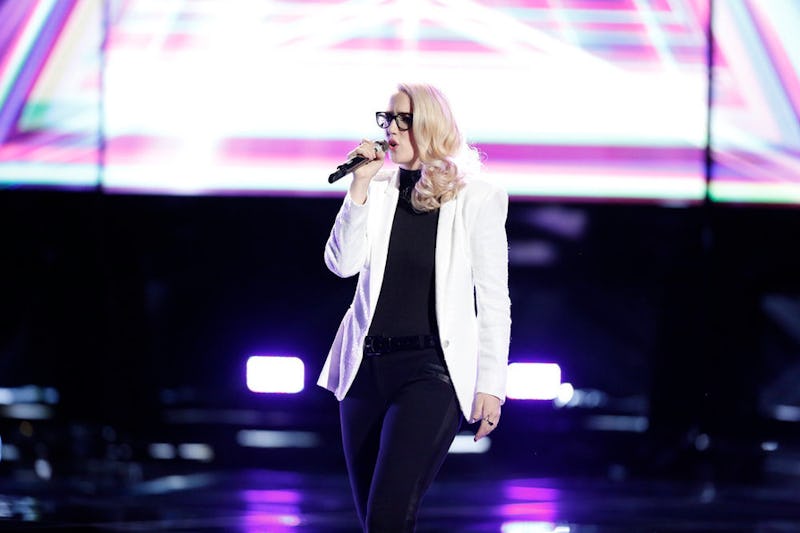 Is it just me or were we seeing double on tonight's The Voice? The master of makeovers, Gwen Stefani, has taken on a new project in one of her team members and may be using herself as her muse. Team Gwen contestant Korin Bukowski debuted a platinum blonde hairstyle in the Top 12 that looks exactly like her coach's. Seriously, if you were to look at the two from the back you probably wouldn't be able to tell the difference. So is Stefani turning Bukowski into her mini-me? All signs point to yes. And her strategy seems to working.
Stefani is no stranger to making over her contestants and her suggested changes always seem to work. In season 7, she cut Craig Wayne Boyd's hair and he ended up winning the title. Earlier this season, she encouraged Braiden Sunshine to straighten his hair and — guess what? — he's still in the game. It seems that Bukowski is just Stefani's latest project of many — but it's her biggest one yet.
Usually, Stefani only makes a few changes — a minor hair cut, hairstyle change or clothing adjustment. But she's slowly making many changes to Bukowski's appearance. She encouraged her to get rid of her glasses then cut and dye her hair. Each of these changes has helped Bukowski get closer and closer to Stefani's style. Sure, she looks fabulous, but her look is so creepily similar to her coach's that I just can't help but stare. If this is the look Bukowski is going for, then it's great that her coach is helping her achieve it. But something tells me these choices are all coming from Stefani.
So what purpose is this dramatic makeover serving, anyway? It seems to be Stefani's way of helping Bukowski find her style and become more confident on stage. And it's certainly working. Bukowski rocked the stage with an energectic performance of "Titanium" tonight that was unlike anything we've seen from her so far this season. She's grown so much since her Blind Audition that it's obvious Stefani knows what she's doing. If she keeps this up, let's just hope her next tweak to Bukowski's appearance doesn't look so much like her — 'cause I don't think the world can handle two Gwen Stefani's.
Image: Tyler Golden/NBC