'Creed's Soundtrack Packs A Punch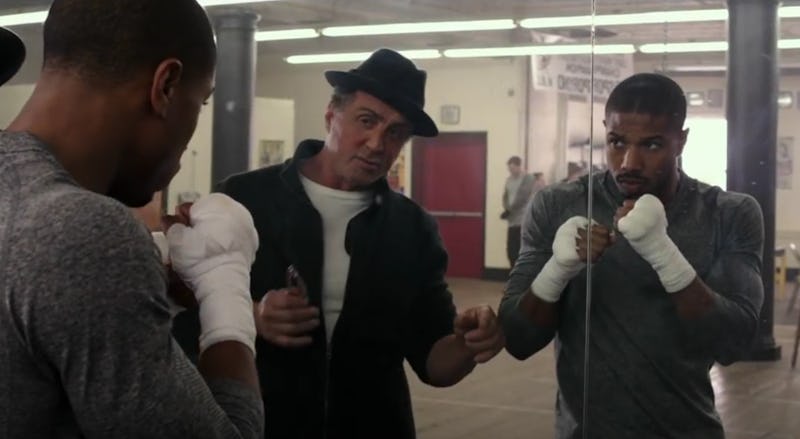 If you think you can walk away from Creed without hearing the iconic Rocky theme, you are fooling yourself. But, just as Rocky himself has aged over the years, so has the music. Creed focuses on a new generation of fighters, specifically Adonis Johnson (Michael B. Jordan), son of Apollo Creed. The movie finds Adonis seeking out Rocky (Sylvester Stallone) to train him — a passing of the torch, if you will. But, the main character of the Rocky franchise is not the only aspect of the film to receive an update in Creed. Bill Conti's iconic Rocky theme, "Gonna Fly Now," found new life on the official Creed soundtrack. Here's where you can get the Creed soundtrack and listen to a new spin on the iconic tune.
Rocky has one of the most recognizable themes in film history. In other words, it's the very definition of a tough act to follow. So it makes sense that the Creed soundtrack hasn't been pushed into the headlines. Until now. This week, a few teasers from the Creed soundtrack have dropped, including a re-interpretation of "Gonna Fly Now" by Creed composer and music supervisor Ludwig Goransson called "You're A Creed." The song, among others, will be featured on the Creed original score soundtrack available on Nov. 20.
As for a soundtrack of original songs, director Ryan Coogler has teased collaborations from various artists. At an October press conference, Coogler promised that he embraced music as a vital part of the Rocky legacy. "'Eye of the Tiger,' 'No Easy Way Out,' all those songs were a massive hit. And we embraced that. We recorded original songs for the movie," Coogler said.
Future gave fans a taste of what they can expect from the Creed soundtrack when he dropped the first official Creed song, "Last Breath," which samples that classic Rocky theme. "Last Breath" was written by Future with producer Metro Boomin and Goransson.
Other artists featured on the official soundtrack include Lupe Fiasco, Donald Glover, Meek Mill, Jhene Aiko and actress Tessa Thompson. In Creed, Thompson plays Bianca, an aspiring singer-songwriter who falls in love with Adonis, and the actress actually wrote a few original tracks for her character. "Ryan was looking for a female musician who wrote and produced her own work. I'd always been interested in songwriting — it was something I'd done in secret and had a few unfinished songs lying around. For the movie though, I've had to write songs that will play in the movie, to a deadline. It's been a big challenge for me," Thompson said in an interview with Issue Magazine .
Both Creed soundtracks — the score and the songs from the film — are currently available to purchase on iTunes and stream on Spotify.
Images: Warner Bros./Metro Goldwyn Mayer