13 Challenging Books For Serious Readers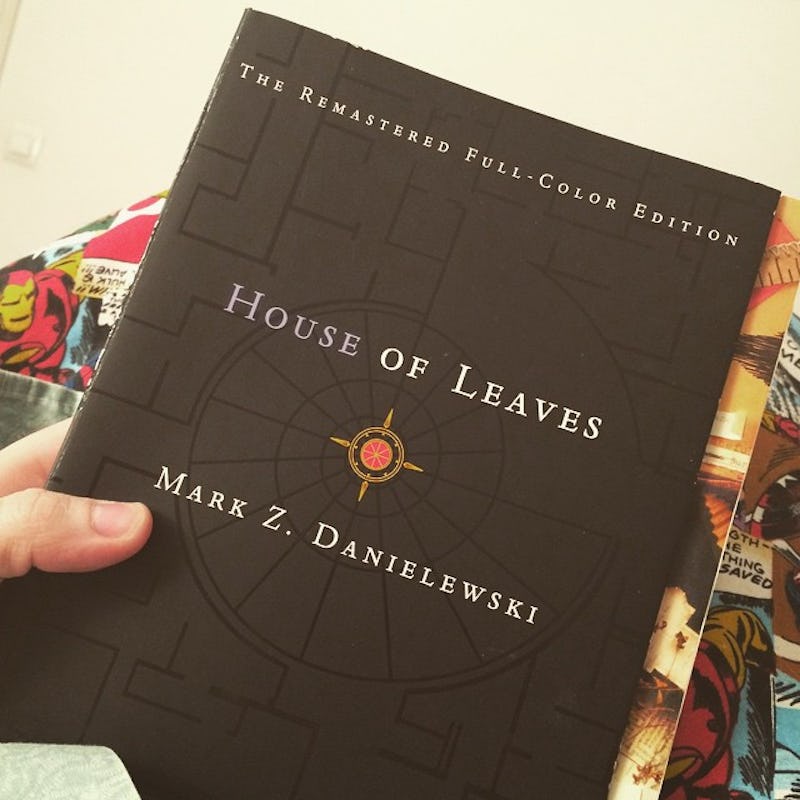 If you're the frequenter of a blog devoted to writing about books, it's pretty safe to say that you're a serious reader — but how serious are you? Sure, anyone can have a beautiful bookshelf, a neat literary tattoo, and read every book that those brainy Ravenclaws might love, but how serious are you really? Are you a bestseller reader? A beach reader? How many romance novels do you have on your ebook reader right now? That's what I thought! Of course I am entirely just kidding, any reading is incredible reading, no matter what's being read.
However, if you're panicking that your to-read list is looking a little light, it's not particularly hard to be well read. The beauty of books is that they are always there waiting to be read, and so if you'd like to get started on catching the bigger fish, you can at any time. A good place to start would be this list of books for the well-read reader. What happens when you finish those? Don't worry, I've got you.
I've compiled a list of 13 books that only serious readers should attempt. Each of these books are a difficult read, thanks to anything from the length, subject matter, language used, or unorthodox typesetting styles. They are all a bit daunting, but almost all of them are worthwhile. Good luck; consider these your white whales.
1. Infinite Jest by David Foster Wallace
Set at No. 1 because, let's be honest with each other, you totally expected Infinite Jest to be on this list, and with good reason. Weighing in at a whopping 1,088 pages, this American screwball comedy is definitely a challenge to follow. Fans of The Decemberists might be excited to learn (if they didn't already know) that the song "Calamity Song" off of their album The King is Dead is influenced by Infinite Jest, as well as the music video. However, if you decide to start this one, just remind yourself: it's OK to put it down when your biceps need a rest.
2. The Faerie Queene by Edmund Spenser
"Whoa, is this a poem?" you might be saying. "I can totally handle a poem!" No. No you can't. The Faerie Queene, this epic poem dedicated to Queen Elizabeth I clocks in at a stagger 1,248 pages. While it's a beautiful and epic adventure following the journeys of several knights (including the lady-knight Britomart!), it's also written in dense, archaic English. Do you like true love, dragon slaying, enchanted mirrors and reading words that seem like they might be English but just miss? Check out The Faerie Queene!
3. Ulysses by James Joyce
The home of probably one of the best orgasm scenes in early 20th century literature, Ulysses is even more daunting of an odyssey than the work from which it takes its inspiration. Taking place over the course of a single day in 1904, the narrative follows the journey of Stephen Daedalus and Leopold Bloom, whose journeys parallel the epic journey that Odysseus himself once took. At least, that might be what's happening, the strange stream of consciousness narrative muddies the point, and it's one of the few books reviewed on Goodreads that suggests that you read SparkNotes summaries to understand what's happening. If dense stream of consciousness is not your cup of tea, I suggest reading Joyce's love letters. On second thought, don't; they are actually terrifying.
4. Gravity's Rainbow by Thomas Pynchon
It's smack dab in the middle of London during the Blitz, and British intelligence has just discovered that the map of the sexual conquests of U.S. Army officer Tyrone Slothrop is completely identical to a map of impacts done by German bombs. This discovery sends Tyrone on a journey across war-torn Europe to find a mysterious bomb named "Rocket 00000." The prose is dense and sometimes awkwardly sexual, but luckily it's only about 776 pages, so there's a silver-lining after all.
5. Neuromancer by William Gibson
Hold on a minute. This one is science fiction!? Only 271 pages!? And it's made a list like this? Yes. Yes it has. Set in a dystopian underworld where cyberspace (a word coined by the author) is everything, washed up data-thief Case is tapped by a mysterious employer for one final hacker job, aided by the street samurai/cyborg Molly Millions. The prose has often been compared to beat poetry, often hard to follow, opting for descriptions of scenery and graphic sex. Although it's short, it's a difficult one. Luckily it's only the first book in a trilogy!
6. American Psycho by Bret Easton Ellis
Best known as the disturbing Christian Bale vehicle from the early 2000s, American Psycho centers on 26-year-old Patrick Batman a suave and sophisticated businessman living in Manhattan who can't seem to stop himself from committing murder on a massive scale. While the prose itself is easy enough to follow, the incredibly intense scenes of violence make the movie look like an episode of Sesame Street, and the tedious (yet effective) descriptions of both the clothing of everyone around Patrick and his mini-essays on his favorite musicians make this read a little daunting.
7. Atlas Shrugged by Ayn Rand
Full disclosure: I began reading this book without knowing a single thing about what it stood for or the reception it had in certain political circles, and I ended up putting it down and never reading it again because I got annoyed with the love story. Atlas Shrugged tells the story of a group of incredibly gifted people who decide to run off to a valley and leave the rest of the world to figure things out for themselves. While all of that is well and good (if it didn't outline a real-life way of thinking) there is a 70-page speech made by one of the characters. That's novella length.
8. JR by William Gaddis
The JR in JR is a 12-year-old boy who also happens to be a financial genius, making his money from a phone booth that happens to be in the hallway of his school. It's a wicked satire, but also is constructed almost entirely out of winding and mostly cut-off dialogue. While this makes the 700+-page book a bit of a strident read, it can also be a little confusing. It's definitely for the serious reader crowd.
9. Naked Lunch by William S. Burroughs
Naked Lunch is a series of vignettes centering on wandering junkie William Lee whose adventures take him to from the U.S. to Mexico, to Tangiers, and finally ending up in the mysterious Interzone. Burroughs used his own intimate knowledge of various substances in order to give a tough of realism to the narrative, and it's every bit as brutal as one could expect. Using what could only be described as "colorful language" (language I will not repeat here for various reasons), Naked Lunch is a fascinating read once you cut through the dense narrative and scatological subject matter.
10. House of Leaves by Mark Z. Danielewski
To read House of Leaves is to take on a time-consuming project. While several incredibly complicated narratives are woven together to tell the tale, they all focus on a strange house that is somehow bigger on the inside than it is on the outside. Juggling the narratives is complicated on its own, but interior of the book is so complicated that it has to be seen to be believed. Danielewski uses words not only to tell the story, but also to enhance the setting, and the disconcerting use of typeface only enhances the general off-putting feeling of the book. However, it's definitely not for beginners, and is definitely not the kind of book you can finish in one sitting... unless you might be insane.
11. A Clockwork Orange by Anthony Burgess
15-year-old Alex is the villain protagonist of A Clockwork Orange, raping and pillaging his way through a dystopian version of the near future, where criminals take over society once the sun goes down. After accidentally murdering a woman in her home, Alex is sent to prison, where he undergoes terrifying therapy to rewire his brain to reject violence, a move that earns him his freedom but also sets him loose in a society that he simply can't survive in. The subject matter is rough on its own, but the fact that Burgess wrote the entire book in a hard-to-decipher, invented slang just pushes it over the edge.
12. The Sound and the Fury by William Faulkner
William Faulkner is the master of the stream of consciousness narrative, and The Sound and the Fury is one of his masterworks. This tragedy centers on the Compson family, featuring the simple-minded Benjy, willful and independent Caddy, money-obsessed Jason, and brooding Quentin. While family epics can be dry within themselves, the biggest challenge of The Sound and the Fury is the first part of the novel, told entirely from Benjy's point of view and can be particularly hard to get through for the casual reader.
13. Billy Budd, Sailor by Herman Melville
I bet you thought this was going to be Moby Dick, eh? Sorry to disappoint. Billy Budd, Sailor is a simple story about a handsome young sailor accused of mutiny. While Moby Dick is a really long story about sailing that also happens to have a guy hunting a whale in it, Billy Budd, Sailor is a shorter story that's mostly just about sailing. As a fan of sailors myself, I get where Melville is coming from here, and serious readers who enjoy a good sea-faring tale might, too. Melville is a literary legend, and if hunting the great white whale seems like too much of a journey for you, Billy Budd, Sailor is definitely the still-challenging book for you.
Image: RocketRaccoon/flickr