15 Literary Tattoos For True Bookworms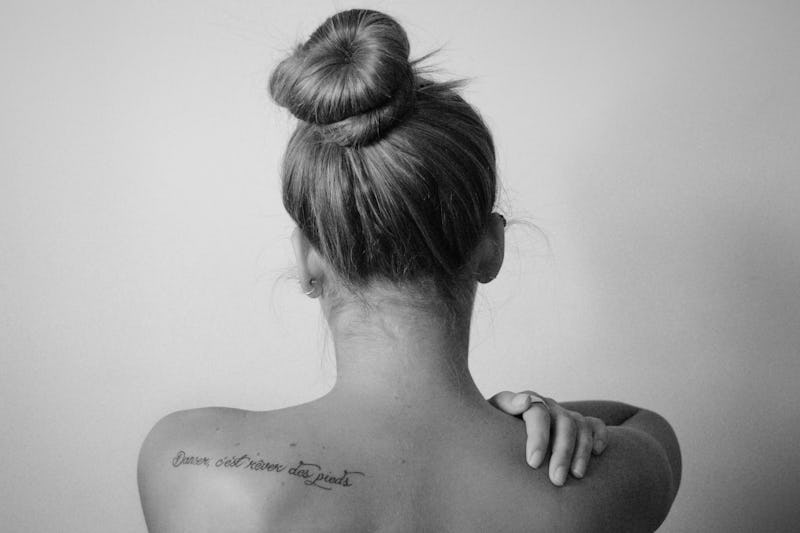 Book-lovers are constantly looking for ways to express their love of books. While this often extends to beautiful bookshelves, amazing bookends, and even literary (and literary-inspired) clothing and accessories, some of the most devout will also commit to inking their very favorite books onto their very bodies. These tattoos can be anything from a simple line from a favorite story, to an entire scene from a favorite book scrawled onto a body part, and no matter what, all of them are beautiful. As a book-lover and someone who's inked, I spend a large amount of time obsessing over my future literary tattoos, and when I need a little inspiration, I love to turn to the already existing tattoos out there so see how it's done.
While we've already covered incredible Harry Potter tattoos for lovers, and sweet John Green tattoos for anyone, there's an incredible wealth of ideas for bookworms who love any facet of the literary world. For those who are considering taking the plunge and inking themselves, or even are interested in checking out some beautiful and awesomely creative tattoos, I've collected 15 incredible literary tattoos conceived by the literature-devoted. Will you take the inspiration and get a tattoo yourself? If so, be careful — inking can be addictive!
The All-Seeing Eyes Of Dr. T.J. Eckleberg From The Great Gatsby
A Beautiful Illustration Of Max From Where The Wild Things Are
This Homage To One Of The Best Opening Lines Ever
This Gorgeously Illustrated Stack Of Books
This Portrait Of Holden Caulfield
An Amazing Inked Shrine To The Works Of Stephen King
A Tribute To Hunter S. Thompson
This Sweet Nostalgia-Inducing Illustration From Where the Sidewalk Ends
An Incredible Portrait Of Edgar Allen Poe
A Classic Illustration From Fahrenheit 451
This Simple But Lovely Homage To The Chronicles of Narnia
These Adorable Falling Books
This Simple George R.R. Martin Quote Explaining Bibliophiles Perfectly
Image: Pexals