The First Winner of 'The Voice' America Save Is...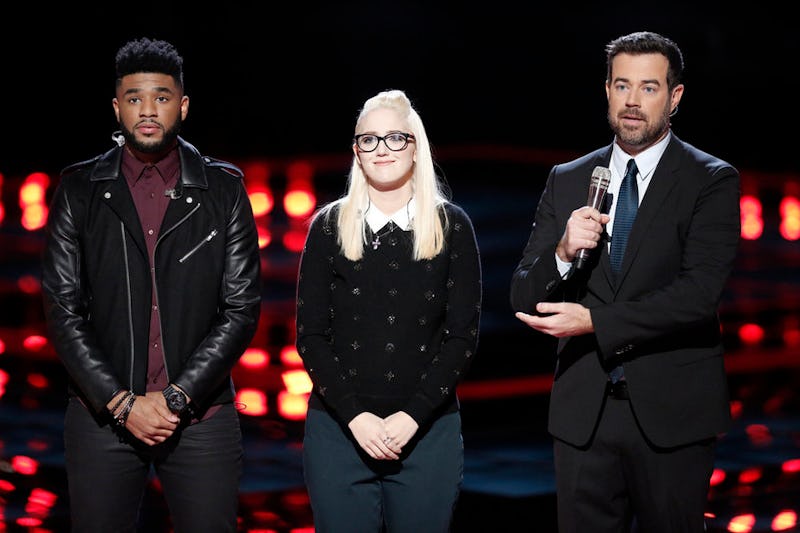 Well, it's the first live elimination show of The Voice season 9 and it was as surprising as ever. Two contestants who were noticed for their individuality early on, Mark Hood and Korin Bukowski, landed in the bottom two and had to sing for America's save. But, unfortunately, only one could come out on top. With the majority of the vote, that lucky artist was Team Gwen's Korin Bukowski. Bukowski's sweet rendition of Norah Jones' "Don't Know Why" won America's vote and earned her a spot in the Top 11. Did America make the right choice? Absolutely.
Bukowski stood out early on thanks to her Indie vocals and so-weird-it's-cool personality. While she was good from the beginning, Bukowski has greatly benefited from being under the guidance of coach Gwen. Thanks to a seemingly creepy makeover that makes her look exactly like Stefani, Bukowski's on-stage confidence has sky-rocketed. This confidence has helped Bukowski find herself as an artist, a revelation that will benefit her long after she's eliminated from this show — which, thankfully, wasn't tonight.
It was a surprise that Bukowski had to sing for her life in the bottom two in the first place. There are plenty of artists that I thought would be eliminated long before Bukowski. Artists like Maddie Davis and Shelby Brown are extremely talented, sure, but they don't stand out in the same way Bukowski does. While Davis and Brown play it safe week after week, Bukowski takes risks in her performances. This allows her to take center stage while the others fall to the background. That quality should be applauded in an artist, not punished. Hopefully her raw and honest performance in tonight's sing off reminded the voters of how unique of a talent Bukowski is. She's a true artist who earned her second chance in this competition — let's just hope we get to enjoy her performances for more weeks to come.
Image: Tyler Golden/NBC