Your Handmade 'Hunger Games' Gift Guide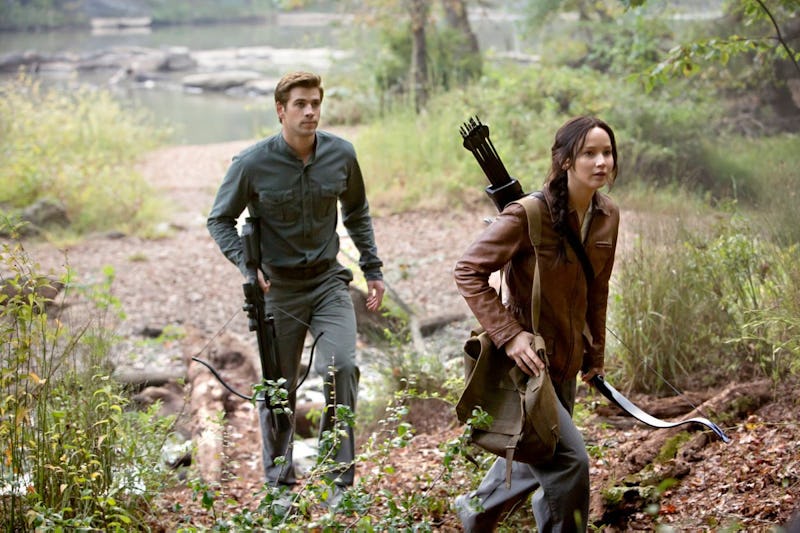 Fact: it is exponentially easier to shop for gifts for my friends who are fans than my friends who are all, "I don't know, I don't really have a favorite movie." (Who are you, then?) Because the very best part of being a fan of something, whether it's Star Wars, Twilight, or The Hunger Games, is the stuff. And the stuff is everywhere. If my willpower suddenly up and disappeared, I could empty my bank account on t-shirts and trinkets inspired by all the movies and TV that I obsess over. And buying those things for my friends is the next best option. With the holiday season and the release of Mockingjay, Part 2 approaching, now's the time to scour handmade Hunger Games gifts from independent artists on sites like Etsy to gift to the list of fanatics in your life.
These 11 Hunger Games -inspired gifts are just a fraction of the awesome and unique pieces of work available on Etsy. Page through the tag and you can find hundreds of items celebrating the Girl On Fire, Peeta the baker's son, and your other favorite characters from the HG universe. The following gifts are a few of the most creative and professional-looking items Etsy sellers have to offer, though new stuff is being added all the time. So, use your cash to support small businesses and make the Hunger Games fans in your life smile with these ingenious gift ideas.
1. For The Fan Who Wants To Be Completely Immersed In The World
This hand-poured Scented Candle ($10) conjures the "Flight Of The Mockingjay" with a combination of berries, sage, and fire. It's the perfect aroma for cuddling up for a re-read of the novels.
2. For The Young Fan Who Wishes Her Dolls Were A Little More Adventurous
With this American Girl Doll Costume ($65), your little sister or niece can give the frocks a rest and outfit her best friend for a hunting party with Gale.
3. For The Fan Who Loves Peeta & Carbs
Pledge allegiance to Mr. Mellark and also a nice, crusty sourdough with this screenprinted Peeta T-Shirt ($23).
4. For The Fan Who's An Eternal Optimist
This Effie Trinket Quote Necklace ($19.80) will remind your pal to fake it till she makes it.
5. For The Fan Who Needs Some Liquid Courage
A Shot Glass Set ($31.25) will turn any happy hour into a Second Rebellion staff meeting.
6. For The Fan Who Likes To Be Pampered
This bar of Goat's Milk Soap ($5) contains charcoal, which is why its name is a nod to Katniss's mining hometown.
7. For The Fan Who Thinks All Books Are Art
An amazing Book Sculpture ($65.99) like this Mockingjay one is the perfect addition to any reading nook.
8. For The Fan Who Needs All Hunger Games Everything
Celebrate Christmas? Fixated on Katniss Everdeen? A Personalized Stocking ($35) will look just right hanging on the fireplace, even if it clashes with all the red and green.
9. For The Fan Who Loves The Angst
Get a daily reminder of Peeta and Katniss's personal struggles with this glittery banner ($25).
10. For The Fan Whose Got A Lot Of Baggage
Carry all of it with an embroidered Mockingjay Tote ($35)
11. For The Fan Who's A Minimalist
If she wants to wave her fan flag but also be chill about it, a minimalist piece of art like "I Volunteer" Print ($24.99) needs to be on her wall immediately.
Shopping for Hunger Games fans is easy! It's stopping that'll be the hard part.
Images: Lionsgate; Etsy (11)