See The Sunset Hair Trend In Action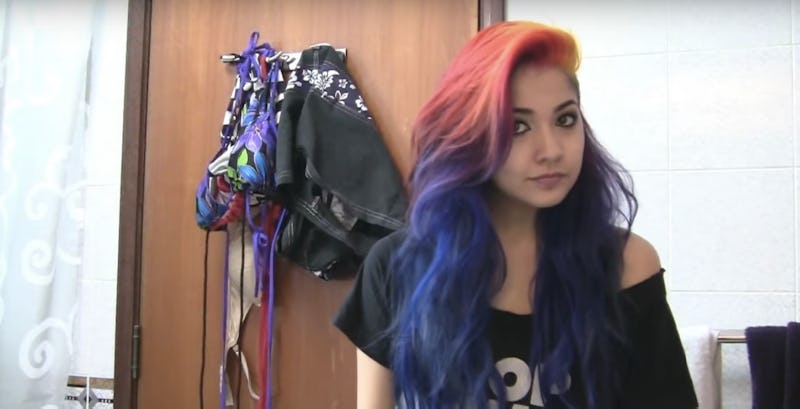 Sunsets — a frequent sighting on Instagram, the wallpaper to many desktops, and now, a striking hair trend. Yes, sunset hair is the latest beauty craze to hit salons and beyond. Looks like color suddenly has a new meaning amidst the neutral palettes of autumn. It's about time those tresses get painted.
This has been a memorable year on the hair front. From the ever sleek metallic silver to the half-and-half dye job, hair trends are making the splashy transition from conventional cuts to the unexpected. In fact, experimentation is the key theme here — why play it forever safe when you have the liberty to get creative?
Even the celebrity circuit isn't immune from tackling these hair trends. Example A: when Kendall Jenner went (temporarily) pastel pink. Example B: Ariana Grande's platinum blonde locks inspired by her grandmother. And most recently, Joe Jonas and blue streaks, post-breakup with Gigi Hadid (PS: if he needs a shoulder to cry on, I volunteer).
It's no surprise that the next style to reach viral status is equally as — or actually even more— eye-catching. #SunsetHair, with over four thousand photos and counting on Instagram, is exactly what the name entails. Imagine vibrant hues from the most photogenic sunsets — orange, pinks, purples, reds — and blend them together for an enchanting look.
Ready to see sunset hair in action?
1. Purple Fiction
For intensity, skip the reds and oranges and go all out in the shade of royalty. The result? A mesmerizing combination reminiscent of cotton candy clouds.
2. Hawaiian Dreams
Before you book your next salon trip, take inspiration from your last tropical vacation. Whether that be majestic sunsets from Maui to Santorini, the options are endless.
3. Pretty In Manic Panic
It's even possible to have a hand at sunset hair right at home. In this video, learn how to mix your own sunset hues with the power of Manic Panic dye.
4. The Lily Effect
English songstress Lily Allen traded in her dark locks for a toned down sunset look. Perhaps this could serve as a smooth segue before diving into full-on purple?
5. Red Fury
If you prefer more of a warm color palette, have no fear — sunset hair is also achievable utilizing a healthy mix of reds, oranges, and browns. The overall product is neutral with just the right kick.
6. Hey Violet
Lesson learned: purple and pinks make a winning combo. And there's now visual proof that sunset hair can steal the show in top-knot form too.
Want more beauty tips? Check out the video below, and be sure to subscribe to Bustle's YouTube page for more hacks and tricks!