This Photo Project Will Get You Right In The Feels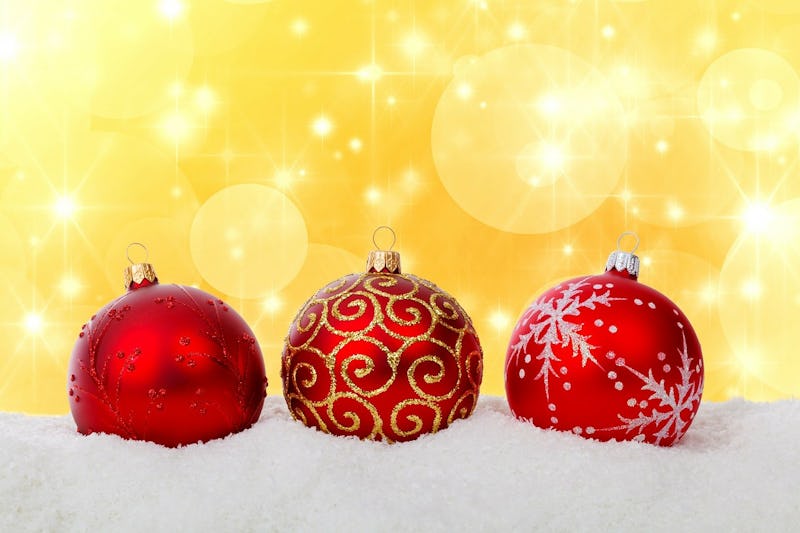 The request was simple: Holiday decor company Balsam Hill asked photographers from around the world who celebrate Christmas to take a picture of their most memorable holiday adornment and explain why it is so special. The resulting collection of meaningful Christmas ornaments and decorations the request yielded, however, is anything but one-dimensional. Stretching across six different continents, these precious bits and baubles paint a picture of that which people hold dearest, especially during the holidays — love.
Whether it is born from a bond spanning several generations or blossomed during four years of undergraduate study, and whether it is a love that is familial, romantic, or platonic, the most prized thing about the photographers' favorite ornaments and decorations was the love they represented. They are more than simply glittery red-and-green accessories to unpack each December. They are transcendent in the way that setting them out on the mantle or hanging them on the Christmas tree invokes emotion and hearkens other moments in time.
It's a beautiful reminder that what really matters most to people is, well, other people (despite cynics who "bah humbug" their way through the season). Of the submissions, not one photographer sent in a picture touting an ornament or decoration purely for its aesthetic value or for the pride they felt in having acquired it. Each item carefully curated by these photographers speaks to a greater sentiment — the things we really value most are priceless.
On a personal level, this sentiment resonates strongly with me. Growing up, money was tight in our household, especially around the holidays. And while we may not have had the big budget items waiting under the tree each Christmas morning, what we we put on the tree meant far more to us anyway. Every year, my mother would gift my brother, my sister, and me each with a special ornament of our very own. Then, upon the eve of our respective graduations from high school, she handed over a box full of nearly two decades worth of memories. Today, fewer things bring me greater joy than hanging those ornaments on the Christmas tree in my own home.
Of course Christmas isn't the only holiday observed around the globe at this time of year; as such, I'd also love to see a similar series — or even multiple series — covering the vast array of other holidays our big ol' world celebrates. I'm sure they'll tug on our heartstrings the same way this one does; after all, this photo series is like Chicken Soup for the Holiday-Loving Soul and I, for one, want seconds (and thirds).
So there's something deeply moving about realizing that people all over the globe have similar stories behind their holiday decor, simply waiting to be told. Here are a few from the photo series that spoke to me; head over to Balsam Hill's website to see the full Christmas Decorations Around the World photo series.
1. From Manbir in Ludhiana, India
"This golden bauble is small, yet priceless and very special to me as it reminds me of my husband. It was our first Christmas Eve together being married, and my husband bought a pack of golden baubles for us to use in decorating the tree. When he gifted me this pack of beautiful baubles, he said that I have a beautiful glow just like these baubles, and it made me feel like a Princess. I still remember that intimate moment we shared together decorating the tree with these golden decorations."
2. From Raul in Bolivar, Venezuela
"Feliz Navidad! Growing up, we were a poor family. We didn't have much money, food or water, so buying holiday gifts was rare. In 2008, my little brother wanted to gift me something even when I told him not to. He ignored what I said and used all the money he had saved over the years to buy me this special 'Feliz Navidad' cup. When he surprised me on Christmas day, I cried in happiness — that's why this cup is the most memorable Christmas decoration I have. Every Christmas I place it on my desk; I love my little brother so much."
3. From Ethol in Dhaka, Bangladesh
"In my country, the nutcracker is used as a token of good luck and good will to protect people from the evils spirits and dangers that may exist. I was given this nutcracker by my grandmother, and it has protected multiple generations of my family ever since and helps to bring positive spirits to our holiday celebrations."
4. From Jessis in Wolverhampton, United Kingdom
"This snowflake decoration was gifted to me by my four best friends at University. After the completion of our courses and our last meeting on the Christmas Eve of 2008, we all gave each other a beautiful glittering snowflake with four jingle bells attached. These four bells remind me of my four best friends in college and all the fun memories we created together. Every Christmas this gift still makes me feel blessed for having met these wonderful friends."
5. From Rory in Snoqualmie, Washington, United States
"During the holidays, my grandmother and I would always do fun arts and craft projects together when I was a child, and one year she hand painted these beautiful ornaments — look at the detail! Nowadays, her hands shake, so she is no longer able to paint like she used to, but these special childhood memories still remain."
6. From Aidy in Middleburg, Florida, United States
"This is, and always has been, the very first ornament I place on the Christmas tree each year. It brings me warm memories every holiday as it was my first Christmas ornament. It was given to my mother and I by my grandmother. Nine years ago, we lost her to cancer, so this special ornament has taken on even greater value for me. Seeing this ornament immediately puts me in the Christmas spirit. It reminds me of all the wonderful holidays I got to spend with my grandma, and it makes me feel as if I am sharing those special memories with her again."
See the full series at Balsam Hill.
Images: Pixabay; Courtesy of Balsam Hill