About Johanna's 'Mockingjay' Look...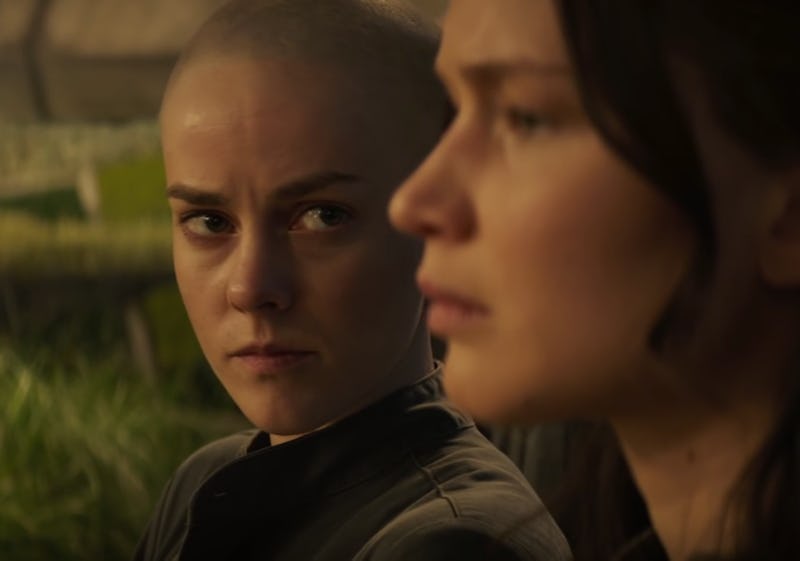 We all know Katniss Everdeen is badass, but the same can be said of Johanna Mason. Played by Jena Malone, Johanna first appeared in The Hunger Games: Catching Fire as a Victor of the Games from District 7. Deadly with an axe and fierce AF, Johanna stormed onto the screen in her first scene and immediately started intimidating everyone around her (by stripping naked, but that's another story). Unfortunately, her strength was noticeably absent from a majority of Mockingjay, Part 1, thanks to the fact that at the end of Catching Fire, she sacrificed herself to save Katniss and was taken by the Capitol along with Peeta. She didn't pop up in Mockingjay, Part 1 until the very end, when she was rescued from the Capitol with Peeta and Annie. Like Peeta, Johanna was tortured, and returned looking gaunt with a shaved head. Mockingjay, Part 2 picks up where Part 1 left off, so Johanna is still bald in the film. But did Jena Malone really shave her head for Mockingjay ?
It seems that although Malone offered to go bald for Mockingjay, Part 2 , filmmakers told her it was unnecessary, according to the actress. Because the movie was not filmed in chronological order and the shooting schedule was long, it was easier for Malone to keep her locks intact and use movie magic to create her bald head. Or, as Malone joked on Jimmy Kimmel Live, "I had a stunt head!"
Malone described to Jimmy Kimmel just how Johanna's bald look was created, revealing that it was a combination of CGI and a stand-in (though she did have to shave the back of her head, just at the top of her neck, to make it as seamless as possible). "It was way more than a bald cap. It was like a CGI experiment. We had like little dots and trackers [on the bald cap]. And I think there was a woman who also had a bald head that was brought in to kind of also film some of my sequences," Malone said.
Over the past few years, Malone has rocked every hairdo imaginable, from a blunt, brown bob to soft, blonde locks, to a daring, bright orange 'do. So it's no surprise to hear that Malone isn't a stranger to the bald look. She has shaved her head twice in her long career, and even had a mohawk when she was 18 — that extreme hairdo, she told Glamour, was "for a job that fell through."
Despite not having to shave her head to film Mockingjay, Part 2, Malone told Kimmel that she enjoyed her past experiences shaving her head, adding, "It's a good thing as a woman to shave your head."
Hey, I'll try anything to look half as fierce as Johanna Mason.
Images: Lionsgate