Anika Has Shocking News On 'Empire'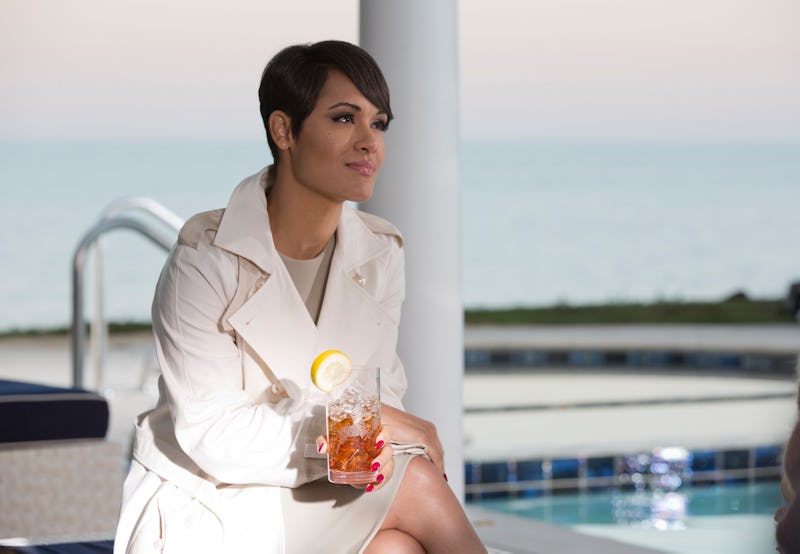 Well, my world is being rocked on Empire. Anika has some big news and something tells me that Lucious isn't going to like it. We all know that Anika and Hakeem have a past on Empire , but little did any of us know that they might be tied together for life. On Wednesday, Anika took a pregnancy and although we don't know at the time of the smiley face showing up on the results who the dad is, we can all guess. And it ain't Lucious, let me say that. You know who it probably is? The youngest Lyon cub, Hakeem, because these two have a past and by past, I mean that they've done the deed recently enough for Anika to be pregnant.
Anika tried to tell Hakeem that she was pregnant, but things didn't go as planned because Hakeem took that exact moment to say that he is in love (and not with her). Don't worry, Hakeem and Anika "are still homies," aka, probably the last thing that Anika wanted to hear at that exact moment. Anika decided not to tell Hakeem about the pregnancy and left swiftly, Hakeem still blissfully in love with Laura.
So, let's really break this down. Anika is probably pregnant with Hakeem's baby. Unless there has been another sexual encounter as of recent that we, the viewers, don't know about, it's pretty much a done deal. This means many things. First, it means that Hakeem is going to be a father. A FATHER, YOU GUYS. But he and I were supposed to fall in love. It also means that Anika is going to be back in the family — sort of — which is probably going to lead to some drama. If Cookie didn't like Anika before, she's probably not going to be getting on her good side anytime soon.
This is also probably going to throw a wrench in the whole Hakeem and Laura relationship, although who knows how Laura will respond to the news (first, Hakeem has to find out). I also feel for Anika, as I'm sure this isn't the ideal situation for her. Not only is she pregnant with her ex-husband's young son, but she definitely has feelings for Hakeem, who is no longer into her.
Images: Chuck Hodes/FOX