When Did Adele & Simon Konecki Start Dating?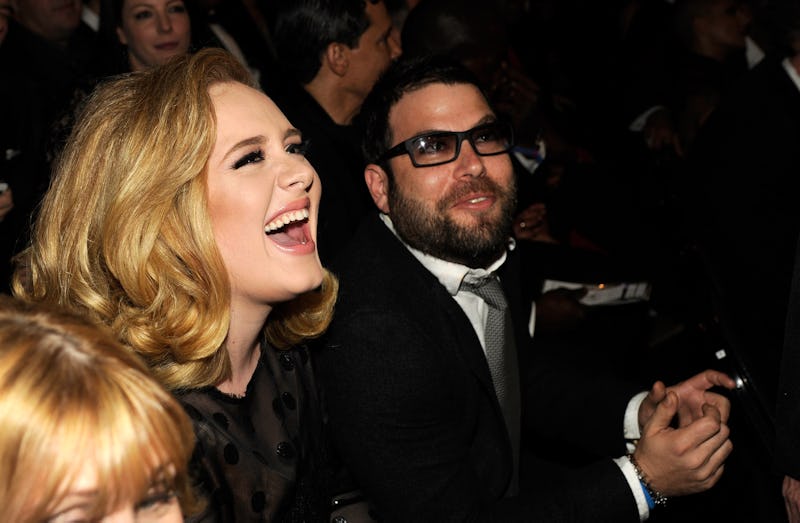 A question that has followed Adele ever since she burst onto the scene is: Which lovers is she singing about when it comes to her heartstring-tugging songs? Simon Konecki, Adele's boyfriend with whom she has a 3-year-old son, Angelo, is the inspiration for her emotional, honest, and vulnerable track "Water Under The Bridge," from her upcoming album 25. The song is about their deep love and connection, but also the fears that Adele harbors about being betrayed. Konecki, 41, may be Adele's new muse, but when did they start dating? Though it seems like they are a match made in heaven who have been inseparable forever, the couple has only been together since 2011.
Konecki, a businessman-turned-philanthropist who co-founded the charity Life Water, met Adele in 2011 in the U.K. Though the 27-year-old singer is notoriously private about her romantic life and kept much of it under wraps and to herself after her album 21 dropped four years ago, she announced on her blog in 2012 that she and Konecki were expecting their first child together, confirming rumors they were dating since long before that announcement. In an uncharacteristically personal message, she wrote in June 2012:
I'm delighted to announce that Simon and I are expecting our first child together. I wanted you to hear the news direct from me, obviously we're over the moon and very excited but please respect our privacy at this precious time. Yours always, Adele xx
In a Rolling Stone cover story released in November 2015, the singer opened up — just a smidgen — about her relationship with Konecki and the heavy rumors that followed it relentlessly:
I have said a million times I'm not married and everyone still says we are. But, yeah, we're still together. We haven't broken up. We've never broken up. We've been together. We just haven't felt the need to get married. We've got a kid together. I feel like that's a big enough commitment.
Though she might not reveal mundane details about their relationship to the public, Adele gushes that Konecki is relentlessly supportive and not threatened by her success, a problem she faced with the guy who inspired her album 21. She told Ryan Seacrest that though the song "Hello" is more general waxing poetic on the past and not about a relationship with any particular lover, Konecki wouldn't have batted an eye had the song been about a past love:
We're like in a solid relationship and he's my soul mate and my best mate, and he sees it as my art and my outlet and something that I did before him. ["Hello"] is not about a past boyfriend or anything like that, but if it was, I think he'd be alright with it anyway because we're in a strong healthy place. It wouldn't be an issue.
Adele seems over the moon with Konecki and their sweet 3-year-old son, and though she and her boyfriend have only been together since 2011, it looks like their love and connection will stand the test of time. Don't you dare hurt her, Simon! She is a precious angel.
Images: Getty Images