Caitlin Stasey On The Truth Of Sexism In Hollywood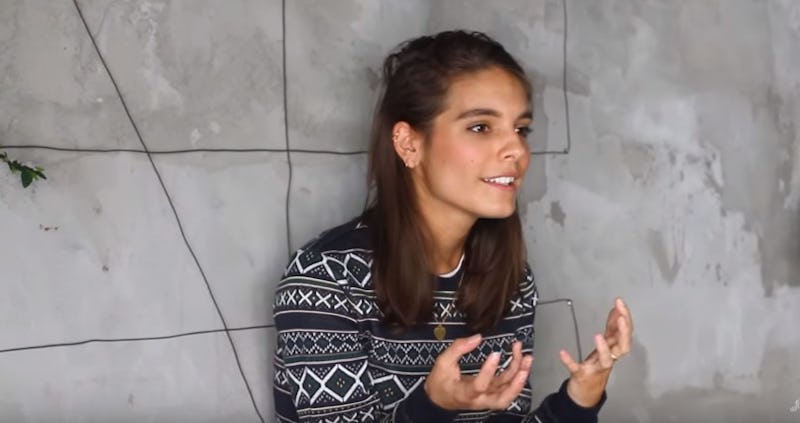 When we talk about gender inequality, it's easy to do so broadly, by discussing things like access to reproductive healthcare or the discrepancies between women and men who holds seats of power in the government. But, it's also important to talk about the nuances of institutionalized sexism, especially when it comes to people that society has placed a certain level of privilege on — specifically, the "beautiful people" of Hollywood. We may not think much about how women seeking to make a living as performers within the entertainment industry are often met with sexism, but actress and activist Caitlin Stasey knows about sexism all too well, and she's not afraid to talk about it. Stasey, who appears on The CW's Reign, recently teamed up with YouTube channel StyleLikeU to film a video for the The What's Underneath Project talking about her experiences working in the entertainment industry, and the surprising struggles that she has been met with as an actress. Her experiences make it clear how women are often still treated as second class citizens — even if their oppression isn't quite as blatant as it once was.
What is most impressive about Stasey's 10-minute video is that she is keenly aware of her privilege as a beautiful, working actress, and yet is able to perfectly describe how while beauty may open doors, these doors are often to "cliff's edges." Here are seven points Stasey makes that remind us how institutionalized sexism is alive and well in Hollywood — and, sadly, in the world:
1. "Sexy" Only Exists Within A Certain Box
Looking the part is a big part of being an actress, and stepping even slightly outside of the box of what is considered the "right" look can be detrimental, according to Stasey. She says she learned that when she wore the "wrong" outfit to an audition. "I wore high-waisted jeans to an audition once," Stasey recalls in the video. "I then got a phone call from my manager saying, 'The director doesn't think you're sexy anymore, he thinks you're just a mouthy girl next door.'"
2. The People Who Write For Young Women Usually Aren't Young Women
If you've ever seen a film or a television show that features a young woman, only for that character to feel completely tone deaf to an actual human experience, it's likely because the person writing that character has never been in that marginalized person's shoes. There's a serious lack of women behind the camera in Hollywood, with Variety reporting that in 2014, 85 percent of films had no female directors and 80 percent had no female writers.
"Some of the greatest heroines have been born in the hearts and minds of men," says Stasey in the video. "That's my difficulty, watching old white men write for young women or any marginalized individual, because they just have no f*cking idea what they're talking about."
3. Women Are Taught To Turn On One Another
Women are often sexualized in advertising and other media, and yet instead of blaming the gatekeepers of this media, it's often the models or actresses themselves who get blamed for "degrading" behavior, as the tweet above regarding a "sexy" Carl's Jr. ad in which a model eats a burger in a seductive manner does. In reality, these women are nothing more than the result of ingrained sexist notions that allow women to be objectified to sell products. Says Stasey:
"The war [against sexism] that we are fighting doesn't have a specific face, and if we can see the thing represented in a person that's in close proximity to us, we can say, 'Oh, it's that, that's the issue, it's this Victoria's Secret model, or this woman eating Carl's Jr. on the beach.' We love to make women the bearer of that burden."
4. People Profit From Degrading Women
We see women objectified, sexualized, and degraded across print and screen media. Why? Because, sadly, sex sells — even if it puts women down. As Stasey says:
"People are genuinely f*cking lazy... The quickest way to make a dollar is to objectify, humiliate, and mutilate women. We love doing that, we love defeating women."
5. Powerful Men Can Use Their Power To Harass Women
The sexual assault accusations against Bill Cosby opened up a conversation about how powerful men are often capable of exerting that power of women who do not have as much. Cosby's lawyer issued a statement last year denying the claims made against his client saying:
Over the last several weeks, decade-old, discredited allegations against Mr. Cosby have resurfaced. The fact that they are being repeated does not make them true. Mr. Cosby does not intend to dignify these allegations with any comment. He would like to thank all his fans for the outpouring of support and assure them that, at age 77, he is doing his best work. There will be no further statement from Mr. Cosby or any of his representatives.
Still, women, especially in Hollywood, are often afraid to speak out against these men for fear that they will not be believed, or even if they are, will have their careers or even lives ruined because of it. Stasey claims that she once had a similar issue.
"This agent started texting me [under the guise of working with another client of his] which if [it] were valid would have come from my manager... He has harassed me and several other actresses. There's nothing we can do about it: He's a gatekeeper."
Yes, Stasey could speak out against him, as could the other women he's harassed — but it would likely cost them jobs, a livelihood, and a reputation in the industry. Time has shown us that the industry will often side with the person who holds the power, and choosing to deal with harassment or having their career destroyed is an unfair choice for any woman to make.
6. The "Cool Girl" Is A Design Of The Patriarchy
If Gone Girl taught us anything (FYI, the above clip is filled with spoilers) it's that "the cool girl never wins." Stasey makes the same point in her video: The emphasis on women being "chill" or up for anything really just benefits the people around them, especially men:
"This idea about being low maintenance, about being chill, about being cool with anything and not standing up for yourself, I think we've instilled that in young women just to make it easier for the men in their lives who want to treat them horribly."
Be kind, but never forget that you have a voice for the sake of being the easy-going girl.
Check out the entire video below for even more harsh realities:
Image: StyleLikeU/YouTube