The 'PLL' Time Jump Wasn't Kind To Ezria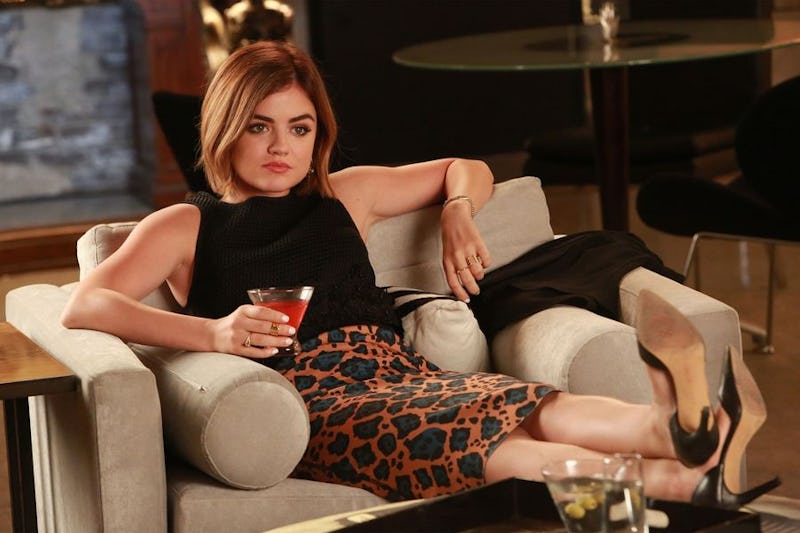 Get ready for a lot of change on Pretty Little Liars. The Season 6 time jump is not going to be kind to all of our favorite 'ships. According to E! Online's interview with the four stars, it looks like none — NONE — of our beloved Pretty Little Liars couples will be together after the five year flash forward and, yes, that includes Aria and Ezra.
In the time that has passed since we last visited Rosewood, Aria's already picked up a new beau — and rumor has it, he goes by the name of Liam Greene. We don't have concrete evidence that the two are dating yet, but according to The Wrap's casting announcement, he is a "handsome editorial assistant," who also happens to be a "sweet and doting professional." Sounds like the perfect match for Aria, and her fancy new job at a publishing house, no?
Oh, and things get even worse for all the Ezria 'shippers out there. According to Lucy Hale, Aria is happy with her new boyfriend, as the actress told People, "she's in a relationship, she's very happy and in love." Unfortunately, Ezra's moved on as well. Hale mentioned to TV Line that Aria and Ezra are "both in different relationships now." For more on the various 'ships, check out Bustle's PLL podcast, Taking This One To The Grave.
Add all that in with the fact that Ezra was weirdly rage-y in the Season 6B trailer, and things are looking pretty darn bleak for PLL's most controversial couple... but don't despair yet. As Hale joked to People, now that her character is 23 years old, "It's finally not creepy!" That's got to count for something, right?
Then, there's the fact Hale explained, while romance is momentarily off the table, friendship is not. She told TV Line, "they build a strong friendship when they start working together." She also noted that there's definitely still a "spark" where Aria and Ezra are concerned — and, perhaps most exciting of all, she thinks Aria is "still madly in love with him."
Things may seem bleak, but we all know major ups and downs are just par for the course in Ezria land — as far as this 'ship is concerned, the reunions are just as inevitable as the break ups. So, even if they're not together in the upcoming winter premiere (and even if Ezra is up to something shady), maybe there's hope for them to get back together by the end of the season. After all, I. Marlene King did tweet that the finale would be extra romantic.
Forgot what happened in Season 6A? Check out the drunk Pretty Little Liars recap video below.
Images: Ron Tom/ABC Family; Giphy