Rocky & Eddie Aren't Done With 'Below Deck' Drama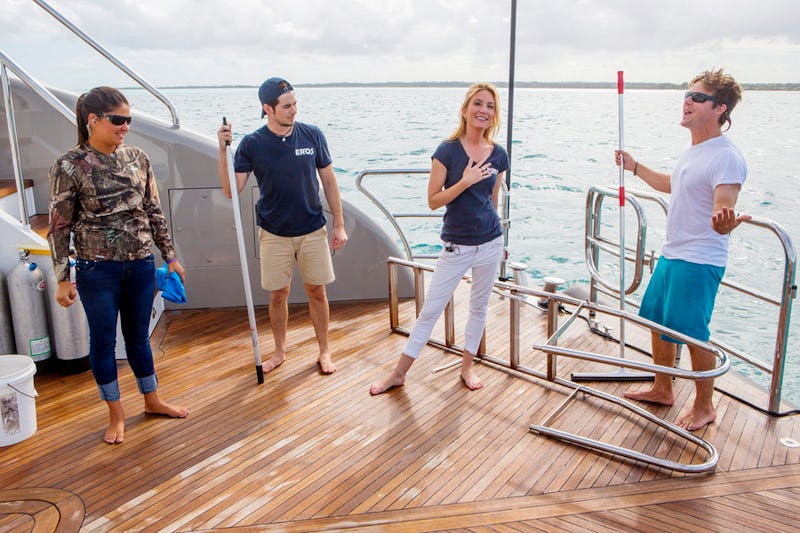 The Below Deck Season 3 finale had one big surprise that overshadowed the whole episode: Rocky & Eddie did hook-up, and both members of the short-lived couple finally admitted to it. It was a jaw-dropping confession, because Eddie had been vehemently denying that he had hooked up with Rocky or cheated on his girlfriend for basically the entire charter season. Surprisingly, in an end-of-season Bravo blog, Rocky implied that she and Eddie are still friends after Below Deck , saying, "Eddie and I were texting a bit before the show aired, he actually really loves me!" However, Rocky later tweeted that some of her responses in that blog were actually jokes, though she may be referencing something that really happened — maybe the two did make amends after the show finished filming, even if they aren't exactly best friends.
Most of the crew was disappointed to hear Eddie's confession in the finale, because they had grown to believe him and despise Rocky over the course of the season. Everyone, even Captain Lee, expressed their "disappointment" with Eddie for cheating on his girlfriend, and I think this discomfort pushed Eddie to act like a real jerk for the rest of the finale.
Perhaps acknowledging that it was pretty screwed up to let Rocky hang out to dry like that for an entire season, Eddie kind of made the effort to reconcile with her as it ended. But essentially, he was only willing to make amends if Rocky took responsibility for their whole hook-up, which, understandably, she refused to do.
Now, Rocky is promising that there will be more answers and more dirt in the two-part reunion special that's coming up on Nov. 24. Her tweets suggest that the two are decidedly not on good terms, and this reunion will be packed with drama. I, for one, cannot wait.
She also shares that she wouldn't have hooked up with the guy if she had known that he was a total jerk, and that him trying to discredit her throughout the season came as a surprise to her. That makes her statement about loving texts before the season started more likely to be part of the joke, unless Eddie's true behavior on Below Deck was not at all what she expected to see, and they had been on good terms until it aired.
Rocky and Eddie's Below Deck relationship was a disappointment — it was disappointing to find out that Eddie was the type of guy who would cheat on his girlfriend and then blame the other person for the whole thing. And it's also disappointing that Rocky has handled the situation this poorly. Hopefully, she doesn't spend the reunion hiding in her room, because the take-charge, straight-talking side of Rocky will push the rest of the Below Deck cast to realize that they treated her terribly, and hopefully apologize for how everything went down on Season 3.
Images: Paul Drinkwater/Bravo; Giphy