Season 22 Of 'DWTS' Should Have These Celebrities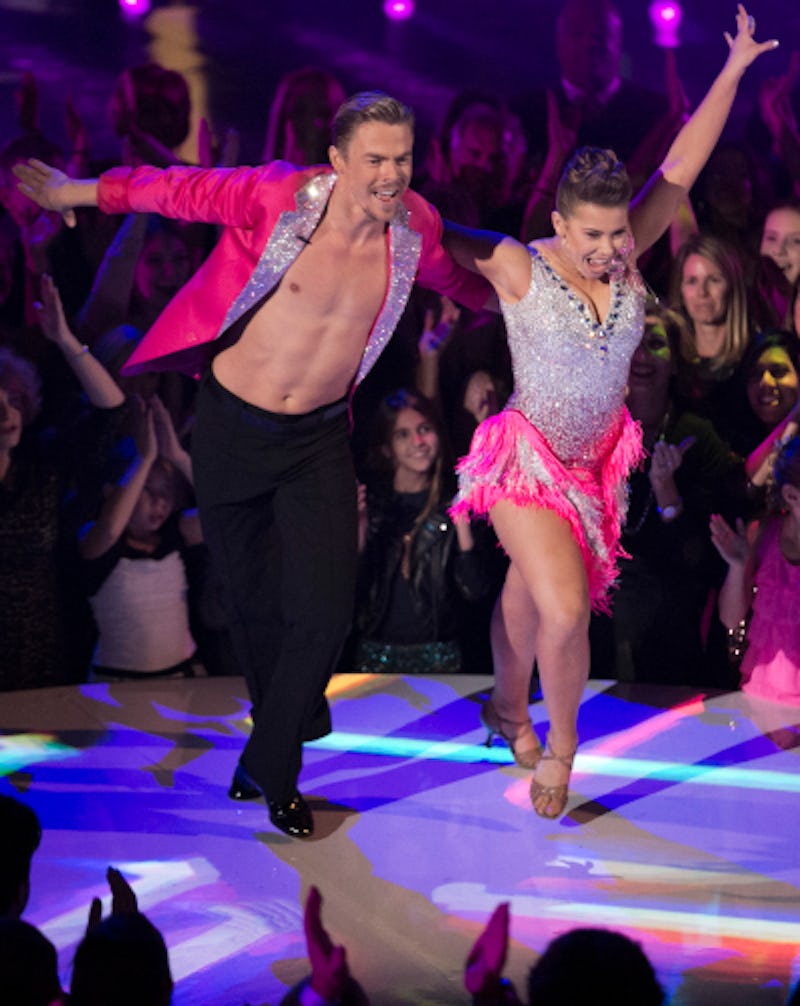 We've almost come to the conclusion of this season of Dancing with Bindi Irwin —I mean — Dancing with the Stars . Finalists Bindi Irwin, Nick Carter, Carlos PenaVega, and Alex Skarlatos only have a few more dances left before one of them is crowned the winner of Season 21 of the competition. We'll just have to wait until Tuesday night to see if Irwin does take home the title or if something goes horribly wrong. But of course, once host Tom Bergeron announces this season's winner, we're all just going to be thinking when Season 22 of DWTS will premiere.
ABC has made no official announcement regarding a premiere date for Season 22 of DWTS, which has had a fall and a spring season for the majority of years the show has been on the air. That spring season of DWTS has premiered on the third or fourth Monday of March for much of the show's run, so it seems likely that we should expect DWTS to return on either March 14 or March 21 of next year.
Luckily, that gives us just enough time to speculate who will make up the illustrious cast of newsmakers, reality TV stars, and former teen idols that will burn the floor during Season 22 of DWTS. Personally, I think the following celebs would make for appropriate and entertaining additions to the DWTS family.
Tyra Banks
Tyra Banks would be like the ultimate DWTS contestant. She fits into a lot of the categories that the show likes to fill with its celebrities (model, reality TV star, talk show host), and she's super fierce. Banks is a renaissance woman, and I have no doubt that she would be as delightful to watch on DWTS as she has been in her many onscreen projects over the years.
Fred Savage
DWTS often enlists former teen heartthrobs for the cast, and now that Fred Savage has made his return to TV this year in the Fox comedy The Grinder, this is his moment to fill that role in the competition. Let's not forget that Savage's Wonder Years love interest Danica McKellar took the DWTS stage during Season 18 of the show. Perhaps McKellar could return for a one-off DTWS duet with Savage and give us all the reunion we've been waiting for.
Tina Turner
There's usually an R&B diva that busts a move on DWTS during each installment of the show. This season, it was Chaka Khan, and in the past, we've also seen the likes of Gladys Knight and Patti LaBelle grace us with their presence. As you can see, DWTS is running out of R&B singers to cast, but Tina Turner still hasn't been on the show. If she does somehow end up there one day, that would be pretty major because she is as legendary as they come, and she certainly knows how to perform.
Zayn Malik
DWTS has become the destination for former boy band members. In addition to Carter from the Backstreet Boys as part of this season's cast, New Kids on the Block's Joey McIntyre, *NSYNC's Joey Fatone, and 98 Degrees' Drew Lachey have all danced across the DWTS stage. Perhaps former One Direction member Zayn Malik would want to join DWTS in the future. He'll soon have a debut solo album to promote, after all.
Ronda Rousey
Ronda Rousey may have suffered a big blow when Holly Holm knocked her out of her undefeated status in the UFC last week, but what better way to prove the haters wrong than to come back even stronger and show people that she's also awesome at something she's never even done before? Rousey could fill the usual athlete slot on DWTS, and if she did amazing in the competition, she would definitely show that success is the best revenge.
Neil deGrasse Tyson
Why would famed astrophysicist Neil deGrasse Tyson ever want to be on DWTS, you ask? Well, fellow smart guys like iconic astronaut Buzz Aldrin, Apple co-founder Steve Wozniak, and Bill Nye the Science Guy have all put on their dancing shoes in the past. Were any of them good dancers? Of course not. But like the aforementioned men, Tyson seems to have a smart sense of humor that could allow him to just have fun with his time on DWTS — and that would make us have a lot of fun with it as well.
Image: Adam Taylor/ABC