'Girl Meets World' Season 3 Has To Happen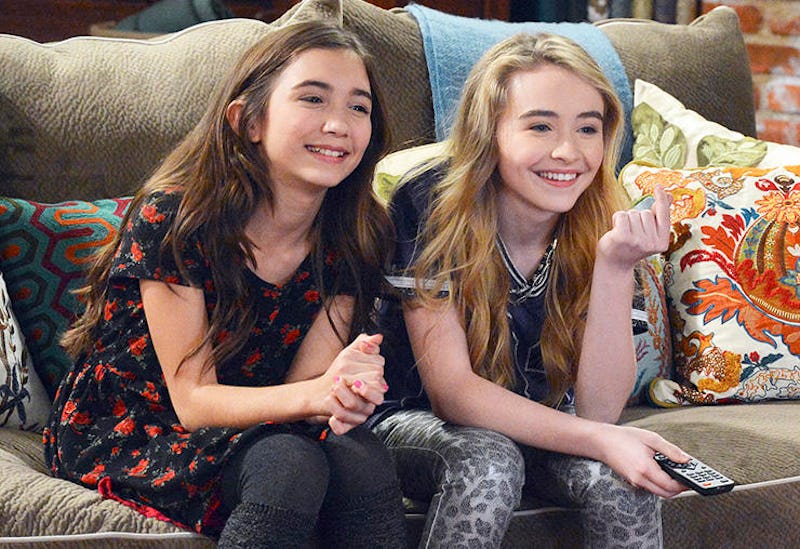 Season 2 of Girl Meets World is the supersized gift that just keeps on giving with episodes set to keep airing into 2016. While that's excellent news, the part of my heart that has been broken way too many times by unexpected cancellations would feel a lot better if Disney would go ahead and renew Girl Meets World for Season 3. As far as I can tell, the show is in no real danger — it's created lots of positive buzz for the channel — but Girl Meets World has gotten so good in recent weeks that the thought of not seeing Riley and Maya continue to grow up for years to come is super distressing.
The show may have started life as an exercise in nostalgia, but Girl Meets World is now standing on its own as one of the smartest teen shows on TV. It hits a sweet spot that speaks to a generation of viewers who aren't quite ready for MTV's teen offerings as well as to the '90s kids who grew up loving Boy Meets World . The genuine cross-generational appeal of the adventures of Riley Matthews and her friends is just one of many, many reasons this show needs to stay on air for as long as possible. Allow me to share seven more.
1. Boy Meets World Was At Its Best During The High School Years
Riley and the rest of the gang will be heading into high school if the show gets the green light for a third season, and that just so happened to be Boy Meets World's best era. Given the creative growth that Girl has shown recently, I can only imagine the kind of stories and relationship dynamics it would tackle in a high school setting. Like Boy Meets World before it, I think Girl Meets World would become iconic as the characters move into the next phase of their lives.
2. Maya & Riley Are One Of TV's Best Female Duos
Female friendships are a rarity on TV. Positive portrayals of deep friendships between teen girls are even rarer. Maya and Riley's relationship is built on love, honesty, and a healthy need for balance. Their beautiful friendship fills a void on TV and shows young girls just how amazing and vital female friendships can be.
3. They Have So Many Milestones Left To Explore
Riley, Maya, Lucas, Farkle, and Zay still have so many huge moments ahead of them. From getting their driver's licences to encountering high school parties and thinking about colleges, there is a whole lot of growing up still ahead of these kids. I want to see them go through it all.
4. The World Needs More Shawn & Katy
The love story between Shawn and Katy needs to keep progressing for the sake of my heart. Plus, they are Maya's dream, OK? They need to happen properly.
5. The Ever Expanding Love Triangle Is Just Too Good To Say Goodbye To
Oh, those crazy kids and their relationship drama. I don't even know what shape to call what is going on between Riley, Lucas, Maya, and Charlie at this point, but it's all kinds of fascinating. I can only imagine how much more complicated their feelings will become when they reach high school.
6. Aunt Morgan Hasn't Come For A Visit
Until Girl Meets World gives me a scene between Riley and her Aunt Morgan, it is not allowed to end.
7. No One Is Ready To Say Goodbye To Cory & Topanga Again
Now that adult Cory and Topanga are on TV, there is no way anyone is ready to let them go. They are the adorable married couple I always knew they would be and I want more of their marriage, more of their parenting, and just more of them being genuinely amazing human beings.
Alright, Disney, I've made my case — now give Girl Meets World the renewal it deserves. (And if you want to throw in a fourth season while you are at it, there will be no arguments from me...or anyone else.)
Images: Disney; boymeetsworldgifs/Tumblr (7)