Eli Got Cozy With Courtney On 'The Good Wife'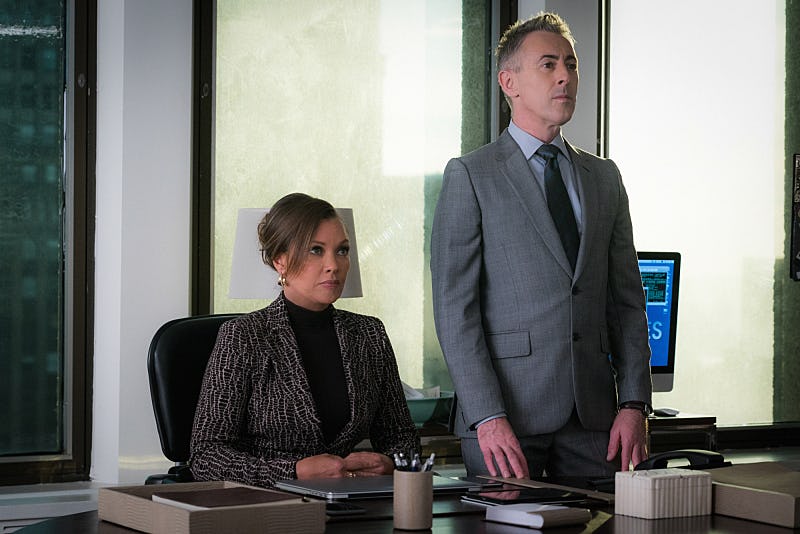 After a promising introduction in last week's The Good Wife , Courtney Paige (Vanessa Williams) seems to have bagged herself a sexy political consultant in Eli Gold (Alan Cumming). Yes, Eli and Courtney kissed in The Good Wife episode "Restraint," and it was about as awesome as you'd think. It's been a while since we've seen Eli have some romance on The Good Wife, but this week he actually got a kiss.
When she was introduced last week as a potential Peter supporter, Courtney only had a few brief interactions with Eli, but it was clear they had a connection. After all, Eli was practically fangirling over Courtney when she stepped into Peter's office. It was only natural, then, that this week Eli inserted himself into her business affairs, under the guise of looking out for Peter's best interests. Courtney was gearing up to implement a new salary practice for her employees — paying everyone over $70,000 per year regardless of seniority — and Eli worried it could be interpreted by voters as socialism. He also wanted to spend time with her. Using his skills of manipulation, Eli managed to convince Courtney to rethink her practices, hire Alicia as an outside council, and work with him side by side. (Seriously, Eli is an evil genius when he wants to be.)
At the end of the day, Eli's efforts payed off. Though Courtney made clear she'd be sticking to her plan to raise the salaries of her employees, she also gave Eli the opportunity to make his move. And, what's more impressive, Eli took it! Yes, Eli, the cynical, political machine we all love (and sometimes love to hate), took a chance on love Sunday night, kissing Courtney in her office.
Romances on The Good Wife tend not to end well, so Courtney and Eli probably won't be riding off into the sunset any time soon. But, in the meantime, I think we can all agree Eli deserves a little slice of happiness before everything goes to hell. (What were you expecting? This is television.)
Images: Michael Parmelee/CBS; Giphy