9 Ways To Enjoy A Winter Staycation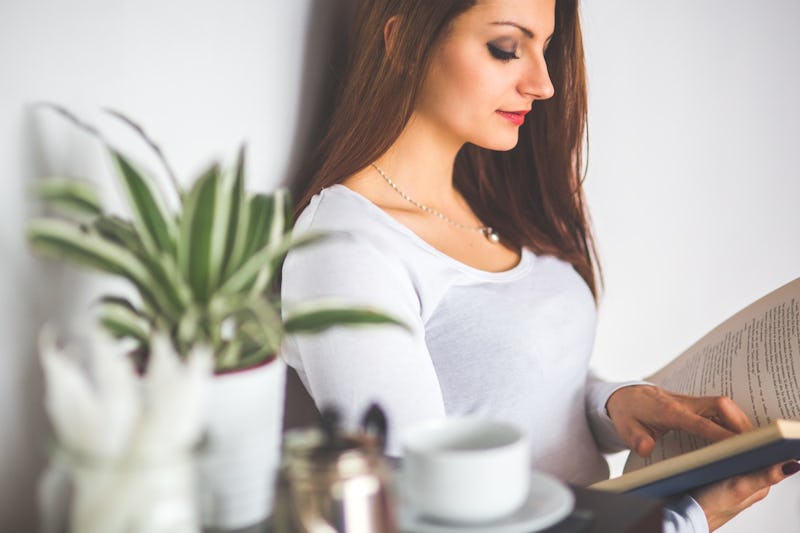 When the holidays roll around, we often find ourselves with the time to finally use some of our much-needed vacation days. Unfortunately, many of us can't afford to jet off to a tropical island or Europe for the week — but that doesn't mean our winter staycation needs to take place exclusively on our couch. Sure, it can be tempting to spend your week off in sweatpants, ordering take-out, sleeping until noon, and leaving the house as little as humanly possible. (I mean, it is already really cold in some places.) And some R&R is certainly in order — most of us are pretty exhausted by the time December arrives, and the holidays themselves can be super tiring. But while vegging out can be fun (and necessary!) for a while, socially isolating ourselves can eventually leave us feeling unhappy rather than relaxed. Which is why it's extra important to make the most of our vacation days by planning some fun winter staycation activities.
A staycation is a great opportunity to strike a healthy balance between relaxation time and trying new activities. We all have our favorite hobbies to enjoy at home — whether you love snuggling up with a good book, playing with a pet, or cooking, you can take advantage of your time off to do those things. But trying some new activities will make your staycation feel like an actual vacation, rather than just an extended weekend — and, even more importantly, they will keep you from getting bored (and thus not really enjoying those precious days off). In fact, you can create some amazing memories just staying in your hometown — and they won't include miserable airport delays, lost luggage, and hotels that look nothing like the photos on their websites.
Here are nine fun winter staycation activities that you can enjoy no matter where you live:
1. Take A Food Tour Or Try A New Restaurant
If you're a self-proclaimed foodie who loves to try a variety of cuisines, find a food and beverage tour in your area. It's a fun and delicious way to spend a few hours, and you'll probably discover some new favorite dishes. If you prefer to stick with one cuisine, treat yourself to a meal at a restaurant you've been dying to try.
2. Treat Yourself To A Spa Day
We all deserve a little pampering every once in a while — and what better place to relax and decompress than a spa? Try to find a good deal online — coupon sites tend to have plenty of options that will allow you to enjoy your spa day without stressing about the cost (because that would totally defeat the purpose).
3. Try Some Arts & Crafts
Arts and crafts are perfect for a frigid day when you just don't want to leave your house. Adult coloring books are all the rage right now, and for good reason — they're a super relaxing activity for those of us who don't have the most impressive drawing skills. Tap into your artistic side in solitude if you're craving some alone time, or invite some friends over to join you.
Another fun option is a BYOB painting class. As the name suggests, it allows you to combine wine and painting. I enjoy these classes because they provide me with an excuse when my painting looks like the work of a five-year-old. What could be better?
4. Visit A Museum
Museums are another great go-to activity that can be done solo or with a pal — but one we often skip on when we're overloaded with work. That's why a staycation is the perfect time to visit your favorite museum and look at your most beloved exhibits, or try out a new one that you've been dying to visit but haven't found the time. And don't give up if the museum you want to visit has an insanely high admission fee — most museums have one day each week where the entry fee is either reduced or dropped completely.
5. Host A Low-Key Party
If you enjoy hosting social gatherings, a staycation is the perfect time to plan a little shindig for you and a few good friends. You'll have extra time to prepare, which eliminates a lot of the stress that comes with hosting a party after a long work week. And friends who stayed in the area (rather than taking the standard seasonal trip out of town) will be happy to have an opportunity to connect with other folks who stuck around over the holidays.
You can have a totally casual get-together, or choose a fun theme — and feel free to think outside the box in that regard (since many of us are already flooded with invites to ugly sweater parties during the holiday season). Watching holiday movies and baking cookies is always a fun and low-key group activity. If you're seriously missing the summer months, try a tropical theme — a few cheesy palm tree decorations, margaritas, and summery foods should do the trick.
6. Check Out Some Local Events
Many of us feel so exhausted during the work week, we barely make time to meet up with friends, let alone try new cultural activities — so now is the perfect time to investigate all the art and entertainment that your town has to offer. Check your local paper for events; you'll usually find some fun art shows, concerts, and theater productions that are either free or inexpensive. During the winter months, there are plenty of places to go ice-skating outdoors (typically against a festive backdrop). And if you love the holidays, you'll want to check out tree lightings and holiday-themed events.
7. Take A Day Trip
If there's a neighboring town or city that you love or have been wanting to visit, take a day trip there and explore the sites and scenery. If you don't have a car, commuter railroads and bus services can be a great asset for regional travel — check out where your local system goes, and see if any of the locations strike your fancy. If you're a little bummed about being in your home city during vacation, this is a great way to have an easy and affordable escape.
8. Visit A National Park Or Forest
Depending on where you live, the temperature may already be pretty chilly. But if you can still safely and comfortably spend time outdoors on the warmer days, check out a nearby park or forest. Even if you live in a place where winter has already arrived in full force, the woods are so beautiful after a snowfall — so bundle up and brave the elements. You'll have some amazing Instagram photos to show for it.
9. Have A Slumber Party
Contrary to popular belief, slumber parties are definitely not just for middle-schoolers. In fact, I would argue that they're more fun during adulthood because cocktails can be part of the evening and you don't have to worry about noise levels waking up your parents. Staycations are the perfect time to make popcorn, watch movies, and stay up all night chatting — after all, you don't have to be at work in the morning.
Most importantly, enjoy your staycation. You earned it!