15 Vegan Thanksgiving Dishes Better Than Turkey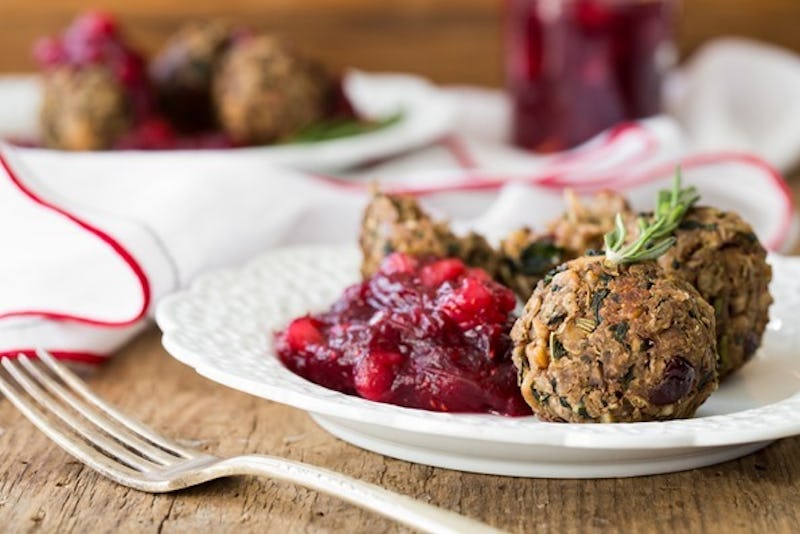 Every Thanksgiving, approximately 46 million turkeys are cooked and consumed by households all over the United States. Except, of course, in households that are vegetarian and vegan. But that doesn't mean that if you're meat-free you have to miss out on all the fun and festivities, and with these vegan Thanksgiving dishes, you most definitely won't miss that turkey.
Sure, you could easily buy a Tofurky to replace that missing turkey, but let's be honest — you can do a lot without getting any faux meat involved. Think about making the most of things like squashes, pumpkins, and even hearty stews. There are no set rules about what you need to serve, so don't be afraid to try something a little bit untraditional with your vegan side dishes. It's not that difficult to make this food-filled holiday enjoyable for everyone at the table — dietary restrictions aside.
As it turns out, a Thanksgiving without a turkey is just fine. And in fact, it might even be better watching the presidential turkey pardoning before indulging in a big meal containing no animal products. These 15 main courses all deserve a spot at your vegan Thanksgiving dinner, even if you aren't vegan yourself. Trust me: the turkeys will really be grateful this year.
1. Wild Rice And Shredded Brussels Sprout-Stuffed Mini Pumpkins
If you're looking for a dish that will truly make a statement, Half Baked Harvest's stuffed mini pumpkins are sure to wow even the most discerning crowd. Be sure to omit cheese to make them vegan.
2. Lightened-Up Vegetable Lasagna Casserole
No dairy is required to make Averie Cooks' light, creamy, vegetable-filled lasagna casserole. Just follow the instructions for vegan substitutes, and you'll be good to go.
3. Butternut Squash Jambalaya
The autumnal take on this Creole dish by Naturally Ella is perfectly good on its own — but we think it would taste even better alongside some vegan mashed potatoes and cranberry sauce at Thanksgiving dinner.
4. Lentil-Mushroom Walnut Balls With Cranberry-Pear Sauce
Skip the fake meat, and make your own protein-filled faux meatballs. Oh She Glows' lentil-mushroom walnut balls taste perfectly autumnal with a sweet cranberry-pear sauce.
5. Vegan Tofu And Vegetable Pot Pie
If you're serving a small crowd, give each diner their own mini main course — we recommend The Kitchn's comforting vegetarian pot pies.
6. Avocado Quinoa Stuffed Acorn Squash
Without added cheese, Love and Lemons' stuffed acorn squashes taste perfectly divine. Plus, they look super pretty set up on your dining room table.
7. Spaghetti Squash Lasagna Bake
The secret to Minimalist Baker's cheesy-yet-vegan spaghetti squash bake? Tofu ricotta. This is one recipe you have to try.
8. Sweet Potato, Corn, And Black Bean Enchiladas
Mexican food may not be standard for Thanksgiving dinner depending on your family traditions, but Averie Cooks makes a strong case for these sweet potato enchiladas — that happen to taste just as good without cheese as they do with.
9. Curried Butternut Squash And Brown Rice Skillet
A bit of curry makes an unexpected but definitely welcome addition to your dinner table. Naturally Ella uses seasonal butternut squash to make a tasty dish.
10. Crispy Breaded Tofu Strips
If you're simply looking to replace the meat on your plate without going for anything too processed, turn to Oh She Glows' breaded tofu strips for the solution.
11. Savory Kabocha Tofu Pie
Skip the Tofurky this year, and make The Kitchn's kabocha squash tofu pie instead. You may just never turn to the processed faux meat ever again.
12. Fall Pot Pies
If the crust is your favorite part of a pot pie, then Minimalist Baker's autumnal dish is right for you. This version is topped with vegan biscuits.
13. Potato Chorizo Bake
A combination of scalloped potatoes and lasagna, Cara's Cravings' vegan chorizo bake is sure to win over even the most uncompromising carnivore.
14. Slow Cooker Pumpkin Chili
Simply make Taste and Tell's pumpkin chili in your Crock-Pot, and don't worry about it while you whip up your many sides — it's that easy. Throw in extra black beans in place of meat.
15. Warm Autumn Tart
Let your main course double as a beautiful centerpiece with the help of Green Kitchen Stories' autumn tart. It might even inspire you to love your veggies a little more.
For more Thanksgiving ideas, check out Bustle on YouTube.
Image: Oh She Glows (3); Half Baked Harvest; Averie Cooks (2); Naturally Ella (2); The Kitchn; Love and Lemons; Minimalist Baker (2); Cara's Cravings; Taste and Tell; Green Kitchen Stories