On 'Fargo,' All Roads Lead To Sioux Falls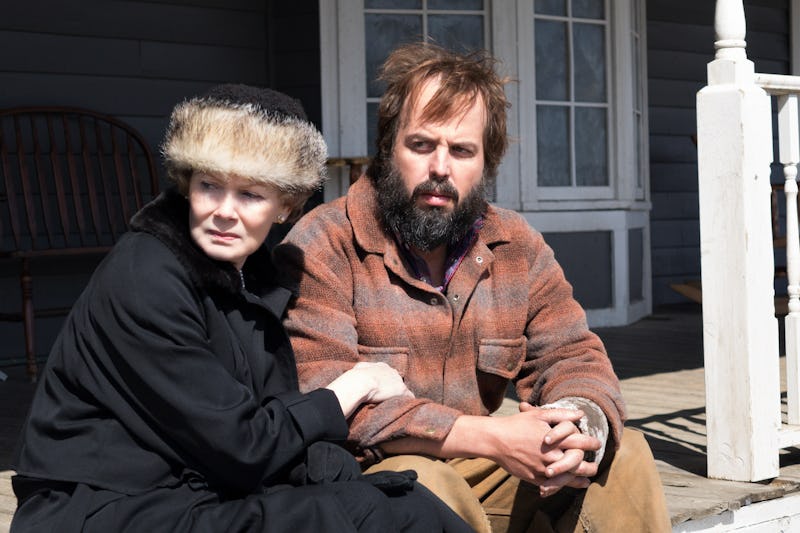 It's almost here. For all of Season 2, FX's Fargo has been teasing viewers with the impending "Sioux Falls Massacre," a deadly event we've known has been coming since it was name-dropped in Season 1, but which the characters of the show's sophomore season have been blissfully unaware of — until now. In the closing moments of this Monday's episode, "Did You Do This? No, You Did It!", all roads started to lead to Sioux Falls... and in a wholly unexpected way, to boot.
For those rusty on their Midwestern geography, Sioux Falls is located in South Dakota, which is also the home of Mount Rushmore (although that's about a three hour drive to the west). Sioux Falls is the largest town in that state, and it's conveniently located just across the border from a small Minnesotan town: Luverne, aka the home of Peggy and Ed Blumquist. The Gerhardt family hails from Fargo, which is in North Dakota, about a four hour drive north of Luverne. Much of Season 2's action has shuttled between those two latter two locations, ever since Rye Gerhardt murdered that judge in Luverne's Waffle Hut.
So what brings us to Sioux Falls? Funnily enough, it's two characters who were barely even seen in this week's episode: Ed and Peggy. Last we saw them, the former was hightailing it home after escaping Bear's lynch mob with Lou's help, and the latter was zapping Dodd into submission with a nasty cattle prod. Although Hank Larsson told us the hapless couple was missing this week, the episode didn't offer any clues to their whereabouts — or Dodd's — until the closing moments of the hour.
Gerhardt henchman Hanzee, who we knew had been tracking Ed since the end of last week's episode, called the farm to inform Bear that he had found Dodd: being held by the Blumquists in Sioux Falls. Around the same time, Ed called mob enforcer Mike Milligan to offer Dodd to him on a silver platter. Now both the Gerhardts and the Kansas City mafia know the whereabouts of the missing Gerhardt scion — and with Lou Solverson watching their every move like a hawk, it's pretty much a given that he, Hank Larsson, and Ben Schmidt will be following both parties to Sioux Falls fairly soon.
So, with three episodes left to go in the season, we have three separate, warring factions converging on one small Midwestern town with a simple-minded butcher, a deluded beautician, and a volatile criminal caught in the middle. Sioux Falls is a powder keg ready to explode at the slightest provocation. The only question that remains is, how long will showrunner Noah Hawley keep us waiting for the infamous "Sioux Falls Massacre"? Common sense says that the climactic event will be held until the season finale; but given that we all know it's coming, I wouldn't put it past Hawley to shock us all by having it go down unexpected in the opening minutes of Episodes 8 or 9.
Well, the issue of when the massacre will occur isn't the only question remaining, I suppose. There's also the small matter of who — if anyone — will survive it unscathed. And now that Fargo has officially been renewed, there are plenty of new mysteries to ponder as well: Will Season 3 rewind the clock once more for another prequel? Or will it fast-forward to a more modern time? Will any characters from Seasons 1 and 2 appear in it? What will it be about? Who will live? Who will die? How many Coen Bros. references will be made? Will this show just keep getting better and better?
Images: Chris Large/FX (3)