How To Make Lipstick Last Through Thanksgiving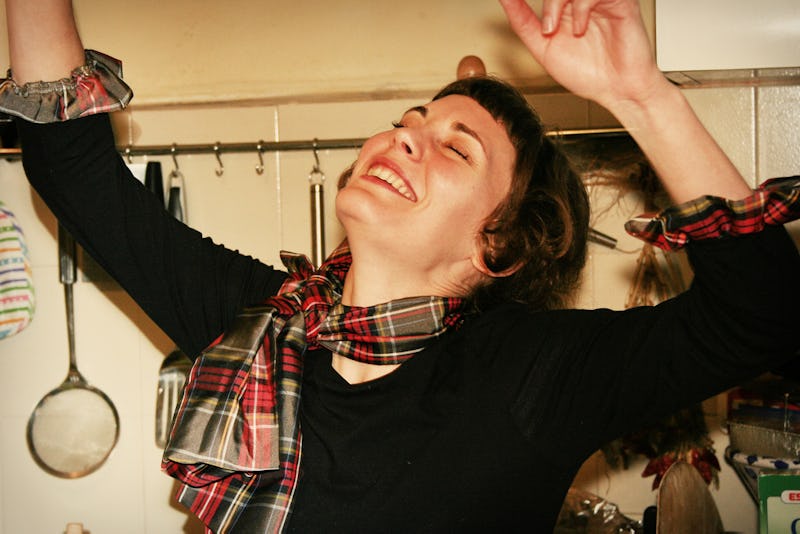 Keeping lipstick in place can be a challenge any day of the year, but figuring out how to make your lipstick last takes on a whole new level of complexity on Thanksgiving. Sure, you could just go out and invest in a solid long-lasting lipstick, of which there are many. But even the best all-day lipsticks are no match for boats full of gravy and baking pans full of sloppy yams with sticky marshmallows melted on top. If you want your lippie to last until the pumpkin pie comes out, you'll need some help.
Lucky for the hungry among us, it is possible to get through your Thanksgiving feast without messing up your lipstick, and you don't have to sacrifice your perfect plum-colored pout if you want to go ham on a turkey leg. It also doesn't have to be a huge pain. You don't have to totally switch up your routine or test out some complicated technique to get lipstick that will stay put no matter which dishes your aunt or uncle might put on the table.
You can have your cranberry lipstick and eat your cranberry sauce, too, simply by following these seven tips to make your lipstick last through Thanksgiving dinner.
1. Exfoliate First
Fresh Sugar Lip Polish, $22.50, sephora.com
From my experience, your lipstick won't have any chance of staying on your lips if they're chapped and flaky, so exfoliate your lips before applying any product. If you prefer, you can also make your own lip scrub using ingredients that wouldn't be out of place in a pecan pie.
2. Prime Your Lips
Kiehl's Lip Balm #1 in Cranberry, $9, kiehls.com
Priming your lips will prevent your lipstick from feathering or transferring. You could invest in a lipstick primer (like Too Faced Cosmetics Lip Insurance), but priming your lips can be as simple as putting on some lip balm. You just want to make sure your lips are hydrated so that the color can go on evenly and without flaking. This Kiehl's lip balm is cranberry-scented, for those who really want to get into the holiday spirit.
3. Avoid Gloss
MAC Lipstick in Russian Red, $17, MACCosmetics.com
Though a bright lip gloss might look great on top of a darker, autumnal shade, it won't be practical when you're chowing down on turkey because you'll probably end up with a sticky mess all over your face. Go for a matte shade rather than something with high gloss, like the cult favorite Russian Red from MAC, which goes on velvety and sticks.
4. Experiment With Liquid Lipstick
NYX Cosmetics Liquid Suede Cream Lipstick in Cherry Skies, $7, NYXcosmetics.com
One of the easiest ways to get a perfectly matte lip that will last is with a liquid lipstick. Liquid lipsticks also tend to come in a huge variety of bold, bright colors, from gray to green, so if you're looking for a color that will shock your grandma, this might be the route for you.
5. Stain Your Lips
Berrisom Oops My Lip Tint Pack Set - 6 Colors, $48, memebox.com
Another way to guarantee that your lip color won't budge is by using a stain. Though the look probably won't be nearly as bold as with liquid lipstick, you can still find a stain with a lot of pigment. These lip tints from Korean cosmetics brand Berrisom are a perfect example of a super bright, long-lasting stain. They have the consistency of a thick lip gloss when first applied, but quickly dry on your lips. Peel off the dried gloss, and you're left with a stain on your lips that will stick around for hours. (There are also some very compelling YouTube tutorials if you're interested in seeing the peeling in action.)
6. Blot With A Tissue
I've learned that one of the easiest ways to make a lip color last is by blotting it with a tissue or a piece of toilet paper after the first application. This will remove any excess lippie hanging around, which could otherwise cause your lips to flake and crust over.
7. Take It With You
Amid all the drama of Thanksgiving, don't forget your lipstick at home. Despite your best efforts, chances are you'll have to retouch. But with these tips, you should be able to make it through turkey without much trouble.
Now stop worrying about your lipstick, and get on with that Thanksgiving feast! And who knows? You might even need some tips on how to remove long-lasting lipstick after you're done with the pumpkin pie.
Want more long-lasting lipstick tips? Check out the video below, and be sure to subscribe to Bustle's YouTube page for more hacks and tricks!
Images: liquene, oh_darling, idhren/Flickr; Courtesy Brands