Jennifer Lawrence, Emma Stone, & Adele Are Now BFF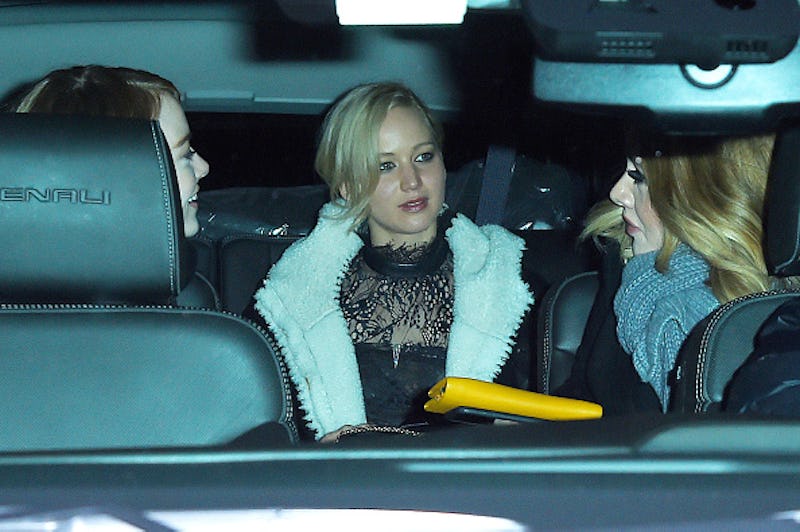 Katniss Everdeen, a Spider-Man star, and one of the greatest musical talents to ever live walk into a restaurant — it sounds like I'm about to tell a joke, but I'm totally not, because this is real. On Monday night, Jennifer Lawrence, Emma Stone, and Adele had dinner together in New York after Adele's performance on The Tonight Show, and the words do not exist in the English language for me to express exactly how amazing this is. And unfortunately, that (along with a few photos snapped as the new trio of besties left dinner) is all the information we have on what happened. Oh, one more detail: It was a Mexican restaurant, which means they definitely have good taste.
I've always been a loyal devotee to Taylor Swift's squad, but these three might be my new favorite celebrity friends. And seeing them all together got me thinking. Is it even safe to have Lawrence, Stone, and Adele all together at one table? Three of America's greatest treasures, together in the same place at the same time? The amount of money, accolades, and accomplishments between them has to be insane, so of course I had to do research to find out exactly what those numbers would be.
This is just a sample of the amazingness that existed among them as they ate dinner last night. Sorry, Beyonce and Jay-Z, but a billion dollars on an elevator is nothing compared to this.
$143 Million Dollars
In case you were wondering, Lawrence is worth $60 million, Adele is worth $75 million, and Stone is worth $8 million. Clearly, this means Adele must have paid for dinner. Or was it Lawrence? She's gotta have a Mockingjay: Part 2 paycheck in the mail.
3 Major Movie Franchises
Hunger Games, The Amazing Spider-Man, and Skyfall, as part of the James Bond franchise, duh. Adele may not have been in the movie, but she sang the title track, and that's good enough for me.
2 Academy Awards & 3 More Nominations
Adele and Lawrence each have an Academy Award — Adele for Best Original Song in Skyfall , and Lawrence for Best Actress in Silver Linings Playbook — plus Lawrence's additional two nominations. And Stone was nominated for Birdman last year, and even though she didn't win, she totally should have.
2 High Profile Relationships
Nicholas Hoult for Lawrence, and Andrew Garfield for Stone, obvs (may their adorable relationship rest in peace). It's more, if you count the fact that Adele exposing her relationships to us via song has made every single human being on the face of this earth cry at some point or another. And speaking of crying...
787 Times They Made Us All Cry
Once when Gwen Stacy plummeted to her death in Spider-Man, once when Rue died and Katniss sang to her in Hunger Games, and the other 785 times are for the amount we humans of earth have replayed "Hello" since it hit iTunes last month. Adele, why are you purposefully trying to upset everyone?
Next time these three get together, I want to be there. There's so much to learn! And I don't normally do this, but I would totally share my nachos.
Images: Josiah Kamau/BuzzFoto via Getty Images (2), Giphy (5)