Mulan Needs More 'OUAT' Time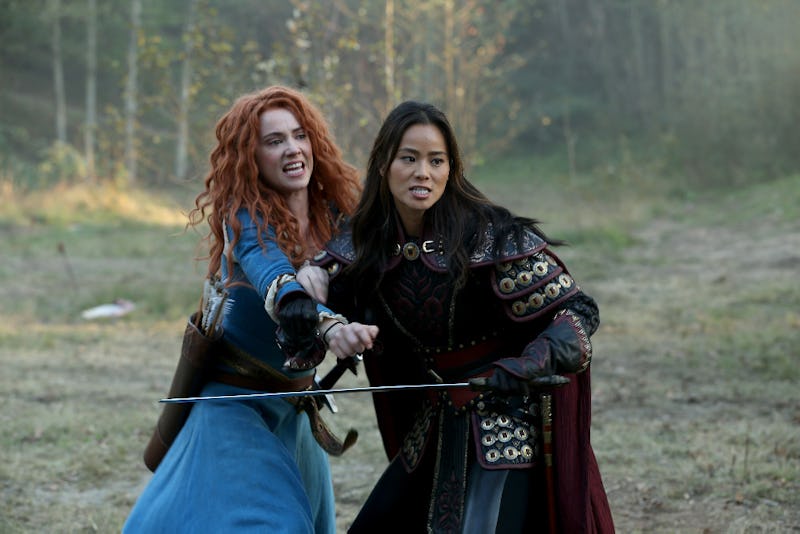 Once Upon A Time has a lot of conflict ahead with Hook, Emma, and the aftermath of the Camelot adventures, but the show teased the return of two awesome characters. Will Mulan return to Once Upon A Time? When we last saw Mulan in the recent Camelot past, she and Ruby went off on an adventure together in the Enchanted Forest. This show has always found fun ways to reinvent Disney heroines, and Mulan is one of my favorites — so this can't be the only time we see her this season.
However, when E! Online first reported hat Jamie Chung would reprise her role in Season 5, the producers promised a multi-episode arc and teased on Twitter that it would take place over both halves of the season. So, if I were to put forth a guess, we will most likely meet up with Mulan when Once Upon A Time returns in 2016. She's almost certainly going to be in the upcoming 100th episode, and who isn't? The rest of Season 5A is going to be leading into the mid-season finale, and I don't see them returning to the Enchanted Forest in the present before that happens.
I'm going with the worst case scenario, because unfortunately, there is very little information out there about the upcoming episodes of Once Upon A Time. We know that Hercules, Megara, and possibly Hades have been cast. We know the next few episode titles, per Adam Horowitz's Twitter title teases, are "Broken Heart," "Swan Song," "Souls of the Departed," and "Labor of Love." With everything else happening on OUAT right now, we can't presume that any of those are relating to Mulan, as cool as that would be. We know that Once Upon A Time will feature an upcoming LGBT romance, but that it doesn't necessarily involve Mulan (though I don't believe that for a second, MulanRouge is so happening).
Considering that Ruby and Mulan went off on an isolated quest in the Enchanted Forest, I'm not sure how they are going to figure in to the rest of the season. Season 5B is speculated to go to the Underworld, and what could these two badass ladies possibly be doing there? Maybe they'll find their way back to Storybrook first on Once Upon A Time. Somebody has to check on Granny! No matter when or where we see Mulan again, she'll be a welcome sight for Once Upon A Time.
Images: Jack Rowand/ABC (2)