How To Cut Your Blow Dry Time In Half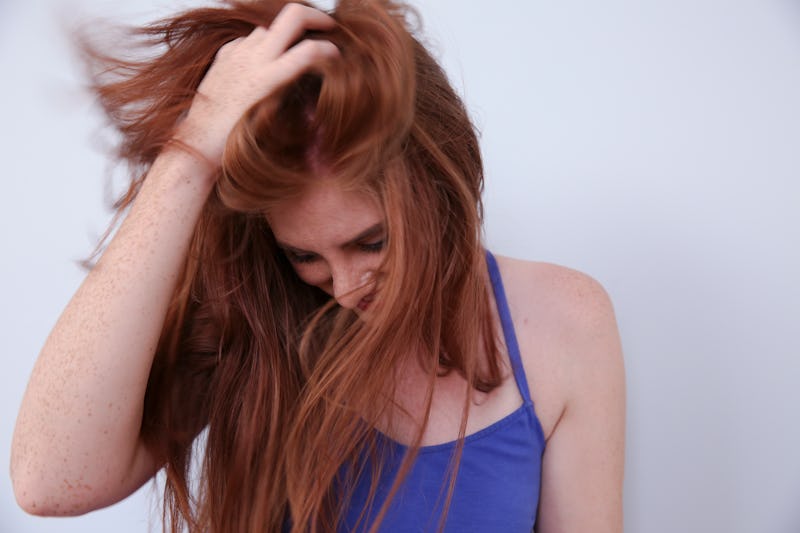 The effect of a good blow out can be life changing. Not actually life changing, maybe, but close enough. Everyone knows the feeling of confidence when you know your hair looks perfect, am I right? Walking down the street with hair that's shiny, bouncy, and smells great can be a serious mood-changer. So what if I told you there's a product that can cut your blow dry time in half? There is, and this is how to use blow dry spray to speed up your hair routine.
If you haven't heard of it, blow dry spray (or balm) is a miracle product that smooths hair, helps it hold style and miraculously cuts your blow dry time in half. My obsession started when a coworker came in with the most perfect, bounciest natural-looking curls that stayed put all day. When 5 p.m. hit and her hair still looked perfect, I had to figure out her secret. Turns out it was the work of R + Co. Blowout Balm, and I've been obsessed with finding the perfect blowout spray ever since then.
The product couldn't be simpler to use. Spray it on damp hair and blow dry normally, and your hair will magically dry faster, stay sleeker and a hold a style longer than without it. No matter your budget or needs, there's a blowout product for you. Here are seven of the best.
1. The Luxe One
R + Co. Park Avenue Blowout Balm, $28, A mazon
This is the product that started my obsession, and I still think it's amazing. I wish you could see how bouncy my coworker's hair was after using this. It's a splurge, but it's definitely on my Christmas list.
2. The Best-Smelling One
Amika Bombshell Blowout Spray, $16, Amazon
I received this spray in a Birchbox, and it seriously smells amazing, like every Amika product. If you're scent-crazy, this is for you. As a bonus, the 2.3-oz. bottle is travel friendly.
3. The Heat Protecting One
L'Oreal Boost It Blow Out Heatspray, $15, Amazon
This drugstore find is budget friendly, and it's perfect if you need some extra heat protectant on your product. If you're curling or straightening your hair after blow drying, use this.
4. The Jennifer Aniston-Approved One
Living Proof Blowout Styling and Finishing Spray , $15, A mazon
When a brand has Jennifer Aniston as its ambassador, you trust it's a great product. She's had amazing hair for years. This spray can be used before, during and after your blowout.
5. The Cult Favorite
Kenra Platinum Blow Dry Spray, $29, Amazon
I can't tell you how many times I've read about this Kenra blow dry spray. People love it for a reason, which is that it will seriously reduce the amount of time it takes to do your hair.
6. The Healing One
Macadamia Healing Oil Treatment, $18, Amazon
I swear by my Macadamia Healing Oil Treatment because it makes my hair ridiculously soft. It also reduces blow dry time, so I always turn to this when my hair needs a little protection and extra softness.
7. My Personal Favorite
Matrix Turbo Dryer, $18, Amazon
Make note, blow dry junkies. This is the perfect middle-of-the-road blow dry product for your everyday (or every few day) use. It dries your hair fast, smells great and won't break the bank.
Once you start using blow dry spray, you'll never go back. Now pick one and experience its life changing magic.
Want more beauty tips? Check out the video below, and be sure to subscribe to Bustle's YouTube page for more hacks and tricks!
Images: Isla Murray/Bustle, Courtesy of Brands