This Could Be Good News For Paily 'PLL' Fans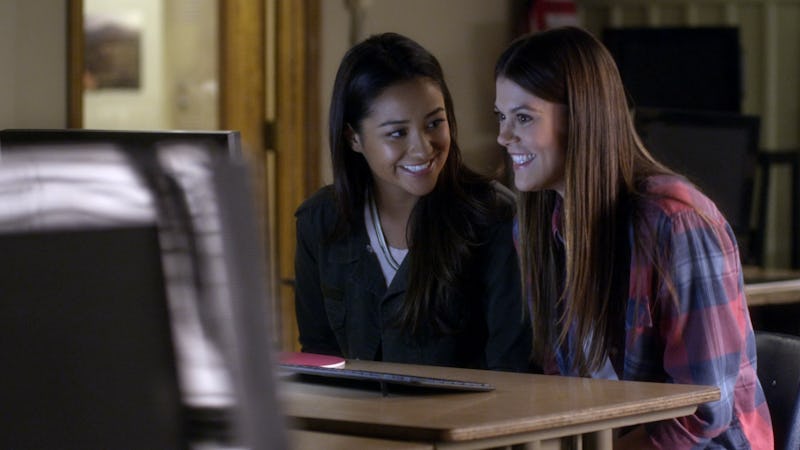 Where there's bad news sometimes there's good news and that's how it'll be for Emily's love life in Pretty Little Liars Season 6B. While every one of her friends will see their high school pairings crumble, Emily has re-found hers (sorry Emison fans) with Paige in California. That's right, Paige and Emily might be back together on Pretty Little Liars , fans learned during the time jump special. So, #Paily is totally on, guys.
The special gave us a sneak peek at a 6B scene featuring Mona and Ali catching up after five years. They touched on all the girl's futures, but what stood out was that the girls mentioned Emily was visiting Paige at Stanford quite a bit. Are they dating again? Ali could only shrug in response, but I think it's very telling that Emily would be seeing Paige at all.
We know Emily had a rough five years after high school. Although she briefly attended college, she dropped out after he dad died and took up bartending. After enduring something as tragic as the loss of her father, it wouldn't surprise me that she would seek out comfort in seeing Paige. The two dated for a long time, and I'm sure Emily was desperate for a bit of home during the sad time. Whether or not that leads to romance for the two of them we'll have to wait to find out.
I was never the biggest Paily fan, but Emily deserves someone who treats her right and takes a normal amount of showers. So, if Paige can be that person, then good for them!
For more on everything PLL, check out Bustle's podcast Taking This One To The Grave:
And, for a Season 6A refresher, watch Bustle's drunk recap here:
Image: Screengrab/ABC Family; rebloggy