How To Get Adele's "Hello" Makeup Look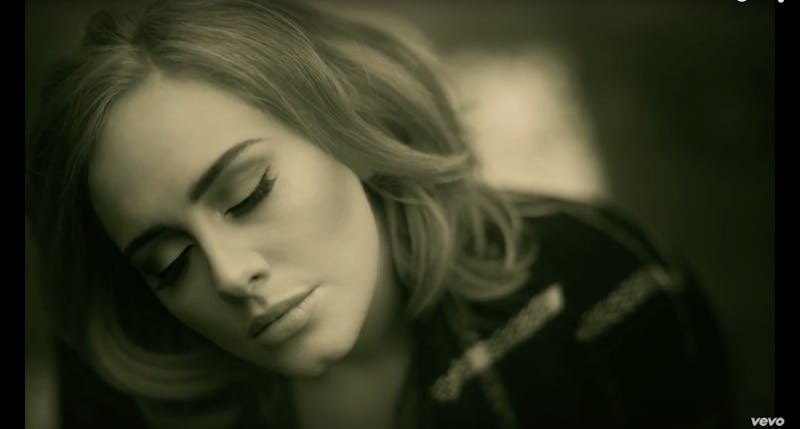 Adele's "Hello" music video officially broke the internet (and like, every streaming record ever), and it's pretty much a full-fledged cultural phenomenon. Aside from her amazing vocals and the beautiful visual quality of the video, I basically couldn't focus on anything other than her flawless winged eyeliner and perfect brows. It seems like everyone else is similarly obsessed with Adele's "Hello" makeup so I had to find a tutorial.
I'm a huge fan of winged eyeliner, so I first had to figure out what kind of winged eyeliner to use. Is Adele more of a liquid or gel kind of gal? After researching throughout the Internet, I learned that it's less about what you use and more about how you do it. Winged eyeliner is nothing without technique, so until Adele drops a winged liner tutorial, I had to turn to the best source for makeup tutorials around: YouTube.
The internet is full of Adele makeup tutorials, and you can basically emulate any of her most famous looks if you want to. The 2012 Grammys when she won song and record of the year? Yep, you can find a tutorial for that. I started with the basics, then graduated to the more difficult stuff. But here you have it, 11 tutorials that will help you channel Adele in no time.
1. Winged Eyeliner Tutorial
This basic tutorial will teach you how to get a simple (but perfect) winged eye.
2. Cat Eye Makeup Tutorial
Ready to graduate to a more complicated look? This cat eye has some smoky undertones that I love.
3. 'Hello' Tutorial Round 1
This is the first of several "Hello" tutorials that were too good to pass up. I love the transformation in this one.
4. Smoky Eye 'Hello' Tutorial
I love how this video plays up the smoky makeup Adele wore in the video. It's perfect for a big night out.
5. 'Hello' Drugstore Tutorial
Drugstore junkies, this one is for you. If you don't want to break the bank copying this look, watch this video.
6. Basic Adele Makeup Tutorial
This is a good place to start if you're looking for a popular vlogger who knows what they're talking about. This tutorial is a great jumping off point.
7. Adele 'Vogue' Cover Tutorial
Adele's Vogue cover was iconic, and this will teach you how to recreate her hair and makeup. I mean, look at that contour.
8. Adele '25' Cover Tutorial
The album everyone's been waiting years for had to have great cover art, and it did not disappoint. Copy Adele's look using this tutorial.
9. Adele Grammy Tutorial
This video includes both of Adele's looks from the 2012 Grammys, when she won both record and album of the year.
10. Adele Retro Hair Tutorial
If you're a fan of the bouffant, you'll love learning how to give your hair some serious volume with this tutorial.
11. Adele Bun Tutorial
Looking for a voluminous, retro-inspired bun? Look no further than this tutorial.
Unfortunately, we can't all be Adele. But luckily we can look like her if we practice our eyeliner skills.
Want more beauty tips? Check out the video below, and be sure to subscribe to Bustle's YouTube page for more hacks and tricks!
Image: AdeleVEVO/YouTube